American RV Insurance
American RV insurance from Caravan Guard provides fully comprehensive cover under our specialist motorhome and American RV insurance policy.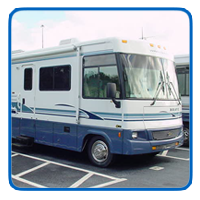 At Caravan Guard insurance, we've noticed the increase in popularity of Amercian RVs as they often offer more space than UK and European motorhomes, making them ideal for those travelling with family and for those who take longer trips to Europe. They are also very well equipped, with modern American RVs being fitted with the latest technology and an endless list of 'mod cons'.
Our American RV insurance cover aims to give you peace of mind whilst travelling, with 24 hour UK breakdown assistance. This cover has no weight or length restrictions, so no matter how big your RV is, we'll see that your vehicle is recovered. The same applies to our European Breakdown cover which is optional but can be added to your policy at any time.
Need further convincing? Take a look at some of the benefits and savings on offer.
---
Summary of insurance discounts available
Up to 68.6% immediate no claims discount
Up to 25% discount for added security
Plus more...
For full details, view our motorhome insurance discounts to see how much you can save on your American RV insurance premium from Caravan Guard.
---
American RV insurance policy benefits
Below we describe just a few of our policy benefits and optional extras you can add to your American RV insurance policy from Caravan Guard. For full details, please visit our motorhome insurance section.
Comprehensive "all risks" insurance cover, including windscreen - £100 standard excess
UK roadside breakdown assistance
(Operated by Inter Partner Assistance. No weight or length restrictions apply)
New motorhome replacement - if purchased from new and under 2 years old and 24,000 miles and stolen or damaged to more than 60% of current list price
---
Optional extras for your American RV
Up to 8 months insurance cover for your European trips
Up to 8 months European breakdown cover
It's so simple and easy to arrange. Just one call to Caravan Guard on 0800 14 88 400, can put you on cover immediately - no struggling with complicated application forms (free from landlines, mobile users may find it cheaper to call 01422 396 769).
For full details, please visit our motorhome insurance section.
This page provides a brief summary of the policy cover. For further details, a specimen policy or policy summary, please contact Caravan Guard or download our motorhome insurance documents in Adobe pdf format.