Caravan Guard are at the Boat and Caravan Show at the NEC in Birmingham all week this week, right up until the show finishes on Sunday. If you're visiting over the weekend why not pop in and play our free Play Your Cards Right competition on stand 3095.
But it's not just our stand that's worth seeing at the show; here's our round-up of our favourite stuff we spotted at the NEC this week.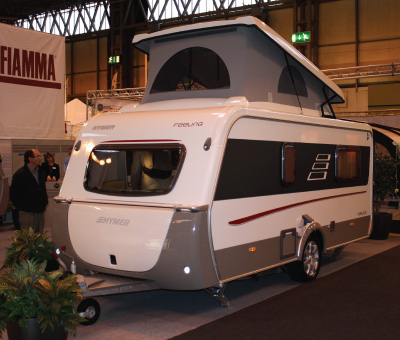 The brand new Hymer pop-top caravans looked fantastic in sleek grey and white designs, and with a range of sizes and layouts available their range looks set to become more and more popular with UK caravanners.
We particularly liked this 3/+2 Berth Hymer Feeling 430 as when the top is down for towing the unit is very low profile and would be easy to tow, even with a smaller tow car. Plus the pop-top means that inside the caravan feels spacious and airy, making it perfect for couples with a young child or singles looking to tour with a touch more room.
The slide-out INOS caravan pictured below from The Fifth Wheel company was certainly an attention grabber with lots of caravanners taking an interest when they were launched at the show.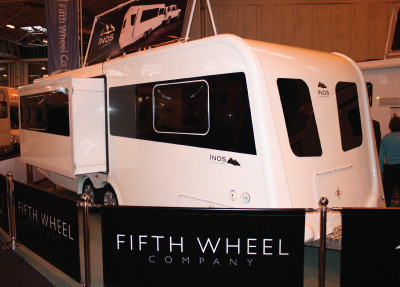 The slide-out sections increase the interior living space when parked up and are common on larger American RV's and traditional 'Fifth Wheel' units, but it's the first time they've been used on a caravan and it'll be interesting to see how well received they are in the UK market. We like them and provided you've got a monster tow car to pull them, (these caravans tip the scales at a MTPLM – maximum technical permissible laden mass – of 2700kg), provide the extra space that many caravanners crave.
Remember as well that luxury doesn't come cheap, and whilst you get a lot for your money, the price starts at £36,000 but if you choose all the options you could be looking at up to £40,470. At this value you would require extra security such as a Caravan Guard approved tracking device in order to insure, and dependant on other circumstances even more security measures may be necessary. If you need any info call and speak to one of our friendly insurance advisers before you buy.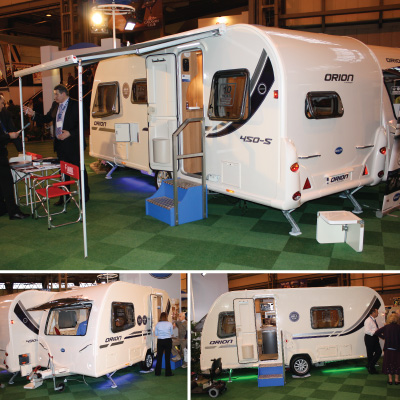 The Bailey Orion is the latest of Bailey's Alu-Tech construction caravan range, which include the massively popular Pegasus, Olympus and Unicorn models. The Orion has some great options such as the pull out canopy, great for when an awning seems like too much effort to erect or you aren't staying on site for very long but want some outdoor shade.
The shape of the Orion is also very unusual, being much flatter nosed than most modern caravans which as you know tend to have a steeply sloping front. However this does afford the advantage of better utilisation of interior space towards the front, and when we went for a nosey around this was definitely noticeable. A really clever little caravan this one.
We commissioned a full review of the Orion in our recent Freedom E-magazine, to read this review click here, and be sure to sign up for future editions if you haven't done so already, that way you'll never miss all the best model reviews.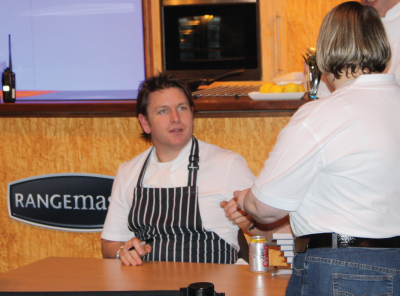 Celebrity Chef and host of Saturday Kitchen James Martin was hosting a cookery masterclass at the show which was hugely popular, with every show looking to be swamped with people watching.
As you can see from the photo above the Yorkshireman was also signing copies of his book in between the shows and everyone we spoke to that had been up to meet him had said how friendly he was, what a class act!
Remember, if you're planning a visit be sure to come and try your luck at the Play Your Cards Right competition on our stand (3095, on the corner between halls 3 and 4) where you could win a years free insurance, a stainless steel multi tool, or one of our runner up prizes of either a Caravan Guard lanyard or spirit level keyring.
The customer in the video below came and entered the competition, and entertained our show team with a fantastic Bruce Forsyth impression! Can you do better?