Motorhome insurance
Customers love us for service & value for money
Motorhome insurance savings
Caravan Guard provides fully comprehensive cover for your motorhome, whether it's a professionally converted van, coachbuilt, A-class, campervan or even an American RV. See below for a full list of discounts available and see how we compare to other insurance specialists.
Get a
quote
Call
us
Retrieve
a quote
Scroll down to learn more about our
motorhome insurance policy
Summary of insurance discounts available
Discount
Do you Qualify?
Up to 69%
No claim discount
More info
2.5%
Duncan of Wishaw club discount
More info
11%
Secure storage discount
More info
Up to 10.5%
Previous experience discount
More info
Up to 7.5%
Low mileage discount
More info
2.5%
Reversing camera or parking sensor discount
Up to 25%*
Security system discount as per below:
15%
Thatcham category 2 OR manufacturer fitted immobiliser OR...
More info
19%
Thatcham category 1 security (alarm & immobiliser) or Van Bitz OR...
More info
25%
Approved tracking device
More info
5%
Tyre safety discount
Tyron bands
More info
Tyre pressure monitors
More info
Tyre sealant
More info
*Note that 25% is our maximum security device discount even if you have more than one device fitted to your motorhome.
Features & benefits
Backed by a leading UK insurance provider, RSA (Royal & Sun Alliance Insurance plc)
Our motorhome insurance policy lets you keep your premium low by only choosing the cover options you need. Compare our policy benefits to your existing motorhome insurance and we're sure you'll find our cover to be great value for money.
Comprehensive specialist motorhome cover
Reassurance of accidental damage cover and no excess for windscreen repairs
UK breakdown assistance and recovery (operated by AXA Assistance)
No size restrictions for recovery, plus help when stuck in mud or if you use the wrong fuel
Click to read more about our UK motorhome breakdown assistance cover
European breakdown cover
Extends our specialist motorhome recovery service including repatriation costs
Click to read more about our European motorhome breakdown cover
Emergency accommodation cover options
Fall back on up to £75 daily for a maximum of 15 days so you can continue your holiday – or pay to extend this up to £100 per day for up to 30 days
£100,000 motor legal expenses
This covers any motorhome or car owned by you and can be used to fund legal proceedings to recover uninsured losses, such as your excess, from the driver at fault, where you have greater than a 51% chance of compensation success
£20 million public liability cover
Protection from legal claims made against you or insured drivers for accidents, injuries or damage
£15,000 personal accident cover
A little peace of mind provided by a lump sum payment following a major accident
Awning storm damage
Both your motorhome and awning are covered should they be caught in a storm
24 hour 365 day, UK based claims helpline
When crisis strikes the team is on hand to help sort things out
Comprehensive European cover up to 9 months option
Enjoy the freedom to take trips abroad be it a hop across the channel or a full tour of Europe
Click to read list of countries covered.

Motorhome European insurance cover

Our European Motorhome Insurance option gives you comprehensive cover to visit the countries listed in the table below.

The Endorsement section of your policy schedule shows if European Insurance and / or European Breakdown options are in force.

The maximum amount of time that can be spent in any one country is 180 consecutive days. The maximum amount of time that can be spent abroad in Europe overall is 9 months within each policy year.

Green Cards

To visit certain countries you will require a Green Card (see table below), which proves you have the minimum legal requirements for third party liability insurance.

We can issue a Green Card for an additional charge on request. Please contact us in good time with details of the countries you are travelling to and the dates you will be in each country.

Please note that our European Breakdown provider AXA Assistance and Legal Expenses provider Auxillis Limited (formerly Albany Assistance Limited) do not provide cover in countries that a Green Card is required for.

Scroll down to see list of countries

| | |
| --- | --- |
| Andorra | |
| Austria | |
| Belgium | |
| Bulgaria | |
| Croatia | |
| Cyprus (Greek territory) | |
| Czech Republic | |
| Denmark | |
| Estonia | |
| Faroe Islands | Please contact us |
| Finland | |
| France (inc Monaco) | |
| Germany | |
| Greece | |
| Hungary | |
| Iceland | |
| Ireland | |
| Italy (inc San Marino & Vatican) | |
| Latvia | |
| Lithuania | |
| Luxembourg | |
| Malta | |
| Netherlands | |
| Norway | |
| Poland | |
| Portugal (inc Madeira) | |
| Republic of Cyprus | Cyprus is split into two parts. We can only provide European Insurance for the southern (Greek) part. The northern part is classed as the Republic of Cyprus (Turkish) and is not part of the Green Card system. |
| Romania | |
| Slovak Republic | |
| Slovenia | |
| Spain (inc Balearics & Canaries) | |
| Sweden | |
| Switzerland (inc Liechtenstein) | |
| UK (inc Gibraltar) | |

Countries listed correct as of 26/11/2016.

Protected no claim discount option
Help to keep your premiums low even if you have to claim
£5,000 equipment and personal possessions cover
For portable items such as trailers, awnings, gas bottles, generators, TVs and clothing
New for old motorhome replacement (if owned from new and under 2 years old)
Get a brand new motorhome if yours is written off or stolen
£1,000 cover for keys and locks
Feel secure with replacement locks, keys and transmitters following theft
Flexible excess from £150
You can reduce your premium by increasing your excess
14 day money back guarantee (subject to no claims)
Our plain English policy comes with the reassurance of a satisfaction guarantee


Plus, for every paperless policy we provide, we will donate £1 to our chosen charity - Heart Research UK.
This website provides a brief summary of the policy cover and options that are available to you. Your schedule will confirm cover features and levels applying. Benefits and discounts are subject to change and are subject to terms and conditions, cover level and underwriting criteria. Minimum premiums apply. For more information about our motorhome insurance policy, you can download a specimen policy or policy summary from our motorhome insurance documents section. Minimum premiums apply.
I'm with Caravan Guard because...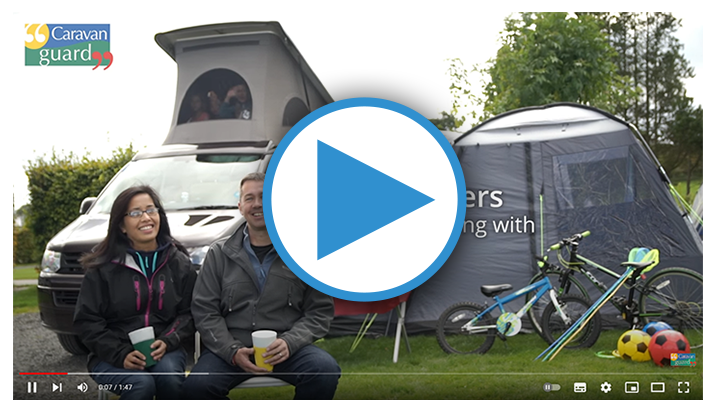 Watch our video and see what our customers think
"Excellent European Breakdown Service"
In 2014 our motorhome broke down on a mountainside in Spain. A phone call to Caravan Guard led to recovery on a low loader the 120kms to Malaga, where we were provided with a hotel room with B&B for the week it took for a repair to be effected. This enabled us to get to know the Malaga area and enjoy our waiting time. We are appreciative of the excellent service provided through Caravan Guard. During our many years of insurance cover by them, it is always 'service with a smile' – Well, it sounds that way when talking with them on the phone!

RamblingRoses, Review Centre
Our guide to motorhome insurance
Why do I need specialist motorhome cover?
Motorhome insurance is a legal requirement just like car or van insurance, but the cover needed is very different because of the way you use your motorhome, and the amount of equipment and facilities it contains.
What are the key things to look for when choosing a motorhome policy for your insurance?
Only pay for the cover you need: We let you choose whether to include European Cover, and calculate premiums based on your annual mileage - so if you don't go abroad, or only drive a few thousand miles a year, you can make sure you are only paying for the insurance cover you need.
Get all the discounts you deserve: Security devices such as Pro-Active Tracking Devices, alarm systems and immobilisers will earn you big insurance discounts with us, but simple steps such as keeping your motorhome behind 24 hour locked gates, fitting a reversing camera, or joining a motorhoming club will also drive down your insurance premium.
UK motorhome breakdown cover is automatically included with our motorhome insurance policy and European insurance and breakdown cover is available as an optional extra. Some breakdown services have size or weight restrictions - our breakdown cover doesn't have any limits on the size or weight of the vehicle and so is suitable for large or small motorhomes.
'New for Old' cover is offered on motorhomes up to 2 years old (subject to you owning it from new). This means that if the motorhome is stolen or damaged beyond economic repair you will be given a brand new motorhome of the same or nearest equivalent model. 'Market Value' cover means that you will be given a cash sum which represents the lost motorhome's current 'Market Value' in such a total loss situation.
Make sure the policy is with a reputable insurer. Our motorhome policy is underwritten by Royal & Sun Alliance Insurance plc (RSA), one of the UK's leading insurers.
More reasons to choose us
Number 1 for service and value
Reassuringly good cover from a leading insurer
Award winning company
Safe and secure online quotes
Confidence in a trusted family business
Highly rated claims service
Money back guarantee
Member of the National Caravan Council
Heart Research donation for every paperless policy
Plain English policy and documents
Great value for money