As you may have noticed, we have launched our new look website.
We believe the new site is much more user friendly than the one it replaces and it should give all the information necessary to help you make the right choice for caravan or motorhome insurance. That said if you feel it lacks something, please let us know via our contact us form.
As well as finding out about latest news, benefits of both our touring caravan insurance and motorhome insurance policies, you can also download policy documentation.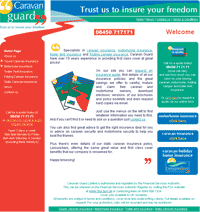 We hope to add an online quote and buy facility to the site by the end of 2006. In the meantime, feel free to use our request a quote form giving us the opportunity to call you to provide a competitive caravan or motorhome insurance quote tailored to your needs.
Alternatively, feel free to call us 7 days a week on our lo-call rate number 08452 77 70 70 (costs dependant on your network provider).
Happy browsing!