We're urging visitors to keep an eye out for UFO's and special introductory discounts to owners attending at the upcoming Northern Motorcaravan Show in Pickering from the 16th to 19th of July.
We're inviting visitors to try their luck on the Caravan Guard "Frisbee Throw" competition to win an instant prize – there's even a consolation prize if luck's not on your side, meaning everyone's a winner.
As well as the chance to win a prize, we're offering special introductory show discounts on motorhome or caravan insurance – you can register for the discounts at the show even if your insurance isn't due for up to 12 months.
The 'Frisbee Throw' competition will be running every day at the show, so why not try your luck and claim your prize on stand 27?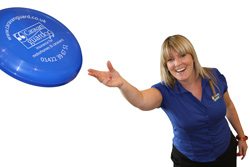 Throw and win on the Caravan Guard stand