Caravan Guard have launched a new reversing camera and sensor insurance discount for motorhome owners.
Our Director Sally Wilby comments, "Caravan Guard handle a great number of manoeuvring claims so we feel it's worthwhile rewarding owners fitting such reversing aids with reduced premiums. To our knowledge this is a unique motorhome insurance discount."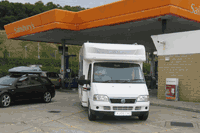 The new discount adds to our already long list of motorhome insurance discounts for careful and claim free motorhome owners.
For further details about our motorhome insurance policy, click here. Alternatively, to request a quote, click here or call 08452 77 70 70