Visit Caravan Guard on stand 4 to be in with a chance to win £1000. Simply roll the dice and reveal 6 sixes and you will be going home £1000 richer! Throw 4 or 5 sixes and take home a bottle of bubbly. You've nothing to lose!
The Caravan Guard Team will also be on hand to discuss your caravan or motorhome insurance needs and to serve you a free hot or cold drink!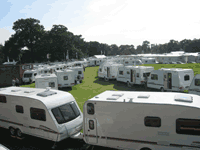 The Caravan Extravaganza takes place on 8th and 9th September at The Lawns in Cottingham, near Hull. For more information click here.
We look forward to seeing you there!