Offer has now ended.
Make insurance part of your Winter Sales shopping to save up to an extra 20%!
At Caravan Guard we are having a winter sale between now and the end of February.
Up until the 29th February you can save up to an extra 20% on a new policy subject to your caravanning and claims experience.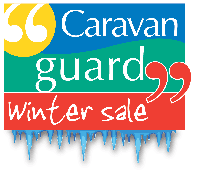 And there'll also be up to 15% off motorhome insurance during this period.
Caravan Guard Managing Director, Peter Wilby comments, "We want to keep our call centre busy throughout the winter so we've slashed our prices. Request a quote now and we'll do our best to beat any caravan or motorhome insurance deal!"
It doesn't have to be renewal time to benefit!
It's even worth giving us a call even if your policy isn't due. Get your new quote before the end of February and we will guarantee the winter sale rate until your next renewal (subject to no changes in your circumstances).
Offer ends 29th February 2008. Underwriting terms and conditions apply. Offer applies to new policies only.