Touring caravan axle wheel locks
10% axle wheel lock device discount
Axle wheel locks have become a common feature on modern day caravans. They can provide great protection against caravan thieves and for that reason we offer a significant insurance premium saving for their fitment.
Get a
quote
Call
us
Retrieve
a quote
Scroll down to learn more about our caravan axle wheel lock
discounts and which types of axle wheel locks we accept

Axle wheel locks
An axle wheel lock is inserted through an alloy wheel and is attached to the caravan chassis. To fit such devices, generally the caravan wheel needs to be jacked up and aligned with a receiver in the caravan chassis. Then a locking plate or insert is fitted through the wheel into the receiver to essentially prevent the caravan axle from rotating. It is a fantastic deterrent to would be caravan thieves.
Many modern caravans are advertised as 'axle lock enabled' and thus come with a receiver for an axle wheel lock. However, the owner must purchase the locking plate or insert to be considered as having a complete axle wheel lock system. Just having the receiver on the caravan chassis is of no use as it alone does not provide any security.
Many luxury caravan models will come factory supplied with both the receiver and locking plate or insert - in other words a complete axle wheel lock system. In the case of certain twin axle models, two axle wheel locks are often provided.
To check to see if your caravan has a wheel lock receiver fitted look closely at the nearside wheel. If the caravan is fitted with a receiver you will see either a small yellow plug or a threaded post through the wheel onto which the lock is fitted.
Caravan Guard offer a big insurance discount for fitment of a caravan axle wheel locking device.
Caravan Guard insurance approved wheel locks
The most common type is the AL-KO Secure Wheel Lock which can be applied to caravans built on an AL-KO chassis if fitted with the necessary receiver. Receivers started to be fitted to many caravans manufactured from 2006 onwards however, it is possible to retrofit a receiver on some AL-KO based caravans made as far back as 2001. If your caravan has the receiver but not the locking insert you will need to order an insert specific to your caravan's alloy wheel design. Visit the 'Will it fit' page on AL-KO's website to find out more about retrofitting a receiver or purchasing a specific locking insert for yor caravan wheels.
Some caravans built on a BPW chassis (common examples include pre 2015 Elddis caravans and European makes such as Knaus) have a receiver for a BPW Diamond Wheel Lock, also sometimes called a Winterhoff or SAS Diamond Wheel Lock or the new style iWD Wheel lock.
The Purpleline Fullstop Excalibur is supplied with a bolt which means it can be locked into the AL-KO Secure axle wheel lock receiver. Only where this bolt is used in a combination with an AL-KO receiver can we accept this device as an axle wheel lock and offer our insurance discount for its fitment.
We also are able to accept the Bulldog Max or SAS Gridlock as an axle wheel lock as both connect to the AL-KO Secure receiver however, neither of these devices are still in production so may be hard to find unless you already own one.
Also read more about the types and benefits of axle wheel locks on our blog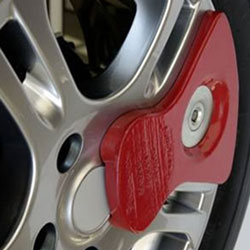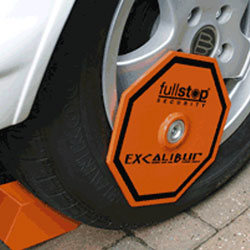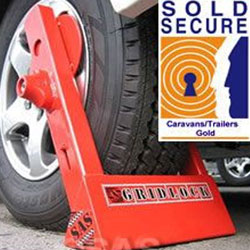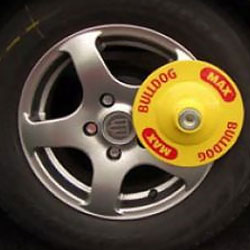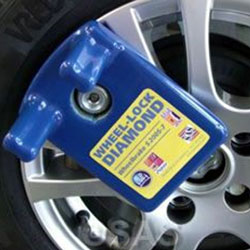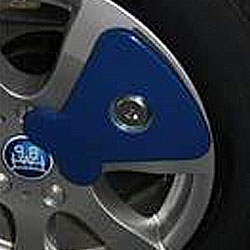 More reasons to choose us
Number one for service and value
Reassuringly good cover from a leading insurer
Award winning company
Safe and secure online quotes
Confidence in a trusted family business
Highly rated claims service
Money back guarantee
Member of the National Caravan Council
Heart Research donation for every paperless policy
Plain English policy and documents
Great value for money