Helplines
We are here to help. So whatever the question, or problem, please feel free to contact us on one of the dedicated helpline numbers below.
Customer service line: 01422 396 761
If you have a question about your insurance policy, or need to update your policy details, then please call our Customer Service Line and speak to our friendly insurance advisers.
Claims helpline (24 hour): 01422 501 083
To make an insurance claim, or check the status of an existing claim, call our claims helpline 24 hours a day.
Renewals helpline: 01422 396 755
Advisers available 8am – 8pm Weekdays & 9am - 4pm Weekends and most Bank Holidays.
Automated payment line for card payments available 24 hours.
UK accident emergency recovery (24 hour): 01422 501 087
If you require emergency assistance following an accident or breakdown within the UK.
European accident emergency recovery (24 hour): 00 44 1422 501 088
If you require emergency assistance following an accident or breakdown within Europe.
Legal helpline (24 hour): 01206 616 007
(Administered by Arc Legal Assistance Ltd)
This number is for policyholders who have opted to take out our Legal Expenses cover option. Please refer to your policy schedule.
Policy documents
Brochure
Details of the cover and other benefits you'll get when you insure with Caravan Guard.
Policy booklet
Full details and the terms and conditions of your touring caravan insurance policy.
Essential information document
A summary of the cover levels on our touring caravan insurance.
Insurance product information document (IPID)
A summary of the key information relating to your touring caravan policy.
Terms of business agreement
The contract explaining the legal relationship between Caravan Guard and you as the policyholder.
Renewal guide
A handy guide with tips and tricks to make sure you get the best insurance renewal deal.
---
Insurance Product Information Documents for optional covers you may have chosen
A summary of the key information relating to your caravan insurance policy add ons.
Legal expenses policy booklet
Full details and the terms and conditions of your touring carvan insurance policy, provided by Arc Legal Assistance.
Legal expenses cover – Important notice
For existing customers due for renewal from the 1st October 2018
Renewals
We offer a range of ways to pay for your caravan insurance policy.
Download our handy Touring Caravan Insurance Renewal Guide
Click above to download details of how to renew your touring caravan insurance cover.
Renewals helpline: 01422 396 755
8am - 8pm Weekdays
9am - 4pm Weekends
& most Bank Holidays
Automated payment line for card payments available 24 hours.
Live chat - secure online payment
You can use the live chat function on our website to amend and renew your policy whenever our advisers are available.
---
Bank transfer / online banking
Please send your premium to the following bank account, using the unique reference provided to help us identify your policy.
Account number: 00554722
Sort code: 30-93-76
Reference: The last seven digits of your policy number (e.g. for policy number L09/CGHH0123456, your unique reference would be 0123456)
Please take care to use the correct reference to avoid a delay in renewing your policy. Your renewal will only be complete once we have received the bank transfer. Unfortunately payments sent on a weekend won't reach our account until the following Monday. Once your payment has been received you will then receive confirmation of your renewal by email or post.
Credit / debit card
Our renewals helpline number above can be used to pay your caravan insurance premium, speak to an insurance adviser or update your details before renewal. If you don't have any changes to make to your policy and wish to pay by card then you may choose to use the automated 24 hour payment option when calling.
Monthly Direct Debit
If you would prefer to spread the payment of your touring caravan insurance over 12 monthly payments, rather than pay in one lump sum, simply call us with your bank details.
We use a company called Premium Credit Ltd to provide finance for direct debits. Premium Credit's financing solution is easy to manage online at www.mypremiumcredit.com.
My Premium Credit gives secure 24/7 access to your account. You'll be able to keep tabs on your direct debit payments, sign your credit agreement, view correspondence, settle missing payments by card and make changes to your personal or banking details online.
If you already pay by Direct Debit and are happy for cover to continue on the same basis, your Direct Debit collections will automatically continue.
Please note a charge for credit applies, written quotations available. Credit availability is subject to status.
Cheque
Please forward your cheque made payable to "Caravan Guard Ltd" to Caravan Guard, New Road, Halifax, HX1 2JZ. Please ensure you print your full name and postcode on the reverse and ensure that we receive your cheque before your policy expires.
Inform us of changes
If your circumstances change then you need to let us know. So that changes to your policy can be made straight away we ask that you call us on 01422 396 769 to speak to our customer service team. We are open 8am-8pm weekdays and 9am-4pm weekends and most bank holidays. If you need to tell us your CRiS or VIN number, please use the form below.
Tell us your CRiS identification number
---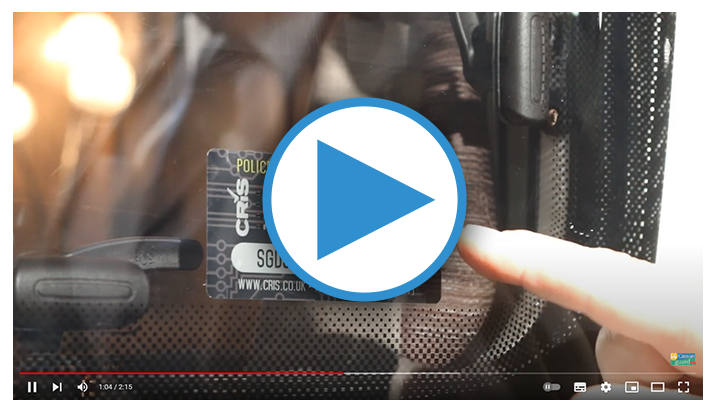 To make sure everything goes as smoothly as possible should you have a claim, it's important you provide us with your caravan's CRiS identification number, or for caravans manufactured before 1992, a chassis or VIN number.
For caravans manufactured pre 1992 you should find the chassis number on a plate on the 'A' frame or by the door.
For caravans manufactured after 1992, as well as a chassis number you should also find a 17 digit number etched on the windows. This indicates that the caravan is registered with CRiS and you should have received additional documentation when you purchased the caravan to register and confirm your details as the new owner. If the manufacturer of your caravan does not operate this scheme then you can retrospectively register it with CRiS - just call them on 0203 282 1000 for more details.
For owners of trailer tents and folding campers not registered with the CRiS scheme please provide us with the chassis number.
Having trouble finding your CRiS number or chassis number? Call our friendly expert insurance advisers on 0800 14 88 568 (free from landlines and mobiles. Alternatively you can call 01422 396 761).
More reasons to choose us
Caravan insurance with a 5 Star Rating
Number 1 for service and value
Reassuringly good cover from a leading insurer
Award winning company
Safe and secure online quotes
Confidence in a trusted family business
Highly rated claims service
Money back guarantee
Member of the National Caravan Council
Heart Research donation for every paperless policy
Plain English policy and documents
Great value for money