Electronic anti-snaking devices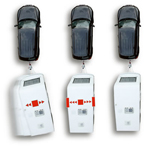 Electronic trailer control systems such as 'Al-Ko ATC' or 'BPW iDC' work in a similar way to ESP in cars by braking the caravan's wheels if it senses loss of control. This helps to prevent snaking and keep the caravan under control during extreme driving conditions, such as hard braking or swerving to avoid an accident.
Some new caravans have a system fitted as standard. It can also be retro fitted to some caravan chassis.