If you're in any doubt about sharing your daytime space with your bedroom, this may be the caravan to make you change your mind.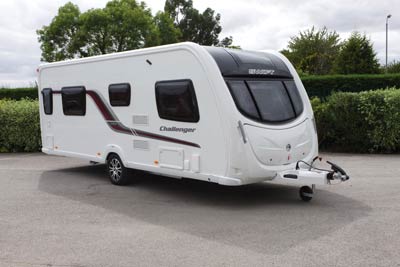 Caravan layouts have fashions – and if there is a fashion statement that defines the current era it's the transverse island bed. The Swift Challenger range's contribution to this trend is the four-berth 580, a new model for 2012.
The big advantage of a transverse bed layout is that the bed is further to the rear of the caravan, preserving more of the length for living space. And in the 580 the bed area looks and feels more separate from the lounging and eating region because the two areas are segmented by the larger of two wardrobes.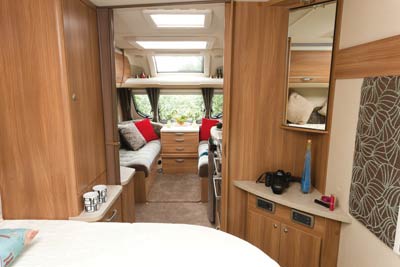 The bedroom design is sheer brilliance; you can create extra floor space by retracting the base during the day; you just raise the frame slightly and push forward. At night a section of mattress drops down under your pillows to make it up to full length.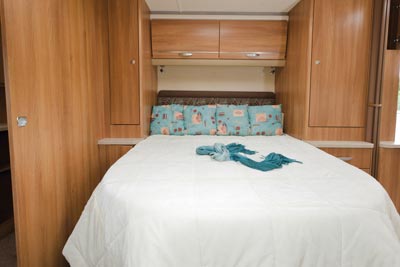 In common with other transverse island bed caravans, the 580's two wardrobes are of different sizes. One is twice the size of the other; we can only speculate on the his-and-hers debates that this arrangement will spur!
Amid the brilliance of transverse bed layout in this bedroom is something that detracts from the quality look. It's three years since Swift replaced the wooden bases of its island beds with chocolate-coloured brown plastic.
While we applaud weight-saving tactics, this plastic looks out of kilter with the quality of finish, fabrics and structures you see elsewhere in the Challenger. We'd want to buy a floor-length bed throw if this caravan were our own.
From this gripe our test pendulum swings to the positive when we notice that the 580 has EIGHT mains power sockets. Two are in the bedroom, at the dressing table. Two are in the kitchen.
Two more are alongside the television connection points on the dresser that divides the rooms. The seventh and eighth are set into a plastic console that has a recess for phones to sit while they're being charged.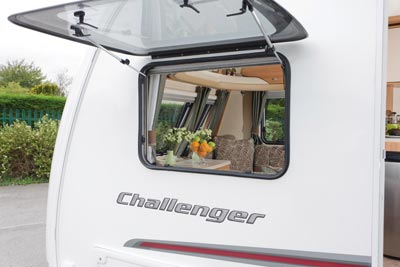 The sunroofs that were introduced as an option last year on Challengers are now standard. The upswept sunroof frame creates a roofline that's distinctive on the outside.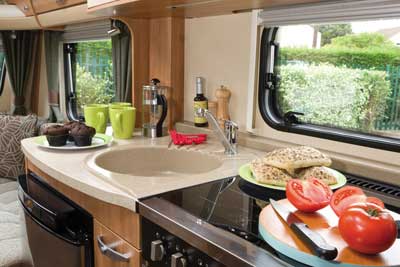 Inside, a curving shelf runs the width of the caravan and chamfers into the side locker line; this design feature makes a big contribution to the lounge's lengthy, airy appearance.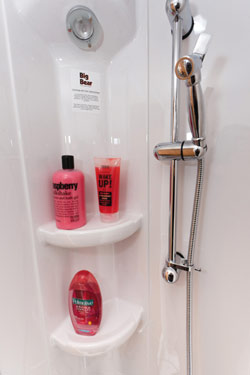 In a caravan of 5.83m, you can have a superb bedroom, lounge and spacious end bathroom – but you can't have all of that and also have a big kitchen. That's where the designers of the 580 have economised on space when it comes to work surfaces and cabinets. You'd need excellent culinary organisation to ensure this didn't become too much of a problem.
The shower is rectangular and large. There's a trigger shower head, which means you only need to set the temperature once.
You can turn the flow off when you don't need it – and when you switch it back on, the temperature will remain constant; no need to adjust and wait for warm water, and this should help cut down the amount you use.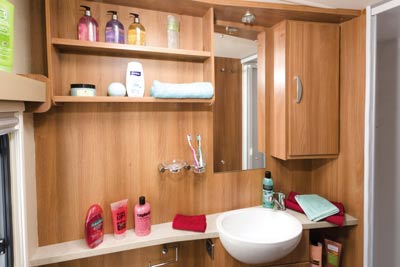 Verdict:
With the inclusion of Al-Ko's ATC electronic anti snaking system, an alarm and a receiver for the Al-ko Secure wheel lock the Challenger will give owners a wide range of caravan insurance discounts.
The 580's transverse bed design will, we think, win it many fans because both the bedroom and the lounge feel separate but neither feels enclosed.
There's ample choice when it comes to single-axle caravans with fixed beds and end washrooms. And there's a smattering of transverse beds among them.
The Challenger 580 is up there among the best fixed-bed caravans around in terms of its practical features. Make sure you see this one when you're choosing.
Fact-file:
Cost to insure: £260*
Price: £19,195
Lengths: Body 5.83m Overall 7.55m
Width: 2.31m
Headroom: 1.95m
Weight: 1454kg (MRO) 1610kg (MTPLM)
* Caravan insurance cost based on 2012 Swift Challenger 580 £19,195. Fitted with hitchlock, alarm (standard on this model), Al-Ko Secure wheel lock (receiver fitted as standard, lock purchased as optional extra) and Al-Ko ATC stabiliser (fitted as standard) and kept on drive behind 24 hour locked gates at HX4 0BE. Caravanners over 30 years old, claim free for 3 years and a member of a caravanning club. Quote includes 10% online discount and 6% Insurance Premium Tax and is correct as of 15.11.11.
Cost to insure: *
---
factfile
| | |
| --- | --- |
| Model | |
| Base vehicle | |
| Axle type | |
| Dimensions | |
| Shipping length | |
| RRP | |
---
Search our blog
---