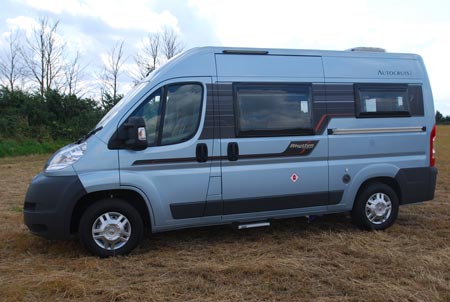 With downsizing such a general theme across the whole motorhome market at the moment, perhaps it's unsurprising to see Autocruise unveiling a smaller version of its popular Rhythm. It's called the Compact and it comes on the medium-wheelbase version of Peugeot's Boxer.
It sports the rather natty latest Rhythm look too, with the light blue shown here the only exterior colour option, but with a touch of red bringing a bit of class to the overall appearance.
That "hint of red" theme continues inside, too, where there's just enough to give the upholstery a lift.
But first, those driving impressions. This is a genuinely enjoyable vehicle to pilot (in fact, more so with the 130bhp engine upgrade that also brings with it a sixth gear). Thanks to its Swift Group parent company, although Autocruise van conversions are officially all Peugeot-based, you can switch to Fiat's Ducato if you want your Rhythm Compact with auto transmission (it's £1,695 more, but you may incur waiting times).
Being that bit smaller makes it all a bit more nimble, and of course means more accessibility and parking spaces! As you've no doubt gathered, this is just the kind of motorcaravan that could easily do service as an everyday car.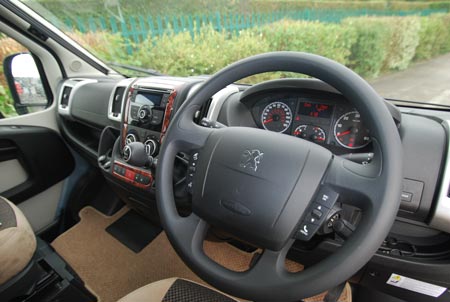 You can even arrive at your chosen destinations with the rest of the interior fully warmed: the latest Truma Combi-2 hot water and heating system here also has a Drivesafe regulator fitting, allowing you to operate it whilst en route.
Settle down for that first cuppa and you have a choice – a smaller circular table (probably more apt here) or a larger rectangular version, both with pedestal legs.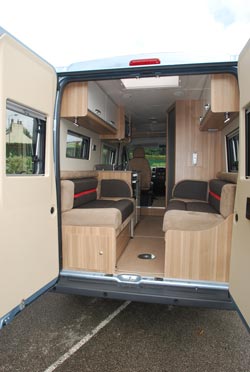 Swift's designers, always up there among the best in the business, have given the slightest of overhauls to all Rhythm interiors for the season ahead, with a new furniture finish, the aforementioned upholstery tweaks, and an ivory finish to the upper level locker doors, all now coming with positive catches
Yes, the lounge lives up to that Compact billing, but it's more than acceptable (and those additional backrest strips and bolsters are welcome). If you want more settee space, you really need to be looking at the standard Rhythm.
You're well catered for as far as in-'van entertainment is concerned, though. There are speakers in the lounge ceiling for the CD/radio, and a TV aerial is standard, as is a bracket for a flatscreen TV, plus all relevant wiring.
Plus there's a massive bonus in terms of security for all 2013 Swift Group motorhome buyers (that includes all Swift, Escape, Bessacarr and Autocruise models) – that is that they are all fitted as standard with a Tracker Retrieve. This tracking device is battery powered giving you no concerns over battery drain during winter storage. The device also boasts police support and will qualify you for a 27.5% discount off motorhome insurance.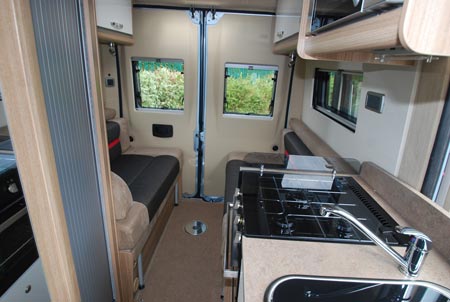 Mid-'van, the kitchen is centred around a cooker with three-ring hob, oven and grill. If that's not generous enough for a vehicle of this size, there's also a microwave oven. The separate sink has an add-on drainer, but you're probably ahead of the thinking here – yes, storage space is very compromised, not least by the added fact that much of the lower kitchen area is taken up by the locker for the gas cylinders.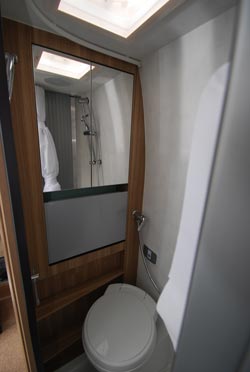 There is a generous 96-litre Dometic fridge opposite the kitchen, though, with the facility to remove the freezer section altogether if you just want to use it as a larder.
Adjacent to this is an equally well thought-out washroom. Its most controversial feature is doubtless the fold-down sink. In truth it's a world away from examples of yesteryear and, whilst such items are never going to be the deepest, it's just about acceptable for regular use.
There's just the one choice of sleeping arrangement here. The double bed is easily made, but its transverse orientation means its length is going to be a challenge for anyone over 6ft. It's one of those you have to see and try for yourself.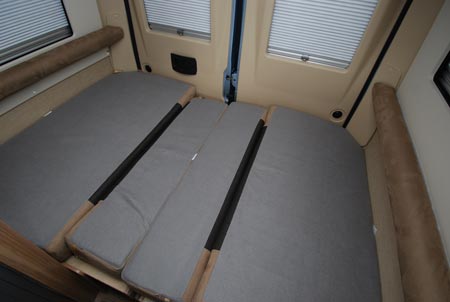 However, even as standard, there are plenty of the right kind of practical touches to tell you this is a really promising conversion for two. The coat hooks, twin plugholes in the (appropriately robust) shower tray), even aspects such as the kitchen splashguarding and depth of sink… the sorts of things to look for that just make all the difference.
This is, of course, an early viewing, but if first impressions count this could – nay, should – be right up there with the best sellers in the season ahead. It ticks all the right boxes in terms of size, specification, price and quality. Put it on your "must-see" list.
Verdict
There are lots of neat touches here to make this a clever, smaller package, perfect for couples thinking about downsizing.
Plus: Competitively priced. Easy to drive and use. Stylish and, for the most part, practical.
Minus: Bed length is restricted
In a nutshell: Spot-on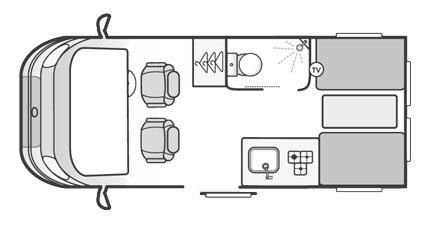 Price from: £39,790
Cost to insure: £257.50*
Fact file
Autocruise Rhythm Compact
Based on Peugeot Boxer, 2.2-litre, 110bhp, Euro V
Dimensions: 5.42m L, 2.26m W, 2.81m H
Maximum weight: 3300kg
Payload: 470kg
Key options: Comfort Pack £1,445, 130bhp engine upgrade £1,350
Security and safety: Tracker Retrieve Battery Powered, immobiliser, Central locking to all doors, ABS, driver's and passenger's airbags
MPG estimate: 28-32
More info: www.swiftgroup.co.uk
Alternatives: Auto-Sleeper Symbol, Vantage Med, Murvi Pimento
*Insurance premium for this motorhome based on Autocruise Rythm Compact. Fitted with Manufacturer's Immobiliser system and Tracker Retrieve Battery powered tracking device as standard. Kept on driveway at home at TD9 8ED. Insured & spouse, 50 years old, professionals, with no claims, convictions or health conditions in last 5 years. 5 years transferred NCD, 5 years motorhome driving experience. Members of motorhome club doing less than 5000 miles annually. European insurance cover for motorhome costs extra – please call for quote. European Breakdown is £43 extra. Premium includes Insurance Premium Tax (IPT) at 6% and is correct as of 17.10.12. (27.5% Tracker Retrieve Battery Powered Discount made up of 25% Tracking Device discount plus 2.5% club discount – available to all new Swift Group motorhome buyers. Minimum premiums apply. Subject to terms and conditions, cover level and underwriting criteria).
Cost to insure: *
---
factfile
| | |
| --- | --- |
| Model | |
| Base vehicle | |
| Axle type | |
| Dimensions | |
| Shipping length | |
| RRP | |
---
Search our blog
---