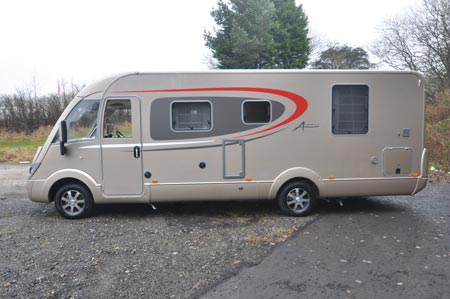 German manufacturer Bürstner has certainly made its presence felt here in the UK – not least for its A-class vehicles, of which it sells more than you might think.
There's much to admire about any A-class, of course, for many the representation of the ultimate motorhome. But, the price differential between A-class and low-profiles (their nearest coachbuilt equivalent) is getting smaller, especially now with the advent of drop-down beds.
Prices might seem high, but vehicles like this are for those that take their motorhomes seriously. And, by A-class standards, we're talking lower end here. Not that you'd know it by looking at this.
There are six models in the current Aviano line-up, but Bürstner offers much more than that in terms of A-class alone – there's the "budget" Viseo range that sits below Aviano, plus Elegance and, new for this season, Grand Panorama. A quick tot up sees that Bürstner alone offers 20 different A-class models, all available for UK buyers.
For this Aviano, the base is provided by Fiat's Ducato (in cowl format, as opposed to a full chassis-cab) allied to an Al-Ko chassis extension. In reality, it's no longer, taller or wider than any other coachbuilt motorhome – it's the front end that gives an A-class like this its distinctive, and sometimes intimidating, look. Step inside, though, and you'll see the extra dimensions it gives the whole living area, not forgetting the great views out you enjoy while you're travelling.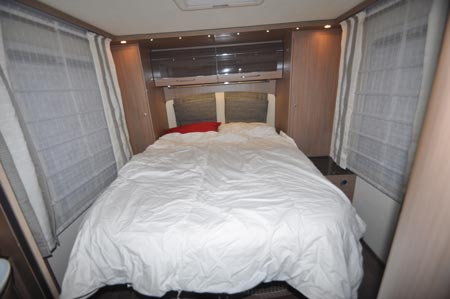 This Aviano is by no means the shortest A-class you'll get, but it does allow for what is an increasingly popular floorplan for any motorhome – what amounts to a full bedroom at the back, complete with island bed and his 'n hers wardrobes.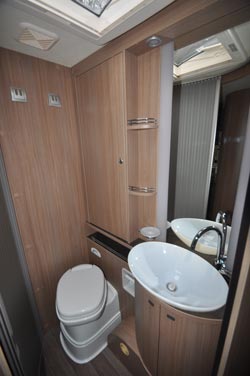 The optional Design Pack features here – offering alloy wheels, one-piece caravan door with window and that distinctive Opale paintwork – adding £1,830 to the bottom line. Typically also, items like a cab door (either side, or both) can only be ordered at extra cost.
What do you get for your A-class money? That large lounge, for starters, here comprising the swivelled cab seats (from Aguti), and L-shaped settee and a small inward-facing seat – with those large cab windows and Heki rooflight overhead adding to the spacious feel.
As a full four-berth, there's some advantage to having the beds at either end of the vehicle, although it's the island double that will be seen as the main sleeping area, complete with separate en suite toilet and shower facilities.
There's the equally comfortable double up front, which takes the minimum of making: just tilt the cab seats out of the way and pull down the bed section.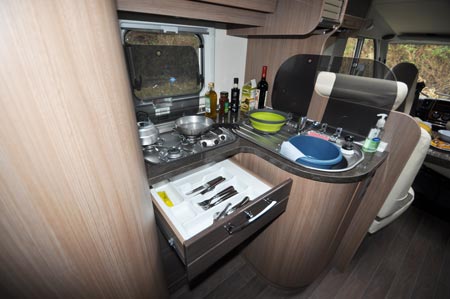 That said, the kitchen – despite boasting kits such as the whopping 160-litre fridge/freezer – is obviously less of a priority, with little in the way of worktop despite its stylish appearance and excellent storage and items such as a three-burner hob and separate oven/grill.
It's all very swish and new-tech throughout, but manages to stop short of outright bling, with features such as LED lighting, clever catches for locker doors, curves to the furniture, just that bit of extra thought (and style) going into things like taps, upholstery and more. And, of course, it's all backed up by a typically Germanic solid construction. Do note, the Noisette furniture finish here is a £331 extra.
There's actually also considerable choice when it comes to the soft furnishings.
Apart from the switch to right-hand drive for the steering wheel, there's no concession to the UK here (as indeed with any A-class), although once on site there really are no hardships. UK-made alternatives? None, at the time of writing.
Verdict 
A motorhome of genuine pedigree.
Plus: Island bed luxury. Superior build quality.
 Minus: Limited kitchen space
In a nutshell: Grand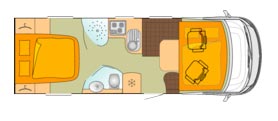 Cost to insure: £418.50*
Tech spec
Bürstner Aviano i727
Based on Fiat Ducato, 2.3-litre, 130bhp, Euro V
Price from £67,170
Dimensions 7.56m L x 2.30m W x 2.75m H
Maximum weight 3500kg
Payload 385kg
Key options Design Pack £1,830,
Security and safety Central locking to all doors, ABS, driver's and passenger's airbags
Further reading Which Motorhome (March 2013)
MPG estimate 22-24
More info Bürstner (www.buerstner.com)
Alternatives: Rapido 991dF, Pilote Explorateur G741LCE, Knaus Sky i 700 LX
*Motorhome insurance cost based on 2013 Bürstner Aviano i727 £67,170 fitted with standard fit immobiliser system and an approved tracking system. UK travel only. Kept on driveway at home at TD9 8ED. Motorhome owners – professionals over 50 years old with no claims, convictions or health conditions in last 3 years. 4 years no claims bonus mirrored from car policy and 2 years motorhome driving experience. Members of motorhome club doing less than 5000 miles annually. £300 excess applies. Quote correct as of 13/02/2013.
Cost to insure: *
---
factfile
| | |
| --- | --- |
| Model | |
| Base vehicle | |
| Axle type | |
| Dimensions | |
| Shipping length | |
| RRP | |
---
Search our blog
---