Sleeping easy
You've got to be pretty sharp to bag yourself a new Coachman these days.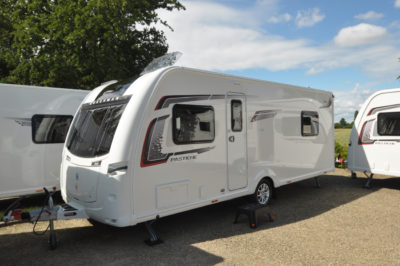 The manufacturer produces to capacity from its Hull, Yorkshire premises each year, and it's seemingly never quite enough to satiate public demand. It's trumpeting 2016 as its most successful time in its 30-year history.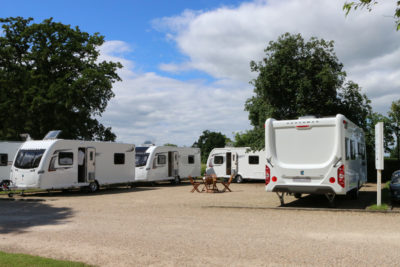 Going into the 2017 season, there's a 22-model line-up across its four model ranges – with the Pastiche 545 being one of a number of new models.
Not that it's completely new. The 545 floorplan – rear island bed with a central, full-width washroom – has previously found favour in the VIP, but will now be available in the more affordable Vision and Pastiche ranges.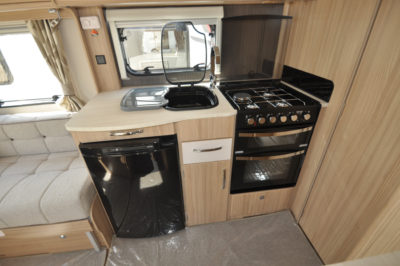 You spend a bit less on the Pastiche compared to its VIP elder sibling, but you do get a generous amount of extra specification over its all-but-identical-looking Vision sister – a fixed sunroof over the three-window front, concertina blinds, kitchen sink in black rather than stainless steel, topped off by an Alde central heating system and the extra safety of Al-Ko's ATC traction control system (which will also save you a few insurance pennies, of course). Despite the presence of alloy wheels, it's a typically understated Coachman appearance for the Pastiche.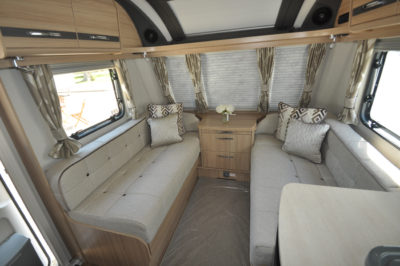 The company will certainly argue it's more about what's under the skin, though. Like others, it gives a name to the way it makes 'em – in this case, ABC, for Advanced Bonded Construction. That means extensive use of polyurethane (not timber) and bonding, backed by a 10-year water ingress warranty.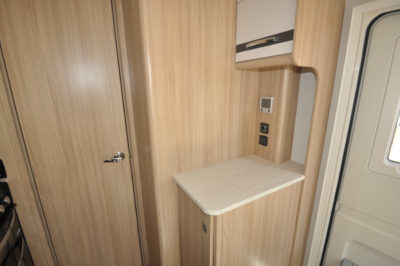 Inside, there's plenty of luxury to back up the build. It's no surprise to see a well-equipped kitchen – Thetford Caprice cooker (dual-fuel hob, separate oven and grill), Daewoo microwave oven, Thetford fridge, sink with add-on drainer and a stylish swan-neck tap. There's sufficient permanent worktop to the left of the sink, while storage is excellent – two decent overhead lockers (one of which has racking for your crocks').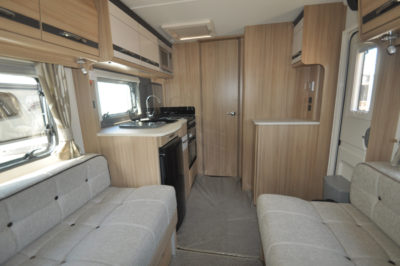 Three doors close off the washroom from the kitchen and the bedroom beyond. It's an effective set-up which sees a fixed basin on a fixed bulkhead (on the bedroom side of this, there are fixings and sockets for a flatscreen TV), flanked by a part-circular, plastic-lined shower cubicle – complete with an Ecocamel outlet on a riser bar – and a Thetford swivel-bowl toilet, with an opaque window beyond it. With the toilet on the offside, there are no problems accessing the cassette holding tank without having to drag it through the awning.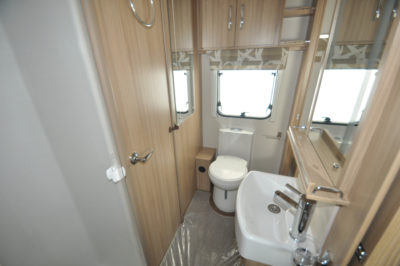 And so to bed? There's a one-piece Ozio mattress on this particular island, on slats for extra ventilation as well as support. Wardrobes and cabinets play supporting roles at each side of the bed, with just enough ledge at mattress level to be useful for items you want within reach during the night. Three lockers are overhead, but set high enough you can still sit up fully for the aforementioned TV-watching.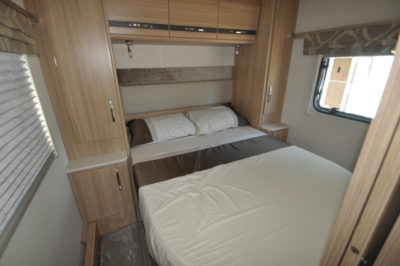 There's more storage if you lift up the whole of the bed section – it's on hinges with pneumatic struts, so it's easy to do – where the whole area is uncluttered, although unfortunately there's no exterior-access hatch.
Elsewhere throughout this tourer, though, it's all thoughtful. If you're one for first impressions, consider this – everything just feels right in a tourer like this.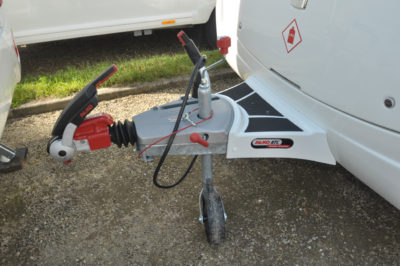 A free-standing table stows in a locker just inside the door. The top of this unit is another ideal TV location point. Plastic mouldings have a tactile finish and – you've guessed – are more sturdy than most. There are dual settings for the lounge's four spotlights.
Bling and glitz barely feature in the Coachman lexicon. Simply getting it right certainly does.
Note: This is a pre-season review, hence key weight details are still to be confirmed. We will update this page as soon as possible, but in the meantime a glimpse at 2016 Coachman information can act as a guide.
---
Verdict: Seriously sturdy
Plus: More affordable than a VIP... better equipped than a Vision, island bed layout, well built
Minus: Will be heavier than rivals... and pricier
In-a-nutshell: Time to think about living on an island?
There's more information on the Pastiche range on the Coachman website. To find out more about insuring this or your current caravan visit our caravan insurance discounts page.
---
Alternatives: Elddis Affinity 550, Sterling Elite 560, Swift Conqueror 560
Cost to insure: £320*
---
Coachman Pastiche 545 factfile
| | |
| --- | --- |
| Model | Coachman Pastiche 545 |
| Base vehicle | |
| Axle type | |
| Dimensions | 7.43m L, 2.26m W, 2.60m H |
| Shipping length | |
| Internal length | 5.80m |
| Berths | 4 |
| MTPLM | 1,546kg |
| MIRO | 1,391kg |
| Payload | 155kg |
| RRP | from £22,190 on the road |
| Safety & security | AL-Ko ATC, Al-Ko stabiliser, Al-Ko Secure pre-fittings, remote alarm system with PIR and tilt sensors, smoke alarm, carbon monoxide detector, and CRiS. |
| Key options | Roof mounted 80 watt solar panel, soft furnishings, wraparound seating in place of chest of drawers and weight plate upgrade (where available). |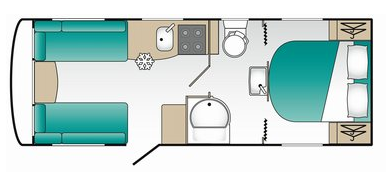 ---
Search our blog
---