Sixty is the new thrifty!
Happy Birthday Hymer.  Sixty years old and, never one to over-egg things, the highly regarded German maker has announced just two celebratory motorhome models, marked 60 Edition.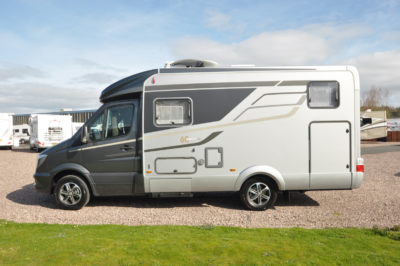 Both Mercedes-based, they're the A-class ML-I 570 and this, the low-profile coachbuilt ML-T 570. And they come absolutely laden with the kind of goodies you normally have to raid the always-extensive Hymer options lists for.
An affordable Hymer motorhome? Fat chance. You'll pay a fiver short of £80,000 to get a typical ML-T 570 on the road. But, never mind the price, feel the quality… and do check out the long list of standard fitted equipment.
It's an impressive base. As standard here, Mercedes' Sprinter has the 2.2-litre Euro VI turbo-diesel engine, producing a more than sprightly 163bhp to the rear wheels via a slick seven-speed automatic transmission. Options include a more powerful engine and four-wheel drive.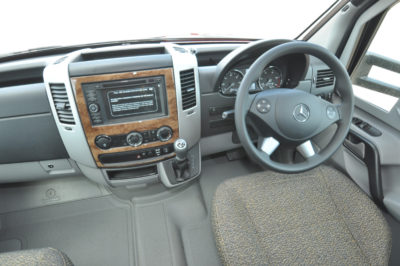 Bodywork is Hymer's famed PUAL construction, with aluminium sides and a GRP outer to the roof (for hailstone protection) as well as the underfloor. The bodywork colouring is exclusive to the 60 Edition models, complemented by alloy wheels by the Hymer-owned chassis accessories company, Goldschmitt. Even with the comprehensive equipment levels that come as standard, this is all on a driving licence-friendly 3,500kg chassis, with a pretty healthy 365kg payload.
Hymer has also used the occasion to tickle up what can be a rather austere cab. Highlight here is the double-DIN Zenec stereo/sat nav/reversing monitor system, with supporting roles played by the air conditioning, cruise control and steering wheel controls. The cab seats are upgraded to premium Aguti units, too.
At 6.74m long, the ML-T 570 actually looks short and stubby – especially as the satellite dish (yes, it's part of the 60 Edition celebrations, as is a 32in smart TV inside, complete with keyboard) takes overall height up well over the 3m mark.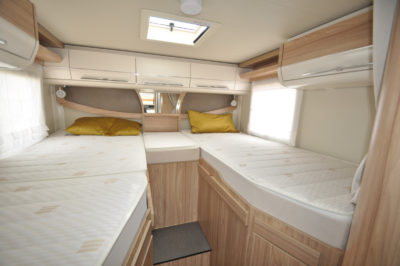 The interior is biased towards two permanent single beds at the back. They're set high, to optimise storage space in the garage below, but access is eased by the fixed steps or – if you go one step further and pull out the centre section to make a double – there's a wooden ladder. Just note those single beds are different lengths – 1.93m on the offside, 1.84m on the nearside –although the comfort of the cold-foam mattresses on plastic springing cannot be denied.
A third sleeping berth can be concocted from the lounge. It's not the biggest seating area here, and the pedestal leg table lacks an extension. But, there's no mistaking the quality of the ambience, with plenty of LED lighting and overhead lockers, plus exclusive 60 Edition upholstery.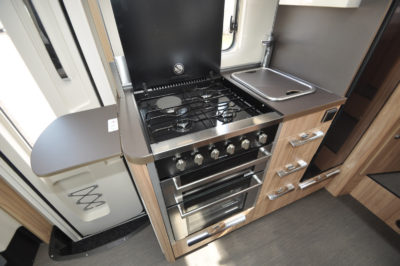 There's a similar shortage of space in the kitchen, despite – or rather, because of – the full cooker and a 142-litre capacity fridge. Storage suffers a little because of these, although you do get five kitchen drawers in total, plus a single high-level locker, which is divided and shelved. And there's a rack for spice jars etc. Meanwhile, a handy flip-up extension offers some handy extra worktop.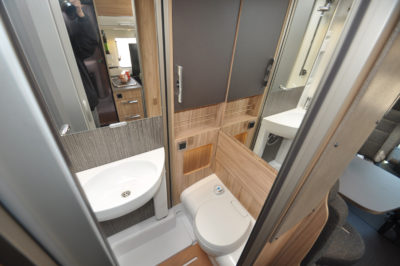 There's some clever design in the washroom, too, thanks to a swinging bulkhead for the basin, which helps transform it all into a large, fully lined shower area. For showering, the swing wall protects the bench toilet, although there's a hinged shelf here that will prove ideal for keeping any clothing dry.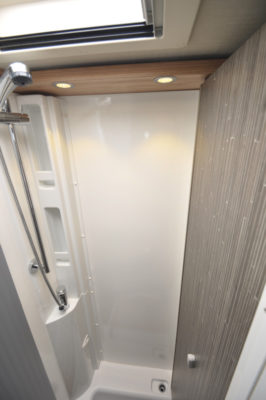 Like the rest of this thoroughly thought-out and conceived motorhome, there's lots to admire. Happy anniversary, Hymer!
---
Verdict: Super all-round quality, with – at last – a specification to match
Plus: Superbly executed, attractive 60 Edition fittings
Minus: Conversion not switched for the UK
In-a-nutshell: Hymer brand values… plus!
There's more information on the ML-T on the Hymer website www.hymer.com. Find out more about insuring this or your current motorhome on our motorhome insurance discounts page.
---
Alternatives: Auto-Sleeper Burford Duo
Cost to insure: £499.00*
---
Hymer ML-T 570 60 Edition factfile
| | |
| --- | --- |
| Model | Hymer ML-T 570 60 Edition |
| Base vehicle | Mercedes Sprinter 316 CDI chassis-cab, 2.2-litre, 163bhp, Euro VI |
| Axle type | |
| Dimensions | 6.74m L x 2.22m W x 3.12m |
| Shipping length | |
| Berths | 3 |
| Travel seats | 4 |
| Maximum weight | 3500kg |
| Payload | 365kg |
| MPG estimate | 28-34 |
| RRP | From £79,995 on the road |
| Safety & security | Electronic immobiliser, remote central locking to cab doors, ABS and EBD, EBA, twin airbags, smoke and carbon monoxide alarms, reversing camera, sat nav |
| Key options | 190bhp engine (£4,260), four-wheel drive (£9,670), chassis weight upgrades (£200), Bike rack (£270), habitation door security lock (£230), towbar (£1,280), rear corner steadies (£240), SOG toilet vent (£190), external shower (£220), leather upholstery (£1,200), Thitronik alarm system (£560), roof-mounted air conditioning (£1,610), electric floor heating (£490), Alde heating system (£2,250), additional sockets (five x 230V/two x 12V/two x USB) (£320) |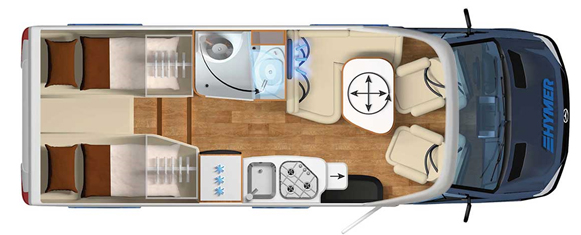 ---
Search our blog
---