When Mercedes puts its name to a campervan, you know you're onto something special. And this is something special.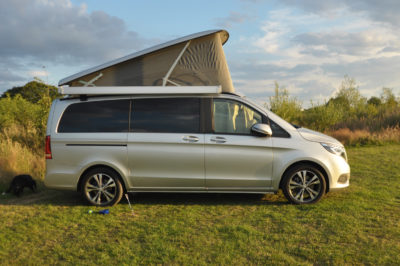 The Marco Polo may be produced by German campervan-making giant Westfalia, but the finished product is exclusive to Mercedes and its own dealer network – some 126 outlets across the UK.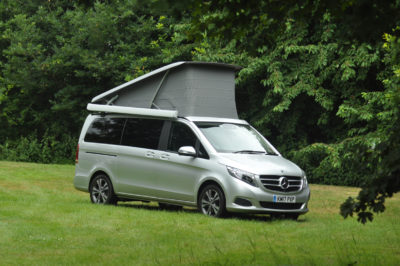 Prices – and no Marco Polo comes cheap – start at £53,180, for the 220 d. But, it's the 250 d, as here, that gets the 187bhp engine as standard and starts from £55,055. All Marco Polos have seven-speed automatic transmission driving the rear wheels. If you're determined to go all out on the style front, there's the AMG Line variant, which adds a further £2,140. But, there are plenty of other options available ahead of that.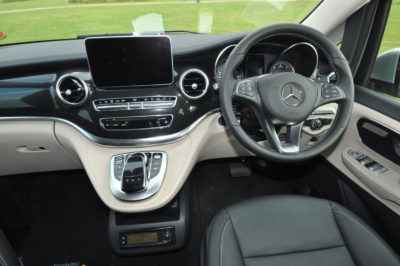 There are also plenty of deep roots shared with Volkswagen's California. Westfalia used to produce campers for VW, and there are plenty of parallels between the Marco Polo and what is now the California Ocean that VW makes itself. It really is a case of go compare…
Sure enough, beyond the modish appearance the interior is a standard campervan format – with furniture along the nearside (Marco Polo conversions aren't switched for UK use, hence the offside sliding door) and a double travel seat-cum-bed.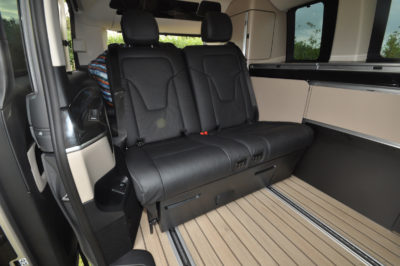 But, you don't have to look too closely to see the differences between the Marco Polo and other campervans are simply amazing. That rear seat pulls forward manually depending on where you want it for travel as well as on-site. When it comes to adjusting the sculpted backrests or making it all into a bed, however, electric switches take care of the job for you, even raising the base perceptibly so that you're not lying directly on the Isofix seat belt fittings.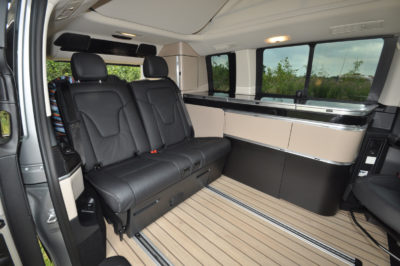 That's just one of a number of impressive standard features that really help set this apart from run-of-the-mill campers. The elevating roof, side door and tailgate all also have electrical operation. Then there's automatic three-zone climate control, tinted rear windows, Active Parking Assist with rear view camera, Garmin sat nav, leather upholstery and lots more.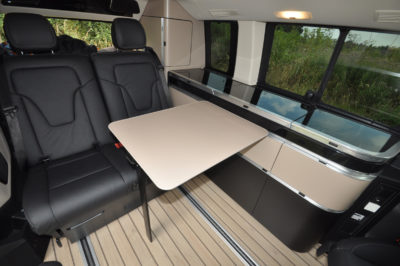 It's an excellent roof bed, too, thanks to a one-piece cold foam mattress on a slatted base, plus plenty of foot room – for optimum support as well as ventilation. Also up here are twin reading lights on stalks and a USB socket. Both beds are a tad narrow – 2.03m x 1.13m downstairs, 2.00m x 1.10m up top – but there's otherwise no problem calling this a genuine four-berth camper.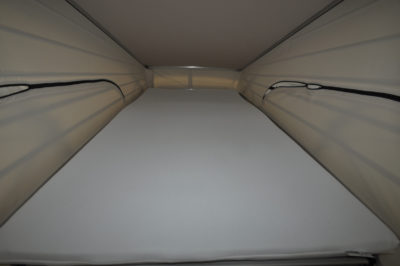 You can make up your own minds about the look of the interior, but few would disagree it's ultra-modern – from the thick alloy edging and easy-to-operate positive catches for the furniture, to the yacht-style flooring. There are actually four other interior trim alternatives to the one shown here.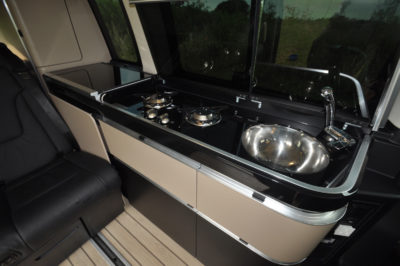 The camping kit includes the to-be-expected two-ring gas hob and sink, plus a 40-litre top-loading compressor fridge. Storage ranges from a cutlery drawer to a good spread of lower-level cupboards.
You can extend your living to outdoors thanks to a couple of folding chairs and a table, stowed in a canvas basket located under the bed base just inside the tailgate. The only issue here is this takes up a lot of space where you'd normally put your luggage.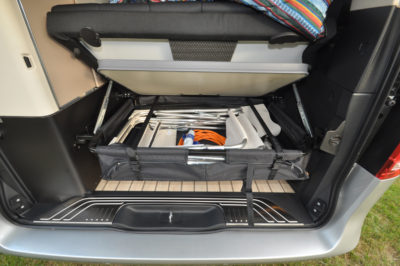 You'll certainly make some tidy savings on your campervan insurance, especially if you go for some of the heavier-duty optional packages like Command Online and Driving Assistance.
---
Verdict: Style meets substance, and it's all three-pointed star shaped
Plus: Car-like performance and safety, stylish conversion
Minus: Conversion not switched for right-hand drive, high Road Fund Licence
In-a-nutshell: A glamourous camping machine
There's more information on the Marco Polo on the Mercedes website www.mercedes-benz.co.uk. Find out more about insuring this or your current motorhome on our motorhome insurance discounts page.
---
Alternatives: Volkswagen California Ocean
Cost to insure: £387*
---
Mercedes Marco Polo 250 d Sport Long factfile
| | |
| --- | --- |
| Model | Mercedes Marco Polo 250 d Sport Long |
| Base vehicle | Mercedes V-Class, 2-litre, 150PS, Euro VI |
| Dimensions | 5.14m L x 1.93m W x 1.98m H |
| Berths | 4 |
| Travel seats | 4 |
| Maximum weight | 3,200kg |
| Payload | 540kg |
| MPG estimate | 44-49 |
| Safety & security | Anti-theft Protection Package with anti-theft alarm system, Adaptive Brake System with hold function, Collision Prevention Assist, Attention Assist, electric sliding door and tailgate, LED intelligent lights, Isofix rear seat fittings, Active Parking Assist with reversing camera, and tyre pressure monitoring system. |
| Key options | Metallic paint (£645), awning (£695), 360degrees camera (£335), Command Online (£1,795), diesel heating (£1,345), Driving Assistance Package (£1,645), 19in alloy wheels (£595) |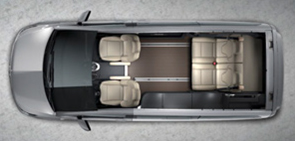 ---
Search our blog
---