Island crossing
Bailey's latest Advances – announced February 2018 – see a bit of extra glamour brought to what is supposed to be a budget range.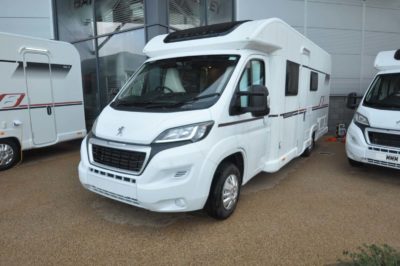 Sure enough, the Bristol-based manufacturer has kept the pricing keen, but there's a general smartening to what is now a six-model line-up, thanks to the introduction of a couple of transverse island bed models.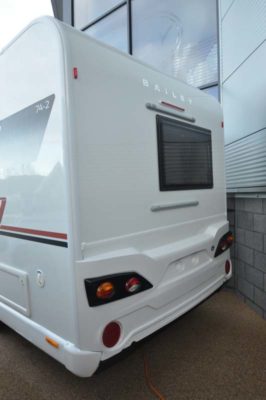 Critically, all keep well under the £50,000 and 3,500kg weight barriers that denote price and user-friendly coachbuilt motorhomes these days.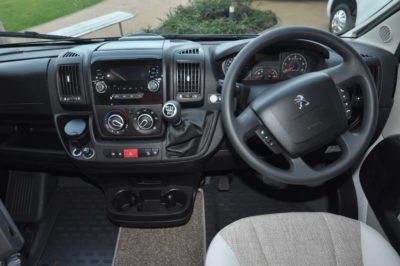 This, the two-berth variant, is a thousand pounds less than its fully four-berth sister, the 74-4. And that just make an important difference in the popularity stakes. Indeed, if you only ever intend to tour as a couple, it's the roomier two-settee lounge of the 74-2 here that will hold greater appeal.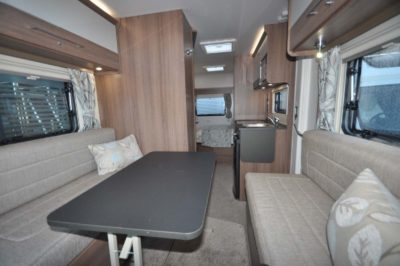 As with all Bailey's coachbuilts so far, it's all based on a Peugeot Boxer/Al-Ko chassis combination that you don't normally get at this price level. It's rare enough to be offering the more pliant ride and arguably better handling the Al-Ko chassis brings. Further credit to Bailey, too, for offering as standard such cab enhancements as airbags, upgraded stereo, air conditioning and more, with no supplements to pay.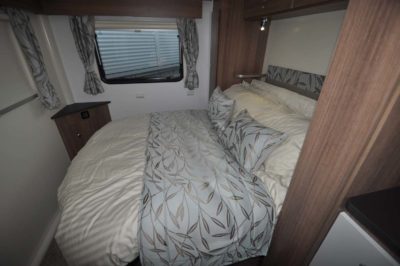 Cab and coachbuilt body are in matching white, the flush-fitting acrylic windows are new, as are the sideskirts and moulded rear lighting/bumper panel. The sunroof over the cab says luxury, the window-less habitation door shouts budget. There's also a healthy payload, just 5kg short of 700kg.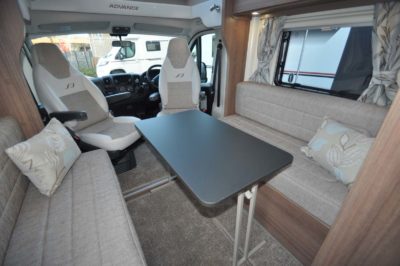 The lounge floor is flat from the cab, with a step down to the rest of the living quarters. There's a free-standing table here, with a dedicated locker for safe travel. Lighting includes ambient strips, downlighters and dimmable reading lamps (one of which even has a USB socket). Roller blinds show where money has been saved. Worth noting, also, are details like the larger-than-most inset step at the habitation door, with a coat hook directly in front of you as you enter.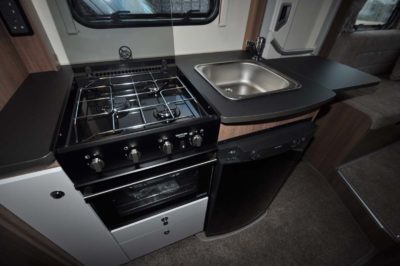 The kitchen gets the balance just right between equipment, worktop and storage. That's thanks to space-saving fitments like the Thetford three-ring cooker with combined oven and grill. The fridge is the main cost- as well as space-saver. It only has a 95-litre capacity, and manual gas ignition, but the freezer box is removable if you want to optimise it as a chiller.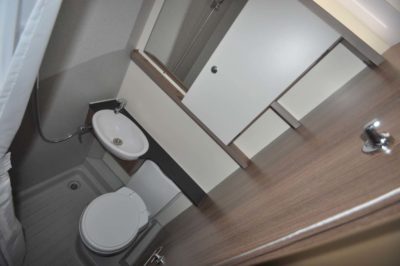 Almost diagonally opposite the kitchen, the washroom has a curtain so the whole area can be used for showering. Overall, it's a rather mixed offering here – there's an Ecocamel showerhead, but no window; two plugholes in the floor, but they're too close together. There's space for a fixed basin and swivel-bowl toilet, however, and details such as the hook, towel holder and toothbrush mug are thoughtful.
If the washroom is a tad tight, the contra to that is the space devoted to the bedroom at the back. Setting the island bed transversely gives occupants daytime views out of the offside and back windows (there's just a standard rooflight above), and the mattress section slides out to a full length of 1.88m.
Full marks to Bailey for not getting involved in spurious "options packs" of extras that should be standard and only serve to bump up an attractive window price. This is a carefully conceived low-profile that successfully walks the price/specification tightrope, at the same time offering a floorplan you'll find hard to track down at this price level.
---
Verdict: Upmarket island bed offering at a very attractive price
Plus: Island bed comfort, 3,500kg maximum weight, budget pricing with premium appeal
Minus: Only one engine/transmission offering, tight washroom
In-a-nutshell: Advances take a step forward
There's more information on the Advance range on the Bailey website www.baileyofbristol.co.uk. Find out more about insuring this or your current motorhome on our motorhome insurance discounts page.
---
Alternatives: Auto-Trail Tracker RB
Cost to insure: £342.00**
---
Bailey Approach Advance 74-2 factfile
| | |
| --- | --- |
| Model | Bailey Approach Advance 74-2 |
| Base vehicle | Peugeot Boxer/Al-Ko |
| Axle type | |
| Dimensions | 7.40m L x 2.28m W x 2.76m H |
| Shipping length | |
| Berths | Four |
| Travel seats | Two |
| Maximum weight | 3,500kg |
| Payload | 695kg |
| MPG estimate | 28-34 |
| RRP | From £46,000 on the road |
| Safety & security | ABS with monitoring system, ESP, engine immobiliser, battery isolator, airbags, Al-Ko chassis outriggers, smoke and carbon monoxide alarms, tyre pressure sensors |
| Key options | Bedding set (£203), three-year extension to manufacturer's warranty (£849), four-year extension to bodywork warranty (£265) |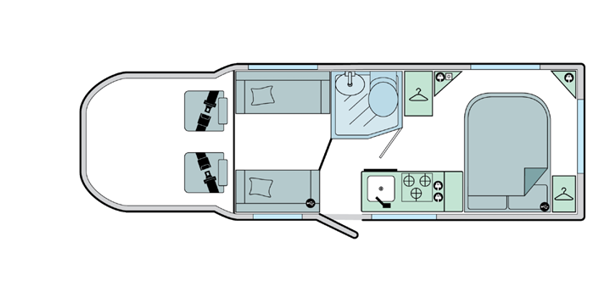 ---
Search our blog
---