Whilst visitors to this year's Caravan Salon exhibition in Germany were able to see literally hundreds of new-for-2019 motorhomes, plus more, we've narrowed things down to just five new models that might be worth more investigation.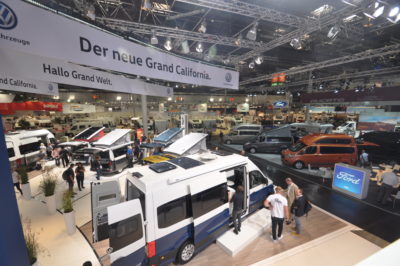 What is Caravan Salon?
This is by far the largest showcase for new motorhomes and caravans in the whole of Europe. It's an annual event, currently held at the Dusseldorf Exhibition Centre in northern Germany
This year's was the 57th Caravan Salon, and it recorded highest ever visitor numbers, with some 248,000 people coming through its doors to visit over 600 exhibitors in 13 halls, as well as outdoor stands – featuring leading manufacturers, accessory suppliers, campsites, tour operators and more. There's also overnight facilities for motorhomers in the extensive grounds near the show venue.
Next year's Caravan Salon takes place from August 31st to September 8th. For more information visit www.caravan-salon.de.


Volkswagen Grand California
Just one year after introducing us to the California XXL concept, Volkswagen was back at Caravan Salon to give debuts to two all-new vehicles – Grand California 600 and Grand California 680. And they stole the show.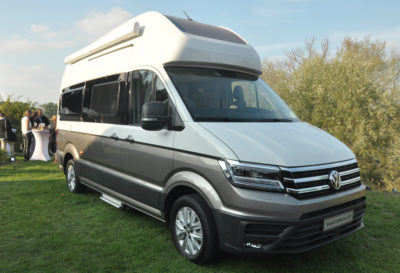 They're based on the 6m and 6.8m long Crafter respectively, and have conventional enough rear bed/front lounge floorplans, but the interior fittings are stunning in both appearance and quality. It's the first time VW has produced motorhomes with washrooms, too.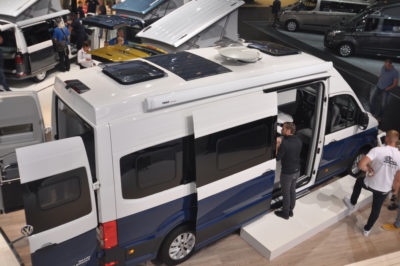 They're coming to the UK early next year, when more details will emerge. On the mainland, there's a highly competitive starting price of 55,000 euros for the Grand California 600 with 177PS engine and eight-speed automatic transmission.


Hymer B-MC series
Mercedes unveiled its next-generation Sprinter base vehicles this summer, and it's no surprise to see its leading converter, Hymer, announcing new motorhomes.
Look out for the B-MC models – MC stands for ModernComfort – in low-profile coachbuilt (T) and A-class (I) formats. There are two versions of each, both with the same floorplan – 580 for twin single beds, 680 with island bed.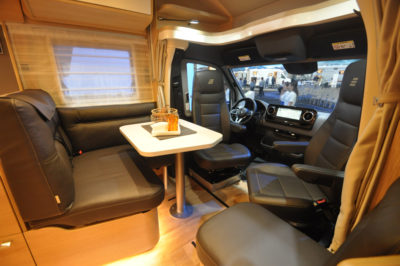 They also use Hymer's own chassis extension beyond the cab, with a GRP double floor. Construction innovations mean the chassis can be rated at driving licence-friendly 3,500kg maximums, while still offering payloads of up to 600kg.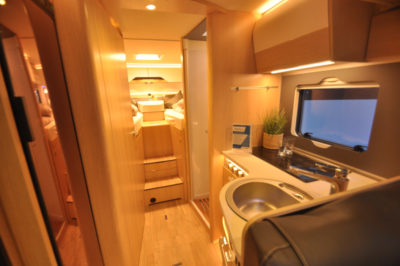 Elsewhere at the show, Mercedes itself exhibited the Concept Sprinter F-CELL, using fuel cells for emission-free travel.


Westfalia Sven Hedin
Volkswagen isn't the only one producing conversions of the Crafter. Westfalia – the company which, for so long was synonymous with the California campers – has the Sven Hedin in its portfolio.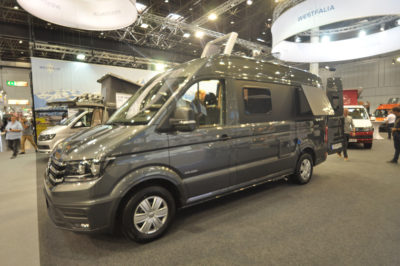 Based on the 6m long Crafter, it's already on sale here in the UK, with around £65,000 a typical price for the version with 177bhp engine and eight-speed automatic transmission. Plus, there's a range of options packs on top of this.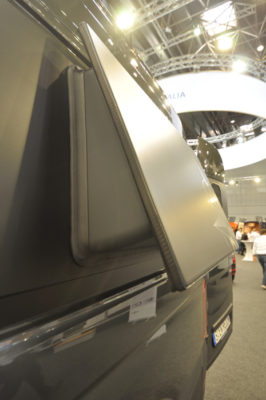 Note that nifty flap in lieu of a rear side window. When open, it adds a vital extra few inches to the transverse double bed, taking its length to some 2m.


Wellhouse VR/46
From Yorkshire, England to Dusseldorf, Germany, via Bologna, Italy… that's the story behind this special version of Wellhouse's Ford Transit-based Terrier campervan. The Italian job is the furniture design from Tecnoform, in a brushed aluminium finish, which complements an alcantara-lined ceiling with starlight illumination. Other kit includes a three-person sliding rear seat/double bed and SCA elevating roof.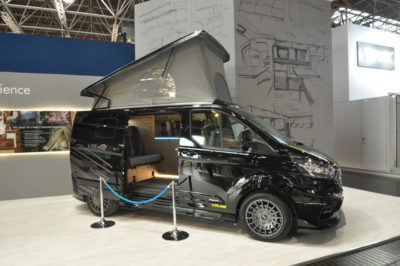 As you can see, the exterior is pretty swish, too, thanks to body kit from Ford Transit customising specialist MS-RT.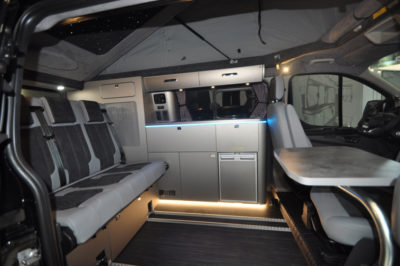 Want a right-hand drive version? Speak to Wellhouse Leisure…


Knaus Van TI Plus
No, not another Volkswagen Crafter-based motorhome! The latest Knaus Van Ti Plus series of low-profile coachbuilts uses the MAN TGE chassis – the first time the HGV company has ventured into the light commercial vehicle sector. The TGE is MAN's equivalent of the Crafter, offering similar engine, transmission, ride and handling variants. There's also a 4×4 offering.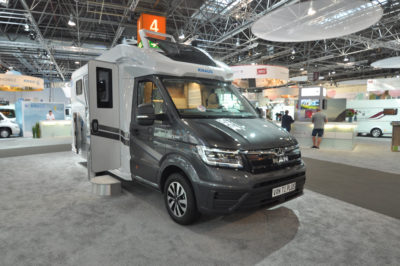 Two Knaus Van Ti Plus models have been announced initially – the 6.99m-long 650 MEG with twin single beds and the 7.47m 700 LF, with a rear French bed.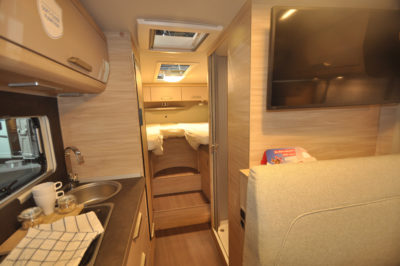 Let us know what you make of these new 2019 motorhomes and campervans in the comments box below.
Search our blog
---