A true showboat
"That's posher than my kitchen at home. Big, isn't it? You could live in it. Something special, that. Look at that bottle storage space. But, you could buy a house…"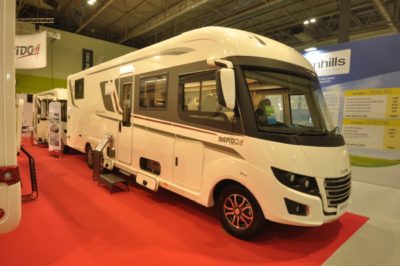 These were among the highly favourable comments we heard about this flagship A-class motorhome from France's Rapido, when it took its bow at last October's Caravan and Motorhome Show at Birmingham's NEC.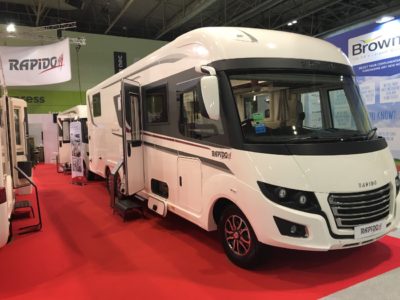 This really is top-end stuff. It's a comprehensive 8.79m long tag axle, with Al-Ko extension to Fiat's Ducato chassis-cowl and a double-floor construction that immediately tells you this is one serious motorhome – not only does this mean superior insulation qualities, including better protection for pipework etc, but also low-level storage, accessible from inside as well as out.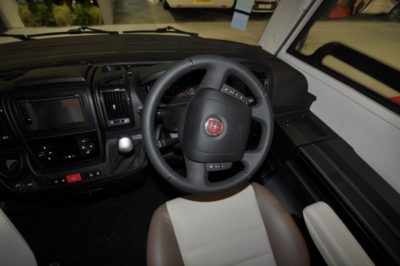 Bodywork is 100% GRP-clad, with aluminium skirting and Styrofoam insulation.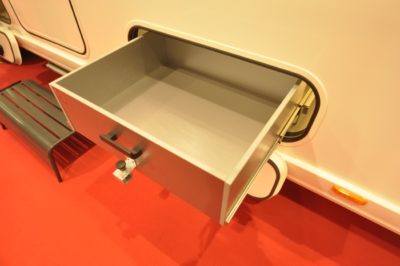 Everything else is serious quality, too. And a reminder that top-drawer motorhomes don't come solely from Germany. To Rapido's credit, too, it doesn't rely on a round-up of optional extras, including packages, to ramp the price up. True, there are some options, but it's nowhere near as baffling as some. Alde heating tops an extensive list of standard kit that you'll want to investigate more fully for yourselves.
It's a typical enough rear island bed floorplan, albeit with a very high standard of fit and finish (again, you need to see it for yourselves). Shown here is the Elegance furniture (the all-white Castello is an alternative) with Riga upholstery (one of five offerings).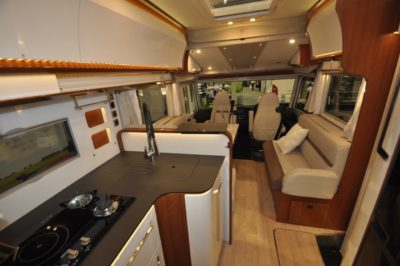 As ever, there's a comprehensive list of optional extras, although this particular model does start with the Executive Pack as standard. That accounts for over a dozen key fittings – Kenwood multi-media centre, cab door (UK passenger side), stabilising jacks etc.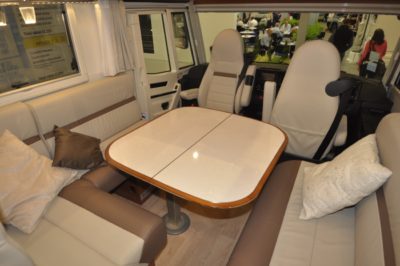 There's a party-sized front lounge in typical A-class style, with seating around a generous, sturdy fixed pedestal leg table, whose top is hinged down the middle – that makes it easy to fold over if you want unruffled access to the kitchen, washroom and bedroom beyond. Plus, there's the usual drop-down A-class style double bed, electrically operated in this instance.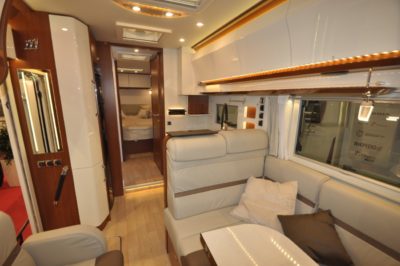 It's a rather swish kitchen, too. The main unit is L-shaped on the offside, complemented by a 190-litre Dometic Tec-Tower fridge/freezer, with high-level oven/grill, on the nearside. The chef has a two-ring gas hob plus induction hob and an inset stainless steel sink served by a shower with flexible hose tap, with drainer section moulding into the worktop.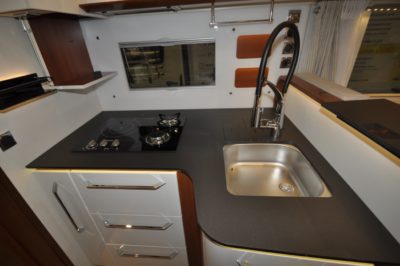 Drawers and lockers are soft-closing, with central locking for the drawers, and extra shelving/work surface sections are among several neat detail touches.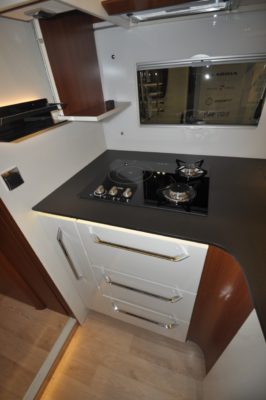 Beyond the kitchen, the ablutions facilities are split between a shower cubicle and fixed basin on the offside and toilet room nearside, allowing full walk-through to the bedroom beyond. Doors allow you complete washroom privacy when needed. It's a top quality shower area, in particular.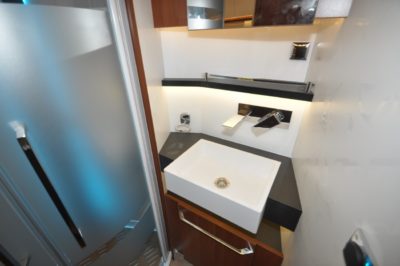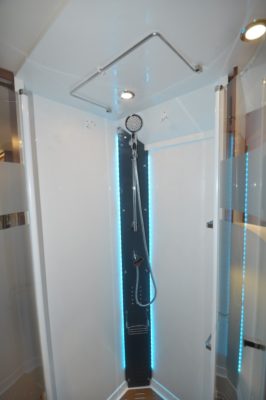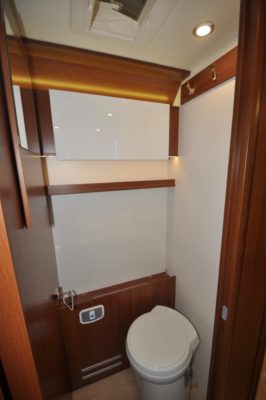 There's yet another star feature at the back. That island bed is a particularly generous 1.98m x 1.60m. It's adjustable for overall height, too, if you want to optimise the garage storage space below.
As you can guess, luxury features abound. The island double includes adjustable backrests for both occupants, there's a covert slide-away location for a large, flat screen TV, and a similar operation for a coffee maker in the kitchen.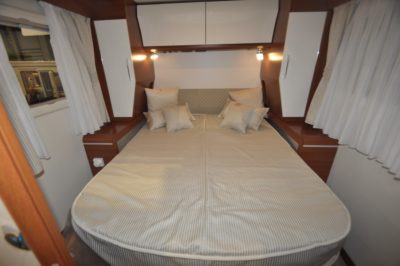 Then there are the locker doors with pneumatic struts. The gloss finish to the doors themselves and their inward curve from top to bottom helps enhance feelings of space across the whole interior.
Sometimes, even if you know you'll never be able to afford such a vehicle, it's worth sitting in a motorhome like this and simply admiring the quality. You can, of course, also remind yourself that many of the fixtures and fittings are replicated in your own motorhome.
In this video we take a look around the Rapido Distinction i1090: https://youtu.be/EDp5yhJS6eQ
---
Verdict: A designer's dream of a motorhome
Plus: Pricing policy, quality air throughout
Minus: Limited availability, high oven/grill
In-a-nutshell: Ooh la la!
There's more information on the i1090 range on the Rapido website. Find out more about insuring this or your current motorhome on our motorhome insurance discounts page.
---
Alternatives: Bürstner Elegance i920G, Carthago Chic e-line I 64 XL QB, Dethleffs Globetrotter XL I 7850-2 DBM, Hymer B-Class SL 708
Cost to insure: £1066.50*
---
Rapido Distinction i1090 factfile
| | |
| --- | --- |
| Model | Rapido Distinction i1090 |
| Base vehicle | Fiat Ducato, 2.3-litre, 150bhp, Euro VI |
| Axle type | |
| Dimensions | 8.79m L x 2.35m W x 3.05m H |
| Shipping length | |
| Berths | 5 |
| Travel seats | 5 |
| Maximum weight | 5,000kg |
| Payload | From 695kg |
| MPG estimate | 26-30 |
| RRP | From £115,800 on the road |
| Safety & security | Electronic immobiliser, remote central locking, ESP including Traction Plus, Hill Assist and Hill Descent, twin airbags, European Whole Vehicle Type Approval |
| Key options | 180bhp engine (£3,390), Comfort-Matic transmission (£1,850), underfloor heating (£590), Riga Lea upholstery (£2,280), towbar (£1,230), LED headlights (£880), Navigation Pack (£530) |

---
Search our blog
---