A seasonal special?
Is this really coming to the UK?  It's actually not Adria's first attempt with the Astella name here in the UK – that goes back to 2012, when the moniker appeared on large single axle tourers. This latest incarnation, however, really is something special!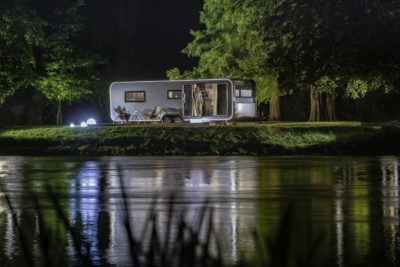 Adria announced its latest Astellas – there are potentially three of them – at the Caravan Salon, Europe's largest caravan exhibition – back in August 2019. They certainly look like nothing else before – and that's saying something for a manufacturer that's never shied away from doing something different in the touring caravan and motorhome markets.
In its latest guise, though, each Adria Astella is more akin to a small house… and a thoroughly modern one, at that. Under the spotlight here is the 754DP, which features a conventional enough sounding end bedroom and front lounge, but do read on.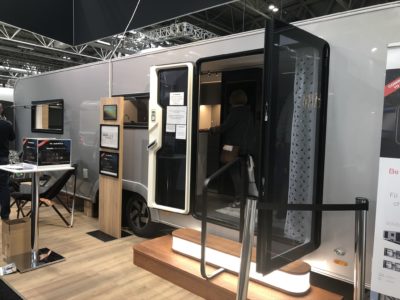 It has Al-Ko running gear to make it suitable for towing but, with a body length of more than 7m and at 2.52m wide, you're already going to have to have a suitably heavyweight (commercial) towing vehicle (warning: it, alone, will need to weigh over 3,500kg). That's why it's expected this model will be favoured by those staying on a seasonal pitch.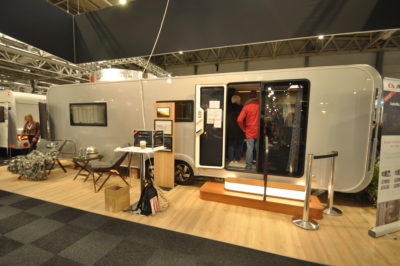 In situ, then, there's plenty to admire. Despite the space-age looks, it's actually rather boxy, and that's notwithstanding Adria's assertions it's aerodynamically designed, with safest towing in mind.
You'll be drawn most to that unique double door entrance, though. It's easy to imagine relaxing in the front lounge area and looking out at the great outdoors – doors closed or open – through the side of the Adria Astella rather than the more traditional caravanners' view via a typical three-windows front end.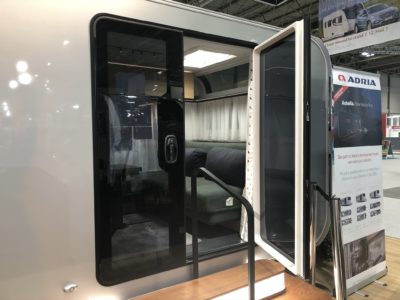 Take it that every area is pretty large here – from the lounge to the bedroom. Nevertheless, there's a considerable trek of corridor between the lounge at the front and the main sleeping quarters at the back.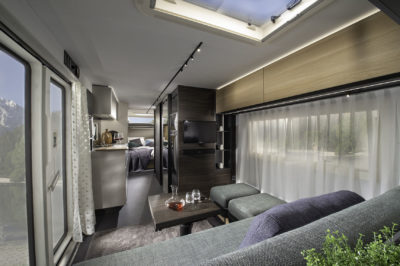 Needless to say, then, the lounge is different. It's L-shaped, with sofa-bed seating extending across the full width of the front and facing rearwards.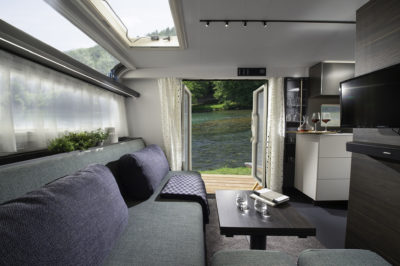 It's all set up for TV watching, too, whilst the Dometic two-way opening fridge/freezer is within the easiest of reaches.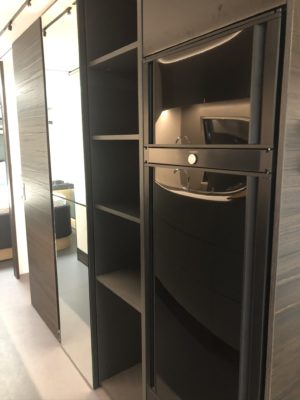 The Adria Astella 754DP certainly boasts one of the largest kitchens you'll ever see in any leisure vehicle – especially in terms of permanent worktop space (it's Corian) and huge, soft-close storage drawers.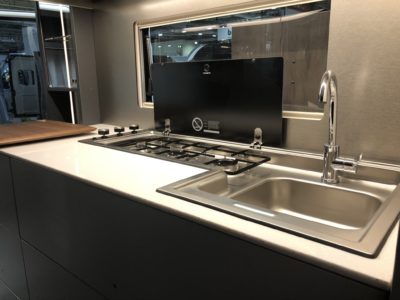 You'll notice a signature Adria feature here, too, though – the L-shaped combined gas hob and sink that's such a great, space-efficient fitting in other Adria products.
Apart from Thetford's swivel-bowl toilet and an Ecocamel showerhead, the washroom shouts boutique hotel.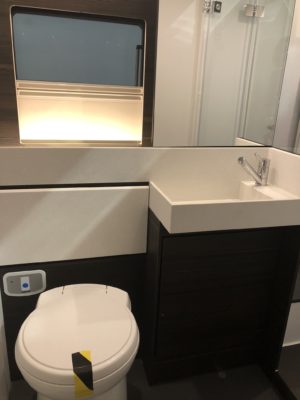 There's sliding door access and a sliding mirror behind the basin. While the generous step-in shower cubicle includes a handy step.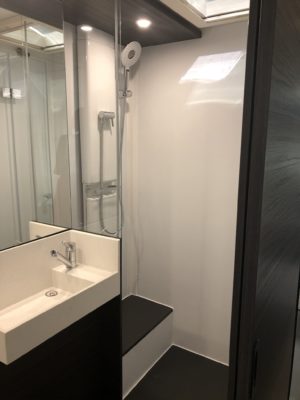 At the back, another sliding door glides back to reveal the main bedroom. The island bed here enjoys a particularly low setting meaning access is all the easier, along with his and hers wardrobes as part of units that also include neat "ledges with edges".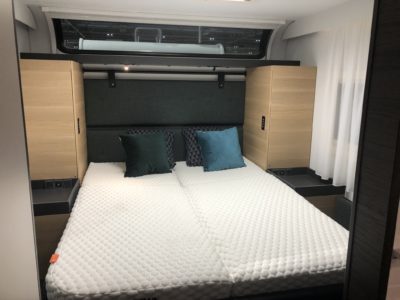 Other fittings here that go beyond being merely stylish include the curved upper-level window along the back wall and the tiny (but bright) LED lights that can be adjusted along a ceiling-mounted rail. There's a more traditional Heki rooflight over the bed, while another proven feature is Alde central heating and hot water.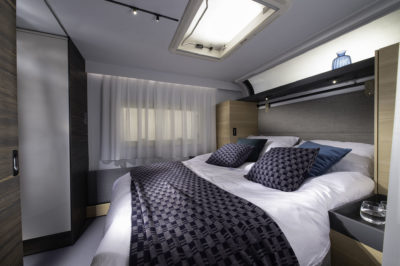 Okay, you're going to love this or hate it. The general verdict is it won't appeal to traditional caravanners, but arguably it was never meant to. It's too early, too, for any finer details to be confirmed, including UK pricing and even availability.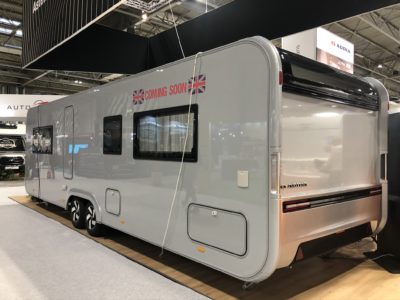 Adria's UK arm is remaining tight-lipped on all manner of aspects about the Astella. But, we do know a continental price of €53,499 was mooted when it was announced at Germany's Caravan Salon at the end of summer 2019. Expect, then, UK prices to stop short of £50,000.
But, with comments like: "We are going to get NCC (National Caravan Council) approval," and the like, there's every feeling Adria is serious about its Astella attempts over here in the UK.
---
Verdict: Pushing the boundaries with a style sensation
Plus: So much space, packed with clever details
Minus: Corridor effect between bedroom and lounge, is it really for towing?
In-a-nutshell: A shock to the senses
There's more information on the Astella range on the Adria website. To find out more about insuring this or your current caravan visit our caravan insurance discounts page.
---
Cost to insure: *
---
Adria Astella factfile
| | |
| --- | --- |
| Model | Adria Astella |
| Base vehicle | |
| Axle type | |
| Dimensions | 8.09m L, 2.52m W |
| Shipping length | |
| Internal length | To be confirmed |
| MTPLM | 2,500-3,000kg |
| MIRO | 2,350kg |
| Payload | 150-650kg |
| RRP | To be confirmed |
| Safety & security | Al-Ko stabiliser, Al-Ko Secure pre-fittings, smoke alarm, carbon monoxide detector, CRiS, reinforced corner steadies – all to be confirmed |

---
Search our blog
---