Doing things a bit differently
T-Line is the flagship range for the small but comprehensive portfolio of Roller Team motorhomes imported from Italy. With the 743, though, there's a notable attempt to dare to do things a bit differently.
Initial impressions might not sound much – a Fiat Ducato-based low-profile coachbuilt with rear transverse island bed, as well as a drop-down double over a typical continental lounge at the front. The habitation door switched to the UK nearside is a promising start, however. Take such things as a useful indicator of how seriously foreign marques take our market.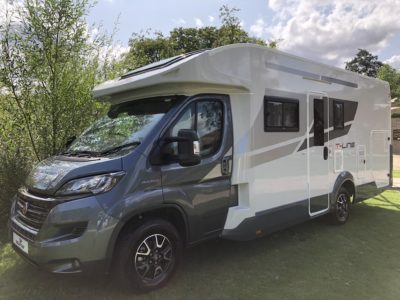 Other standard features in the T-Line 743 motorhome – alloy wheels, flush-fitting windows in the main body, window in that habitation door, large overcab sunroof, the blending of colours between the cab and the rest of the bodywork, right through to the bike rack for four – enhance that promise.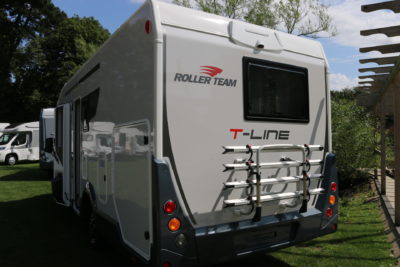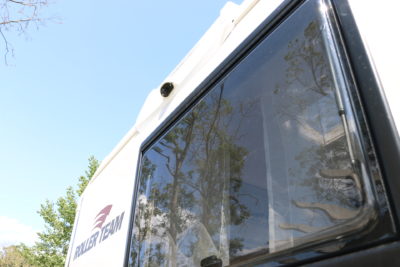 Plus, the coachbuilt body – all latest technology featuring GRP with Styrofoam insulation – comes with a 10-year integrity warranty.
Inside, there are more tricks up this motorhome's sleeve. What might first look like a standard enough layout actually holds surprise in the kitchen and lounge, especially.
The rule that says continental lounges are rather tight-fitting has been ripped up here.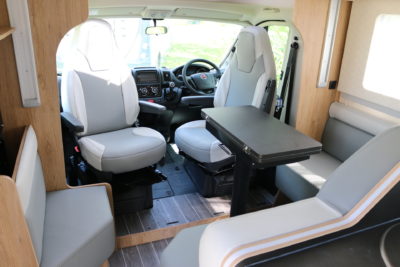 True, the arrangement sounds conventional enough – L-shaped settee, single inward-facing seat (also housing neat storage for a TV), both cab chairs easily swivelled – but it's a larger-than-average pedestal leg table that adjusts on the horizontal plane, plus folds for easier access to the rest of the living quarters. Plus, the settee in this T-Line 743 motorhome is considerably longer than the norm.
Even the furnishings are a bit different. The T-Line 743's upholstery is a faux leather, complementing a white gloss laminate locker finish.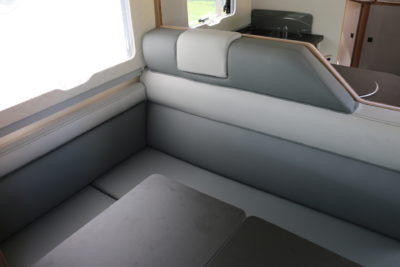 Beyond the lounge, the kitchen – also extended inwards to complement the seating – again offers much more.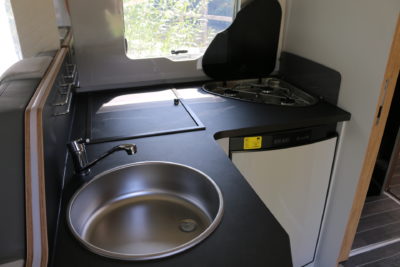 It's L-shaped, with the hob and sink set further apart than usual, because there's a top-loading compressor fridge in between – whilst the main fridge is set under the hob. Yes, two fridges! More conventionally, a Thetford Duplex combined oven and grill complete the cooking facilities.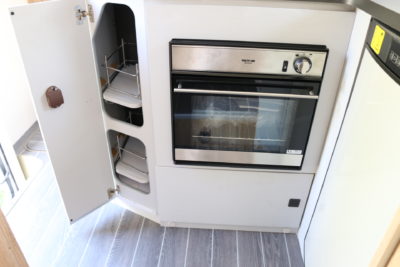 Between the kitchen and the bedroom, washing facilities in the T-Line 743  are split between a shower cubicle on the offside and toilet room opposite, although sliding doors mean you can create a full-width room here should you wish.
That toilet may be set a little high for some, but there's no arguing with practical features such as the opening window, towel rail, clothes hooks and decent enough storage, plus countertop basin.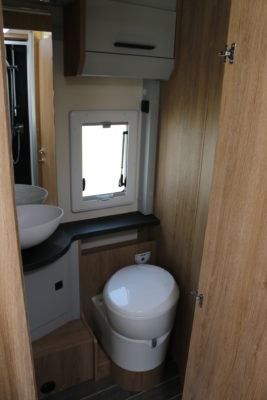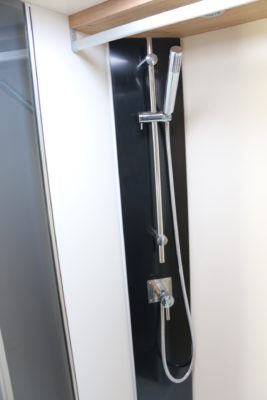 Likewise in the shower zone where, as well as shower fitting on a riser bar, you get two drainage outlets and a rail for hanging any wet clothing etc.
At the back of the T-Line 743 motorhome, then, the main bedroom features an unusual wardrobe arrangement either side of the island double, with upper cubbies as compensation for the lack of bedside ledges.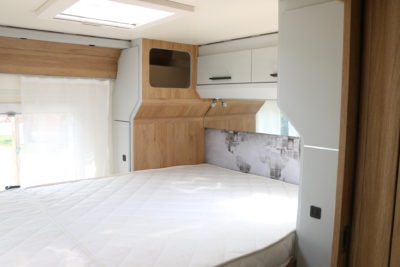 There's actually further wardrobe space in the foot of the bed. The bed itself is set high to allow for a sizeable garage below. The downside of this arrangement is it means it's nigh impossible to sit upright in bed.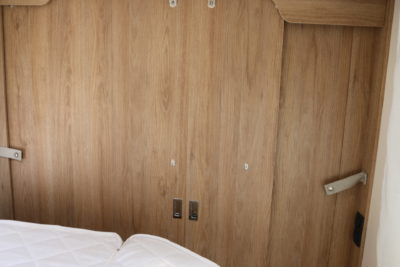 Then there's the electrically-operated drop-down double over the lounge. Again, you'll sleep transversely, on a mattress that tapers towards the foot end so as it doesn't intrude across the main entrance.
There's more. A 120Watt solar panel helps power the 95Ah leisure battery. Truma's Combi 6 heating and hot water system comes with iNet connection. In the cab, the Zenec Xcent stereo system includes a satnav and there's a reversing camera, which will gain you a few pounds off your motorhome insurance with Caravan Guard.
Underpinning all this is Fiat's near-ubiquitous Ducato, a more than capable, long-proven base. Payload is a tad restricted, but a no-cost chassis upgrade is available.
Prepare yourself for a couple of price nudges, if you're interested in the Roller Team T-line 743 though. The £1,250 Driver's Pack is essential, in that it gives you cab air conditioning, passenger airbag, cruise control and more. Also, you'd be better off with at least the 140bhp engine option for the more relaxed cruising it will give you. Removable floor carpets are £200 – treat them as a test of your negotiating skills or – better still – source your own for a fraction of the price.
In this video we take a look inside the 2020 Roller Team T-Line 743 motorhome.
---
Verdict: Clever re-working of a tried-and-trusted end bedroom floorplan
Plus: Extra space in the kitchen and lounge, upmarket fittings in a mainstream motorhome, lots of clever details
Minus: Price leap if you want auto, single door garage access only, floorplan means lots of steps
In-a-nutshell: Time to make a bee-line for a T-Line?
There's more information on the T-Line range on the Roller Team website. Find out more about insuring this or your current motorhome on our motorhome insurance discounts page.
---
Alternatives: Auto-Trail Imala 732
Cost to insure: £392.50*
---
Roller Team T-Line 743 factfile
| | |
| --- | --- |
| Model | Roller Team T-Line 743 |
| Base vehicle | Fiat Ducato, 2.3-litre, 120bhp, Euro 6d |
| Axle type | |
| Dimensions | 7.47m L x 2.35m W x 2.95m H |
| Shipping length | |
| Berths | Four |
| Travel seats | Four |
| Maximum weight | 3,500kg |
| Payload | 362kg |
| MPG estimate | 30-34 |
| RRP | From £57,440 on the road |
| Safety & security | Electronic immobiliser, remote central locking to cab doors, twin airbags, European Whole Vehicle Type Approval, LED daytime running lights, reversing camera. |
| Key options | Drivers Pack (£1,250), Thermo Pack (£1,500), 140bhp engine upgrade (£900), 160bhp engine upgrade (£1,800), 180bhp engine upgrade (£3,720), automatic transmission (£2,994), cab separation curtain (£175), alternative upholstery (£250), removable lounge carpet (£200) |

---
Search our blog
---