Many try it. Few succeed. We're talking about continental manufacturers' attempts at the kind of rear lounge floorplan that's long been such a favourite amongst us Brits. But here's an A-class motorhome from France's Rapido that looks more than just a bit promising.
From its five-model 8F series of Fiat-based A-class's, getting the rear lounge right, but not necessarily following others was the responsibility given to the designers of the Rapido 854F motorhome.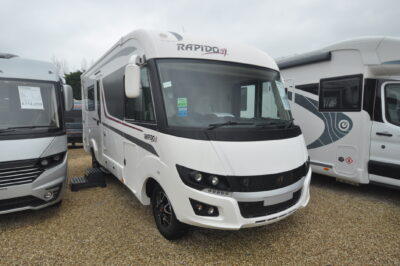 That A-class design – where the whole body is built from the chassis upwards, means you get very roomy living quarters despite an overall length of just 6.70m. And yet, at 2.35m, this is the same width as a typical coachbuilt motorhome using a chassis-cab.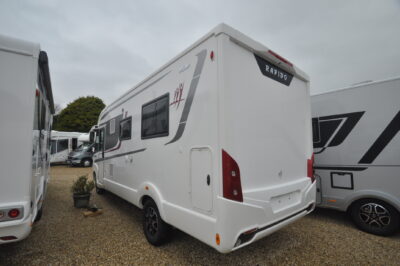 You feel the extra living space in the most at the front, of course, where the cab seats aren't just an integral part of the on-site living, but you also get that other typical A-class feature – a drop-down bed.
A second double bed can be made from the lounge seating, or – if it suits – an optional extra is a drop-down bed over the lounge
It's actually an unusual layout throughout the Rapido 8F 854F motorhome. The toilet room is directly behind driver, with its main features being a Thetford swivel-bowl toilet and a countertop basin on a swing wall, that moves around to create a shower area.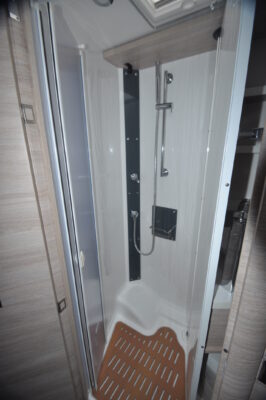 It's all very space-efficient and certainly doesn't lack any details – there's also a push-open locker with shelving here, plus a drop-down rail for wet clothing, folding doors and duckboarding for the shower (but only a single drainage point) and a large mirror on the back of its solid door.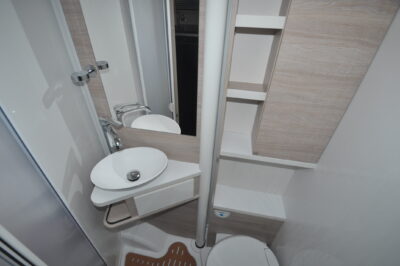 Exit the washroom and directly facing you is the kitchen, which is partly L-shaped. It's got a particularly neat shelf unit to the left of the three-in-a-line gas burner hob (also very space-conscious, because it allows for some permanent worktop in front of it). There's also a Rapido-branded oven and grill, set rather lower down than is totally comfortable, plus some rather nifty drawer storage. Two overhead lockers have a simple push-to-open operation. The kitchen also boasts storage for four bottles.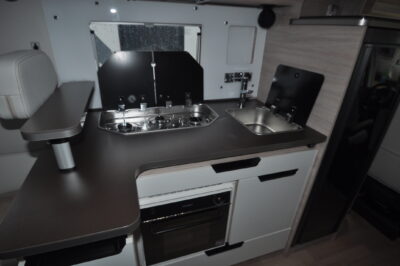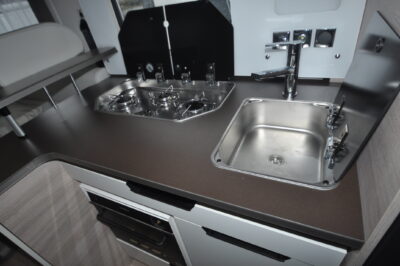 Next to the hob is a separate sink, in matching stainless steel, while a large-capacity Dometic slimline fridge/freezer is to the right of all this.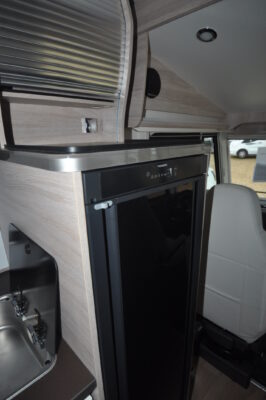 But it's that rear lounge in the Rapido 8F 854F that will probably be the deal-maker for this motorhome. In daytime mode it has U-shaped seating, with windows to either side but not across the back – instead, there's a system of lockers etc here, including a wardrobe with a clever extending rail. You can also seat two more passengers here by adapting the nearside settee to create single forward- and rearward-facing seats complete with three-point belts and head restraints.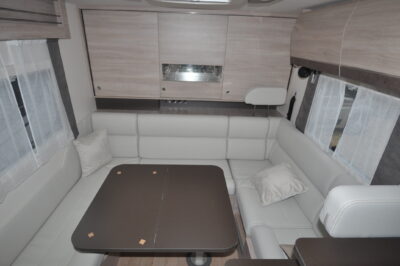 The design of the lounge also allows space below for an exterior-access garage that's large enough to take at least a couple of bikes.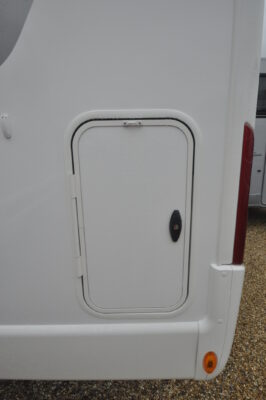 As for driving the Rapido 8F 854F motorhome, you might want to upgrade from the standard 140bhp engine with six-speed manual transmission that's the initial offering.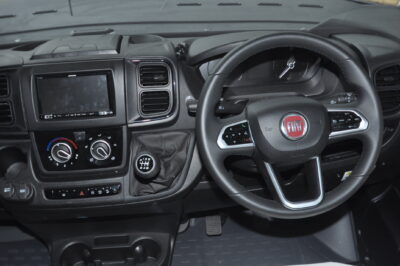 Build quality is very much up there among the best in what Europe would describe as the mainstream A-class sector. Even before you set foot inside the Rapido 8F 854F, the coach-style mirrors, triple windscreen wipers, near-flush fitting side windows, black alloy wheels and more tell you this is a serious A-class proposition.
As is nearly always the way with vehicles like this, treat that £74,300 as a starting price. It's hard to see why anyone won't expect the £2,250 Select Pack, for example, which brings you all manner of "essentials", from a reversing camera (for a motorhome insurance discount) to a superior Alpine stereo system with 7in screen, full windscreen blind and a whole lot more. An engine upgrade will most likely be a priority, too, probably also a switch into the more relaxing drive afforded by automatic transmission.
Then again, it's tempting to say any serious A-class motorhome coming in at under £100,00 is surely something of a bargain. Now that's something to sit back and think about!
---
Verdict: Smart design matches quality and keen pricing in the A-class sector
Plus: Quality build, clever features, innovative floorplan
Minus: Lack of rear window (maybe), Select Pack price hike
In-a-nutshell: French fancy sets a certain style
There's more information on the 8F range on the Rapido website. Find out more about insuring this or your current motorhome on our motorhome insurance page.
---
Alternatives: Mobilvetta K-Yacht Tekno Line 80, Roller Team Pegaso 745
Cost to insure: £428*
---
Rapido 8F 854F factfile
| | |
| --- | --- |
| Model | Rapido 8F 854F |
| Base vehicle | Fiat Ducato, 2.2-litre, 14 0bhp, Euro VI |
| Dimensions | 6.70m L x 2.35m W x 2.89m H |
| Berths | Four |
| Travel seats | Four |
| Maximum weight | 3,500kg (upgradable) |
| Payload | From 450kg |
| MPG estimate | 26-30 |
| Safety & security | Electronic immobiliser, remote central locking, ESP including Traction Plus, Hill Assist and Hill Descent, twin airbags, European Whole Vehicle Type Approval |
| Key options | Select Pack (£2,250), 160bhp engine (£1,700), nine-speed automatic transmission (£2,780), rear drop-down bed (£1,350) |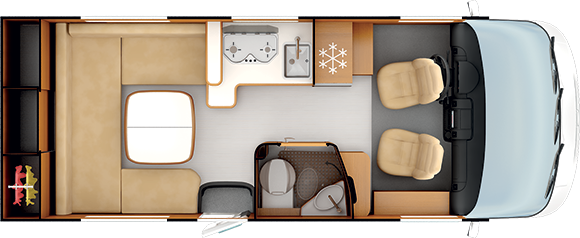 ---
Search our blog
---