Find out what makes Caravan Guard such a popular choice for motorhome insurance and campervan insurance and why you really should be obtaining an insuring quote from us for your motorhome or campervan – with news of lower prices and extended cover!
1 Big savings for claim-free owners
Claim free motorhome owners can earn up to 72.5% no claims bonus. Even if you're new to motorhome ownership and you have no motor insurance policy to transfer no claims bonus from, you may still be able to attain a large bonus by mirroring bonus from your existing private car insurance policy (subject to recent driving and insurance claims experience).
2 Big savings for careful owners
Owners of coachbuilt motorhomes and campervans can take advantage of savings by fitting safety and security devices.
It pays to secure your motorhome with up to 25% combined security discount on offer for the use  immobilisers, alarms and tracking devices.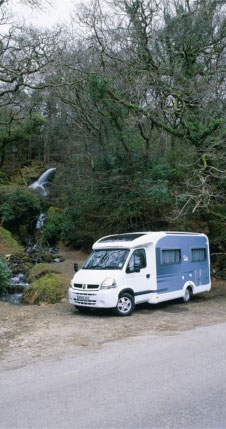 3 Big on cover benefits
Caravan Guard offer many benefits especially designed for motorhome and campervan owners.
Flexible options make sure you don't pay for cover you don't need. For instance, if you don't intend to travel abroad with your motorhome or campervan, European cover can be deleted from your policy to achieve a premium reduction. You also get to choose your annual mileage in the motorhome or campervan with lower premiums for travelling less than 7,000 miles per annum.
We now offer nine months European insurance and breakdown cover for motorhome owners wishing to venture abroad.
4 Big on service
Caravan Guard has won many insurance industry awards for customer care, in the face of competition from the UK's biggest insurance brokers. This is because Caravan Guard Advisers are specially trained to offer brilliant service at every point of contact, from offering a quote on your premium to helping with claims. They'll understand your needs as a motorhome or campervan owner and offer information to make sure you get the best Caravan Guard insurance deal possible. This great service includes a 24-hour claims helpline, and it's no surprise that claimants recently surveyed rated Caravan Guard's claims service 9/10 on average.
5 Big on making things easy
It's so easy to arrange your motorhome insurance with Caravan Guard. We are open seven days a week, 8am-8pm weekdays and 9am-4pm Saturdays, Sundays and most Bank Holidays. Everything is arranged over the phone with no tiresome proposal forms to complete. Making payment is easy, too. Pay your total premium in one go or arrange a convenient direct debit.
Underwriting terms and conditions apply – see our motorhome insurance policy documents for more details.
For more information on our motorhome insurance policy, click here. Or to request a quote, submit this form.
Search our blog
---