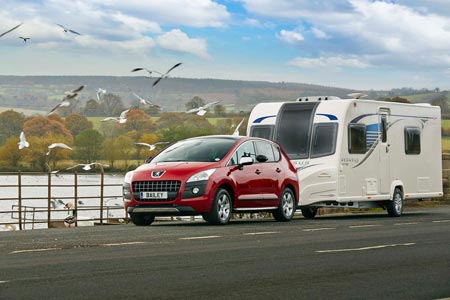 The brand new Bailey Pegasus GT65 range will be on show for the first time at the Spring Caravan and Camping Show to be held at the NEC in Birmingham from 19th to 24th February, but here we take a sneak peek at the range.
The Pegasus GT65 is being launched as part of a year of celebrations for Bailey (the company's 65th anniversary is on June 17th) and follows other celebratory ranges like the Ranger GT60 introduced in 2008.
Like all other Bailey models, it's built using the patented Alu-Tech construction technology; there are over 22,000 Alu-tech leisure vehicles on the road not just in the UK but they are now exported to Australia and New Zealand too. There has been a positive reaction to the Unicorn II models introduced late in 2012 and there is a need to provide greater balance to the model range. Pegasus GT65 follows the development pathway of the portfolio and has the DNA of Unicorn II brought into what is a mid-range product.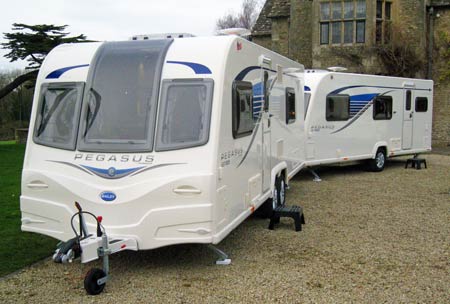 In keeping with the company's philosophy, it is a lightweight design to harmonise with lighter weight tow vehicles, driving licence restrictions for certain age groups and the spiralling cost of fuel. Single axle models have a MTPLM under 1500kgs, and on average there is a weight reduction of 50kgs across the range compared with the current Pegasus range.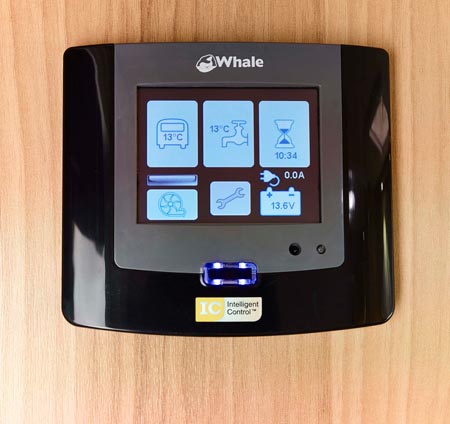 Weight saving has been achieved not just by the use of the lightweight, very efficient and space saving Whale 4KW under floor blown air space heater and the new Whale Rapid Heat water heater controlled by the Whale I-Van touch screen control panel, but by more ingenious and hidden weight reduction like re-designing the wiring loom to lose 8kgs of weight there too. The body shell is compact at 7ft 4ins wide and has helped to shave off a few kilograms there too.
On the exterior, you'll find an AL-KO 3004 stabiliser, AL-KO hitch lock, AL-KO ATC trailer control system, AL-KO Octagon shock absorbers, Al-KO secure wheel lock, a high security door lock and 14ins alloy wheels with Michelin tyres. In the battery locker is a new feature, a solar panel connection to use with a free-standing solar panel.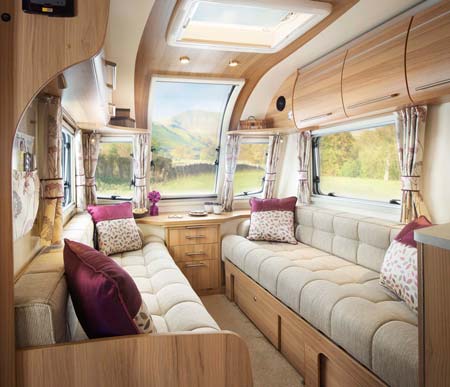 The vertical skylight has been transposed from Unicorn II models but lacks some of the feature LED lighting as standard; however the trunking is installed so it can be fitted as an optional extra by a dealer. Italian, very stylish, curved locker doors give the interior a distinctive look throughout.
There are two upholstery choices; one is rather more durable and family friendly and I think will feature in the family layout caravans and a rather more sophisticated scheme for just the two of you. Optional bedding sets are available in both colour ways, from dealers.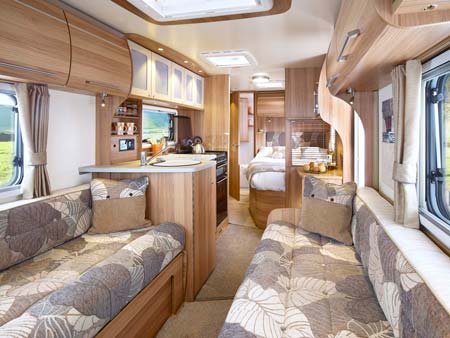 There are up to six 230V sockets, model specific, to cater for the growing number of gadgets that we use; remember the days when we only had to consider sockets for a kettle, toaster and a television?
Feature kitchens with ergonomic worktops have the Thetford Caprice 2 dual fuel hob as seen in Unicorn II but with the benefit of more practical and useable worktop space than in the Unicorn. Trunking is installed for a dealer fit Omnivent extractor fan as an optional extra.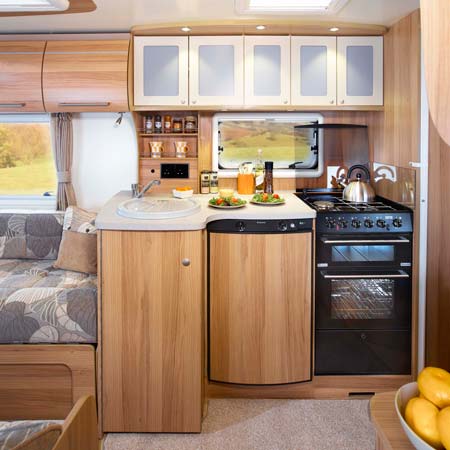 End washrooms have been re-designed to create more space than in previous Pegasus and Unicorn end washrooms; the window has been re-positioned but the silvery-grey sexy looking Unicorn shower tower, minus the built-in light, sits well and gives that bit of wow factor.
The Pegasus GT65 range is the old Pageant range in disguise, and will undoubtedly appeal to many Pageant owners who haven't yet changed.
Single axle models are Pegasus GT65 Genoa 2-berth end washroom, Pegasus GT65 Verona 4-berth fixed double bed end washroom, Pegasus GT65 Rimini 4-berth fixed twin single beds end washroom and Pegasus GT65 Ancona 6-berth end bedroom.
The Pegasus GT65 Bologna 4-berth fixed double bed end washroom is a twin-axle model.
Prices: TBC
Cost to insure: *
---
factfile
| | |
| --- | --- |
| Model | |
| Base vehicle | |
| Axle type | |
| Dimensions | |
| Shipping length | |
| RRP | |
---
Search our blog
---