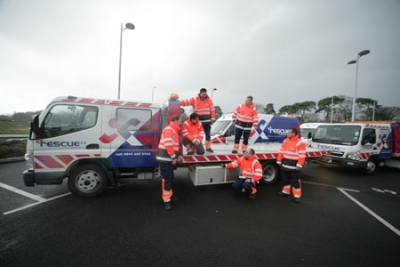 Because Caravan Guard are motorhome insurance specialists we understand the specific needs of motorhomers, and how they are very different to other motorists.
It's for this reason that we chose AXA Assistance (UK) Limited as the recovery company to look after our motorhome insurance policyholders in the UK and abroad. They have no size or weight restrictions and because of their huge 30 office recovery network, can recover any motorhome, anywhere in Europe.
Paul Moloney, Head of Account Management at AXA Assistance, explains,
"AXA Assistance, operates one of the largest networks of motor assistance services. With over 30 offices worldwide, we are not only expertly positioned to provide breakdown assistance for your Motorhome in the UK, but throughout Europe as well."
The fact there are no length or weight restrictions is important, and is the main reason why a motorhomer should never take out a standard car breakdown policy.
"For over a decade we have been providing breakdown assistance for Motorhomes and our comprehensive network is equipped to recover all types of Motorhomes irrespective of height, weight and length."
AXA Assistance also has an outstanding customer satisfaction record, with only a 0.6% complaints rate meaning 99.4% of customers are happy with the service they received. They also have an average motorhome response time of 40 minutes, meaning you'll either be back on the road or recovered to a repairer in no time at all.
Another important feature of the service AXA Assistance offers is that even though they have a recovery network spanning across Europe customers will always deal with a UK based contact centre, meaning there's no confusion and no fuss. AXA Assistance also has fluent foreign language speaking staff on hand to get past the language barrier when dealing with various countries,
"All calls are answered in the UK, and where necessary we utilise our team of multilingual specialists to assist you in getting back on the road."
This is particularly important if you break down on a toll road like the ones common in France, as in these cases the toll road operator only allows their own authorised recovery company to provide roadside assistance or to tow you to a repairer or to a service station. AXA Assistance cover reimbursement for the toll road operator's recovery charge (see info below) and will also provide further assistance if required.
At the time of publication, Caravan Guard includes UK roadside breakdown assistance and recovery provided by AXA Assistance on all motorhome insurance policies. European breakdown cover along with European insurance cover are both optional extras on our insurance policy providing up to 8 months of cover in a 12 month policy term.
If you have any questions regarding the breakdown service offered by Caravan Guard through AXA Assistance in the UK or Europe then please get in touch.
Further information
If you are an existing Caravan Guard motorhome insurance customer planning to tour abroad but are unsure whether you have European insurance cover or European breakdown cover added to your policy, please call us on 01422 396 769.
Information with regards to reimbursement of recovery costs on European Toll Roads applying to Caravan Guard motorhome insurance policies with European breakdown cover applied:
On many European motorways or autoroutes, particularly in France, if you break down the police will answer the emergency phone. They will arrange for the Motorhome to be picked up, and tow you and your Motorhome off the motorway to a local garage or a motorway service station, you will have to pay for this help on the spot. If this happens you should get a receipt and keep it, and we will pay you the money back. Or, once you and your Motorhome are towed to a safe place, call us. The organisation that have picked you up may accept our guarantee to pay them. At this stage we will also arrange any other help you may need.
Cost to insure: *
---
factfile
| | |
| --- | --- |
| Model | |
| Base vehicle | |
| Axle type | |
| Dimensions | |
| Shipping length | |
| RRP | |
---
Search our blog
---