Extend your 'van's living space
There's more to life than that not-so-humble motorhome or caravan awning.
There will be times when you do want to extend your 'van's living space, some extra cover, a bit of protection over your otherwise al fresco dining, or even – conditions allowing – somewhere to socialise outdoors. Also, there may be occasions where setting up a complete awning simply isn't feasible. Or you don't have the space or weight allowance to transport such an item. That's where these alternatives to awnings come in…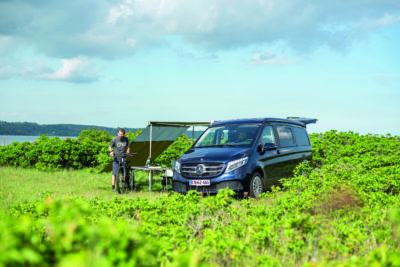 Top tips for extending your 'van's living space
Space, weight, ease of use – these are all important considerations – plus, of course, price.
Even if you can't go and physically view products like this for yourselves, you can get a real feel for them if you can view them online, especially if there's a video link showing them going up and coming down. Specialist outdoor retailers are going to be a bit more independent – make them your first port of call.
Check with the campsite – it might not seem an awning to you, but site operators might see things differently as you extend your 'van's living space on a pitch, and want to charge extra accordingly. If in doubt, ask.
Of course, there might still be times when you want a full awning, so why not invest in more than one style?
Star Player #1
Outwell Hillcrest Tarp and Fallcrest Side Panel set
Outwell has been something of a pioneer of the tarp concept, with products like the Hillcrest as a fuss-free alternative to a traditional awning.
A 2.10m high x 2.35m wide single sheet, it still gives daytime shelter, by simply sliding onto any existing rail you have fitted to your vehicle – or, as the image shows, you can have it as a handy complement to any wind-out canopy. Two 180cm steel upright poles are provided if you want to use it as a canopy. Guylines and pegs complete the stability.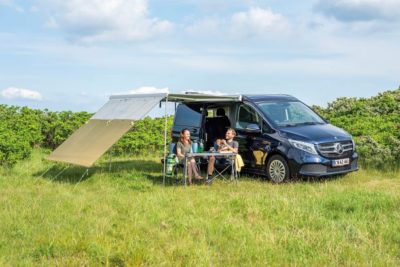 If you want to increase its usefulness, check out the Fallcrest zip-on side panels that can act as walls and come with a brailling (i.e. roll-up) facility for full low-level ventilation.
The Fallcrest can be bought as a separate item to the Hillcrest, but you will need a typical wind-out canopy on your motorhome to fix it to.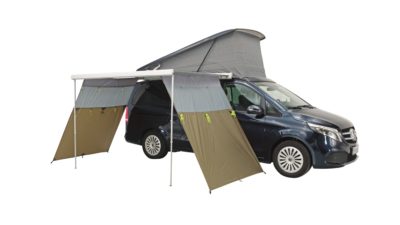 Key features Attachment height 175cm-200cm, for vehicles with 5mm or 7mm awning channels, roof connection length 230cm, total weight (2.3kg Hillcrest/1.3kg Fallcrest) pack size (47cm x 35cm x 6cm Hillcrest/45cm x 32cm x 5cm Fallcrest), carrybags included, two-year warranty
Expect to pay £88 for the Hillcrest tarp and £100 for the Fallcrest
Star Player #2
Isabella Y canopy
Taking its name from its distinctive shape, this sun canopy uses air beam technology to keep it all stable and in place.
Attachment is to any existing rail on your motorhome– there's double beading, 5.5mm and 7.5mm – and the main fabric is Isabella's own breathable and fibre-dyed Isacryl, which means less fading in the sun, with a large fixed window section at the front.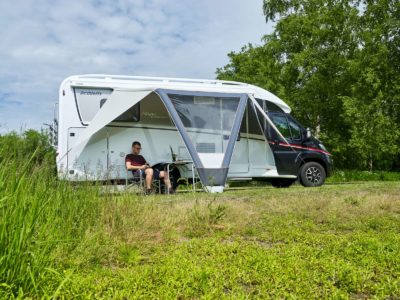 It's 240cm-250cm high and weighs some 9.53kg. Overall dimensions are 360cm wide x 240cm deep.
There's a single inflation point, with special "sock" protection, and the triangular side panels can be pegged out for extra privacy.
Not cheap – Isabella products never are – but the ever-reliable quality shines through here.
Key features Double beading, supplied with manual pump, awning bag and peg bag with peg remover
Expect to pay £823
Star Player #3
Coleman Fastpitch Shelter M
These stand-alone shelters offer extra flexibility in that they can be moved around your vehicle (and can also be used when you're back home in your garden), and can of course be left as pitch markers if you want to head out for the day.
The Smallest of three sizes – there are also L and XL variants – the M nevertheless has a footprint of some 9m2.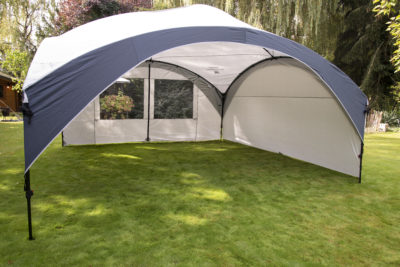 It comes as a standard, open-sided shelter or you can order it with a front door or side wall sections.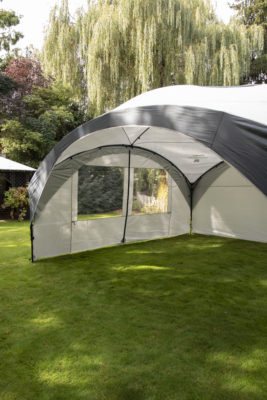 Typical pitching time for the standard version is under five minutes, although it's even easier if there are two people involved. Coleman says the fabric coating gives a UV protection rating of 50+ (that's high), whilst also lowering the temperature underneath by as much as 5degC.
It weighs 15.7kg and packs down to dimensions of 87cm x 26cm x 23cm in its own zipped carrybag.
Key features Steel poles, 150D fabric with taped seams,  rectangular carrybag with zip opening
Expect to pay £239.99
Star Player #4
Quest Screen House 4
An early leader in the alternatives to awnings stakes, Quest's Screen House concept has been around long enough to prove itself. It's the 4 that's the most popular, but there is also a larger version, called the 6. Plus there are Pro variants of each, offering doors and side window panels.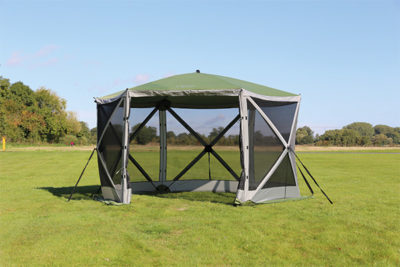 As standard, though, you get a double door and three sides in mesh.
Again, these are stand-alone units, but easy to put up thanks to Quest's hub system of poles (now in its fifth incarnation) – it literally just pulls up and pops into place, and is equally easy to bring down again. More poles are supplied for extra stability.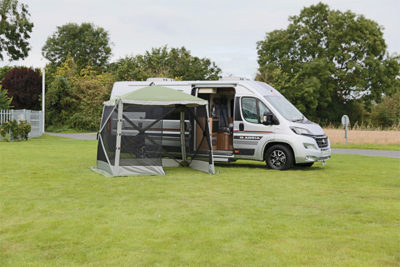 Dimensions are 240cm wide and deep, with standing height ranging between 180cm and 220cm.
It weighs 11.5kg and pack dimensions are 167cm x 16cm x 16cm.
Key features 210D polyurethane-coated Oxford polyester fabric, glass-fibre poles, storm straps included, 50 UV Protection rating
Expect to pay £199
Star Player #5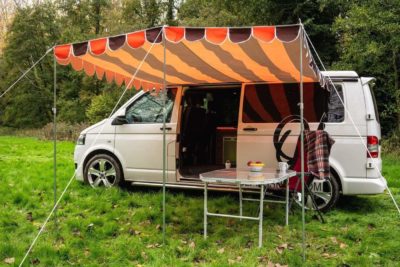 You can always rely on OlPro to offer something a bit different. And so it is with this alternative to a full awning. Designed for campervans only, it attaches direct to the vehicle's awning rail or rain gutter via a figure-of-eight strip (sold separately). Poles and guylines help keep it all stable.
This is the most distinctive, orange and brown striped model. Two other solid colour styles – charcoal and orange – are also available.
Weight is 6kg and dimensions when packed are 70cm x 15cm x 15cm. When up, it's 260cm x 260cm.
Key features 450D double-printed yarn-dyed fabric, three adjustable steel poles, pegs, two-year warranty
Expect to pay £109
Star Player #6
Vango Danu Hub
A new addition to Vango's Earth Collection for 2021, this stand-alone shelter is particularly environmentally-friendly – using recycled single-use plastics for its polyester fabric, which it calls Sentinel Eco, and a cross-pole design for stability. An adjustable pegging system helps when it comes to putting it up on uneven ground. Overall dimensions are 350cm x 350cm.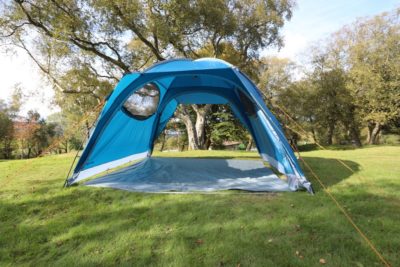 The side panels are fixed while the front and back can be opened or taken out altogether – both also have canopy sections over them. Mesh panels provide ventilation while also keeping unwanted insects at bay, whilst underfoot is a fully waterproof groundsheet.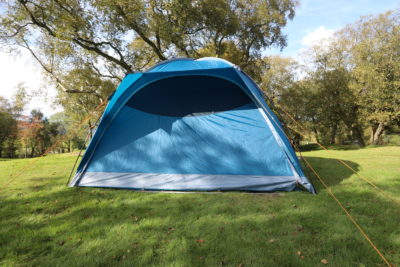 The Danu Hub weighs 14.8kg and packs to 68cm x 20cm x 24cm.
Key features 70D recycled polyester fabric, UV Protection Factor 30, glass-fibre poles, canopy over doorway, three-year warranty, carry bag included
Expect to pay £300
www.vango.co.uk
Whether you have a full awning or a tarp or canopy, make sure they're covered when setting up your motorhome or campervan insurance policy  Fortunately Caravan Guard motorhome policyholders get an automatic £5000 of equipment and personal possessions as standard and remember we provide cover for storm damage caused to motorhome awnings too.
Over to you…
Got any advice on alternatives to awnings to extend your 'van's living space you'd like to pass on to fellow Caravan Guard blog readers? We'd love to hear what kind of awning alternative you might use or what you think about these products. Please feel free to add a comment below.
Cost to insure: *
---
factfile
| | |
| --- | --- |
| Model | |
| Base vehicle | |
| Axle type | |
| Dimensions | |
| Shipping length | |
| RRP | |
---
Search our blog
---