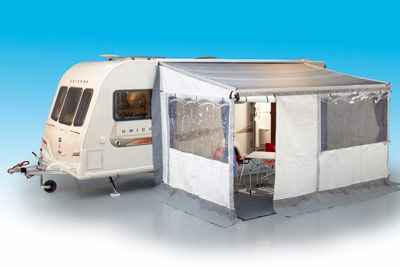 Dave King reports that Bailey of Bristol has teamed up with Fiamma to enable a side mounted wind-out awning "Fiamma F45" to be fitted to all of its Alu-Tech touring caravan ranges. Of course with Alu-Tech Baileys representing a huge proportion of new UK caravan sales over the past 18 months, thousands of caravan owners could benefit from this new awning option.
Many people have for some time used a caravan's awning channel to slide a roll-out type of awning into it but it's the strength and integrity of Alu-Tech that gives the frame sufficient rigidity to bolt an awning through the side wall of the caravan into the Alu-Tech frame.
Fiamma has developed special brackets that are fixed to the body structure of the caravan which are man enough to take the weight of the awning, in a cover, which can be extended by just one person! I can hear the cheers from caravan sites, right now!
This is a big leap forward in design and innovation as, in the past using traditional caravan construction methods a caravan's walls were not strong enough or rigid enough to allow this type of fixing method.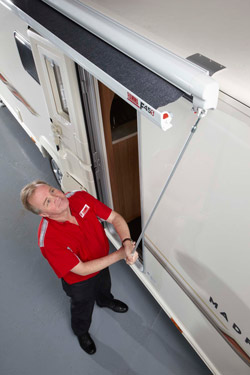 In its standard form, the Fiamma F45 can be extended using the dedicated winding handle; the front legs are dropped down from within the metal frame and adjusted for the terrain; this whole operation takes just two minutes. This is just a canopy which offers protection from the elements. Optional dedicated accessories are available and these include side panels to be used as rain blocker or for protection from the sun. Tie-down kits are available too.
The advantages are clear; you don't have to lug an awning around with you in your towcar or caravan; you can pop it up even if you are just on site for one night.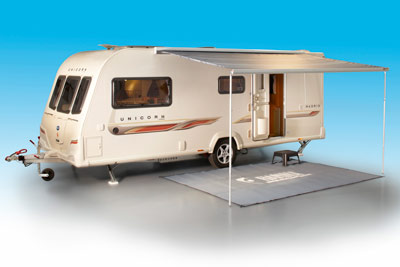 The F45 Zip model has zips on each side of the canopy so that side panels can be zipped onto it and panels slide into the canopy's frame on the front edge. The sides and the front can be zipped together creating a fully weatherproof privacy room with an acrylic window and curtains. With just one product you can replace a sun canopy, a full awning, a porch awning or one that fits somewhere in between.
The images show the awning being demonstrated by Authorised Bailey Service Centre Reading Caravans to a Bailey Unicorn. These guys made fitting it look easy but it does require accurate measurements by experienced fitters. It is not suggested that fitment is a DIY job.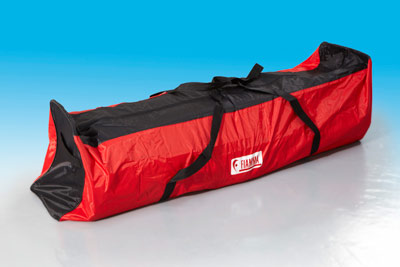 Bailey dealers have had training in the fitting of the Fiamma awnings and the price of the awning includes fitting. Price is from £691.00 for a standard F45 canopy 3m x 2.50m to £941.00 for a 4.5mx 2.50m canopy.
F45 Zip with side and front panels starts at £1506.00 for 3m x 2.5m.
For further information contact your Bailey dealer. Find a dealer at http://www.bailey-caravans.co.uk/retailer-network/uk-network/
Please note: fitment of the Fiamma F-45 awning to an Alu-Tech caravan must be carried out by an Authorised Bailey Service Centre. Failure to do so will invalidate the caravan body shell integrity guarantee (please visit www.bailey-caravans.co.uk for full warranty terms and conditions).
Caravanners are advised to ensure they have sufficient cover for awnings on their caravan insurance policies. As a Caravan Guard customer, please ensure your total sum insured is enough to cover the replacement or market value of your caravan, dependent on the basis of cover be it market value or new for old cover, plus a value for all caravanning equipment including any awnings.
Cost to insure: *
---
factfile
| | |
| --- | --- |
| Model | |
| Base vehicle | |
| Axle type | |
| Dimensions | |
| Shipping length | |
| RRP | |
---
Search our blog
---