Today, we're taking a look at some of the best smaller touring caravans perfect for a cosy couple's getaway.
Lunar Stellar £12,995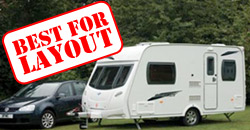 Most two-berth caravans fall into two categories: those with end washrooms and those with end kitchens. There's plenty of choice out there in both layouts, but there are just a few two-berth caravans that don't conform to either. One of them is the Lunar Stellar.
And what a star it is! It shines because it has a spacious, L-shaped rear corner kitchen – in just over four metres of caravan body length. It takes the original two-berth concept and turns it into something fresh. Specification is high too – AKS stabiliser, alarm and exterior-access, plastic-lined locker ideal for a couple of pairs of wet or muddy boots and wheel chocks are all included.
Fact File: Lunar Stella
Price: £12,995
Berth: 2
MRO: 980kg
MTPLM: 1150kg
Insurance cost: £269*
Hymer Nova SL 470 £17,195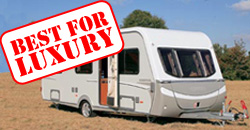 The Hymer is the heaviest of the three caravans here – and the most expensive – but climb aboard and you'll see why. The woodwork is solid and the frames of the head lockers are crafted in real wood. All the fittings give you the impression that design-influence is more house than caravan.
The result is an impressively luxurious appeal. The caravan is made of a construction unique to Hymers – marine ply, polyurethane foam and a solid-smooth exterior of hot-enamelled aluminium.
And you'll notice the gas bottle locker lid is stronger, heavier, firmer than British-made alternatives. Novas all have inboard water tanks – so this is a model to consider if you use your caravan in the winter.
Fact File: Hymer Nova SL 470
Price: £17,195
Berth: 2
MRO: 1235kg
MTPLM: 1500kg
Insurance cost: £282*
Sprite Alpine 2 £10,300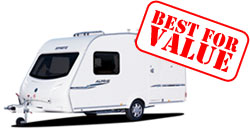 Closely comparable with the Bailey Monarch, the distinction is in the washroom layout. The Alpine 2's shower is on the nearside, with the washbasin in the centre and the wardrobe next to the toilet on the offside. There's a useful set of narrow shelves beside the shower.
If it's a choice between the Monarch and the Alpine 2, it's about how much you want the Monarch's extras.
The Monarch is slightly wider has a slightly larger fridge, a microwave oven and other extras but you can save yourself £2,000 by not having these and going for the Alpine instead, saving some money for the couple retreat. The lower specification makes the Alpine lighter too.
Fact File: Sprite Apline 2
Price: £10,300
Berth: 2
MRO: 973kg
MTPLM: 1170kg
Insurance cost: £214*
*Caravan insurance costs based on 2009 Lunar Stella valued at £12,995, a 2009 Hymer Nova SL 470 valued at £17,195 and a 2009 Sprite Alpine 2 valued at £10,300. All fitted with hitchlock, wheelclamp and alarm, Hymer Nova fitted with an approved tracking device. All caravans kept on drive behind locked gates at HX2 7RZ. Caravanners over 30 years old, claim free for 3 years and a member of a caravanning club. Premium includes insurance premium tax at 5%, 10% online discount and is correct as of 12.03.09.
Source


Cost to insure: *
---
factfile
| | |
| --- | --- |
| Model | |
| Base vehicle | |
| Axle type | |
| Dimensions | |
| Shipping length | |
| RRP | |
---
Search our blog
---