The long-wheelbase version of Bilbo's VW motorhome will cost you £1,990 more than the standard version and for that you get 400mm of extra length. It doesn't sound a lot but it does make a world of difference.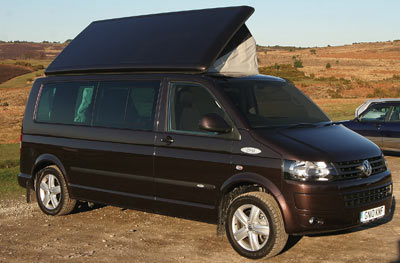 Bilbo's have offered LWB versions of their motorhomes for years, back to the days of the VW T4, but this is the latest long Komba, now with a bigger fridge amongst other detail enhancements.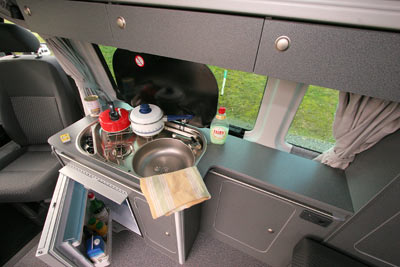 Interior :
The kitchen includes a three-burner hob, rare in this class of motorhome, a 65-litre fridge (generous), and plenty of practical storage – the wardrobe comes with removable shelves and a hanging rail.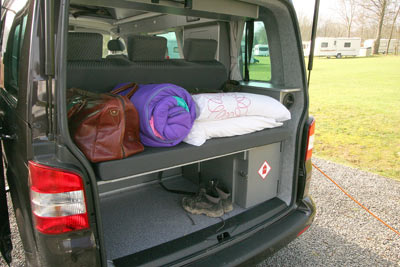 The boot area is huge and is what makes this traditional layout so much more practical than rear kitchen alternatives, while a Porta-Potti can be stored under the seat (rather than in the kitchen).
Bilbo's rear seat also offers a comfortable backrest angle and three head restraints to go with the three rear seatbelts, though the centre seat has just a lap belt. There's an optional roof bed too, which will cater for one adult/teenager or two small kids.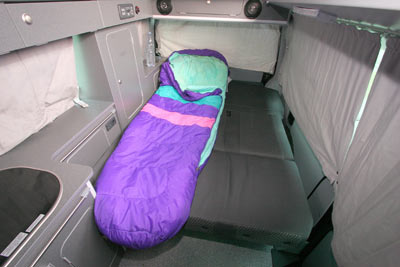 But the downstairs bed is where the Komba again scores over most rivals. By making the kitchen unit narrower aft of the hob and sink, Bilbo's can fit a wider seat in the Komba than the Celex, and hence you get a wider bed too.
Once you've got the bed made up you really appreciate the extra interior length of the LWB. There's around a metre of floor length between cab and bed.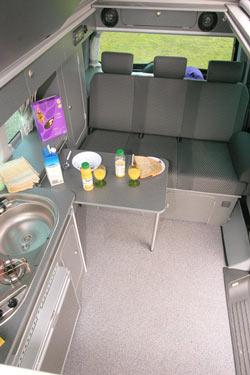 In the daytime, meanwhile, the whole interior feels light and spacious. The easy-to-use roof adds lots of headroom and daylight and Bilbo's two-table system (one by the swivelled passenger cab seat, one diagonally opposite, attached to the galley) works well.
It's massively more spacious than the (same size) Auto-Sleeper Topaz, but of course trades a full washroom with shower and cassette toilet for a simple loo in the cupboard, to achieve that. It's all a matter of priorities.
You'll need to assess your own priorities…
…when adding optional extras to your Bilbo's too. A short-wheelbase Komba in entry-level SE trim could be yours for nearly £18k less than the 'van we tested, but with less space, less kit and under half the power you're hardly comparing like with like.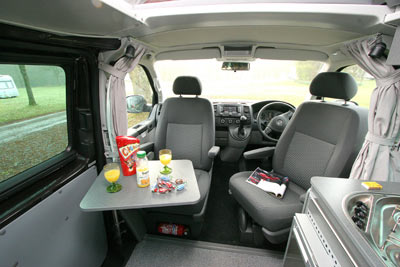 We'd go for the DSG gearbox first if you live in town or regularly battle with heavy traffic, then choose 140bhp or 180bhp motor depending on just how car-like you want the performance to be.
Our test motorhome included cab air-con (£790, essential), 17-inch alloys (£785, very stylish), cruise control (£215, ideal for the motorway), rear parking sensors (£235, makes parking the longer 'van much easier), diesel heating (£935, you could just have a fan heater if you always hook-up), roof bed (£500, for the kids), and much, much more, including a superb in-dash stereo and sat-nav system and even a tyre pressure warning light.
It took the total price to nearly £52,000.
Verdict:
Komba's increased space plus five seats and wide bed, combined with the Bi-turbo engine and DSG optional extras, perhaps results in the ultimate VW camper.
Fact-file:
Price from: £39,640 (102bhp 2.0TDI engine)
Berths: 2+2
Travel seats (inc driver): 5 (1 with lap belt)
Dimensions: 5.29m L, 2.04m W, 2.00m H
Interior height: 2.03m (roof up)
Beds: Rear bed 1.88m x 1.34m, optional roof bed 1.70m x 0.91m
Cost to insure this motorhome: £242.50 *
Motorhome insurance premium based on 2011 Bilbo's Komba LWB valued at £39,640. Fitted with manufacturers immobiliser, kept on driveway at home at TD9 8ED. Motorhome owners – professionals over 50 years old with no claims, convictions or health conditions in last 3 years. 4 years no claims bonus mirrored from car policy and 2 years motorhome driving experience. Members of motorhome club doing less than 7000 miles annually. £250 excess applies. European cover included, European Breakdown £43 extra. Premium includes IPT at 6% and is correct as of 13.06.11.
Source:

Search our blog
---