The build quality of new caravans and motorhomes is a hotly discussed topic at the moment. With advances in construction methods, developments in design and the introduction of eco-friendly processes, there's no doubt that plenty is being done to enhance new models' performance and durability.
All that said, the only real way to determine whether caravans and motorhomes are improving is to ask you, the consumer, your thoughts. And that's exactly what we did last month.
We can now reveal the results…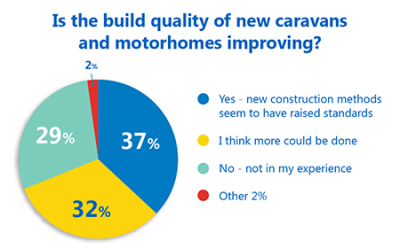 Hundreds of you responded to the poll and with just a few votes in it, it was a really tough one to call!
A majority verdict was reached however; 37% of you told us that yes, build quality is improving and that new construction methods seem to have raised standards.
32% of voters on the other hand, voted in favour of more being done. Whilst a huge 29% of you said that no, build quality isn't improving.
Let's take a look at some of your comments
Despite the biggest share of readers backing manufacturers for improving build quality, all comments came from those who felt there was room for manufacturers to make improvements. Roger got in touch to say, "I have been looking for a new motorhome; sadly as yet I have been unable to find the layout or specification we would really like. However, I have looked at many makes and types and the conclusion I have come to is that the offerings from UK manufacturers fall well short of those from mainland Europe in terms of quality."
Mike also thinks that European manufacturing leads the way, "I think that the pride in what is being built in Britain has gone. We should be world leaders instead we lack behind the European manufacturers." 
Motorcaravanners Club (MCC) member Clive tells us, "I have seen literally dozens of members upgrade or buy new vans; there is an extremely poor reputation attached to motorhome manufacturers' quality control during their manufacturing process, a very common remark being, 'If the car industry turned their vehicles out like this there would be a public outcry', and NO these complaints are not diminishing with today's vehicles. We need someone like Mercedes, Fiat, Ford etc, to produce their own motorhomes, and apply their car production assembly line quality control criteria, then we can expect a satisfied customer base."
Mark agrees saying, "If Volkswagen built their own motorhomes to the same standard of the cars I have owned I would buy one tomorrow. That way I could be guaranteed everything would work and nothing would fall off."
David, an avid caravanner tells us, "Regarding caravan build quality, I believe that there is still much improvement required. 'Vans now seem to concentrate on the initial 'wow' factor but when you look deeper into the van when viewing with purchase in mind you still see poor assembly, inadequate fixings and poor alignment of doors etc."
Click here to read all the comments in full.
Do you agree with the 37% majority?
Whether you do or you don't, we would love to hear from you! Submit a comment below and join the conversation!
Cost to insure: *
---
factfile
| | |
| --- | --- |
| Model | |
| Base vehicle | |
| Axle type | |
| Dimensions | |
| Shipping length | |
| RRP | |
---
Search our blog
---