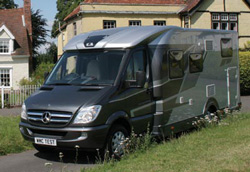 If money is no object and you want a motorhome that makes a big impression then you should certainly consider putting the Adria Polaris SL on your Christmas wish list!
This visual impact starts with the three-pointed star on the chromed grille and continues past the metallic grey cab and right down the silver sidewalls.
There's a deep, curved and heavily tinted window in the habitation door, the graphics include glinting stars and even the windowless rear panel is not the usual dearth of design.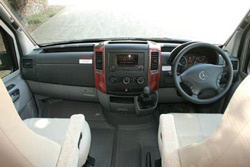 With a price tag that can exceed £80,000 with the best engine and some options, Polaris really does take the Adria brand onto a new level.
Of course, the Merc badge, combined with an AL-KO chassis, commands a hefty premium.
The interior gets half-leather cream upholstery, high-gloss tabletop and furniture edging, pinhead mood lighting throughout the lounge and bedroom, a matt white bathroom door and matt white cupboard doors.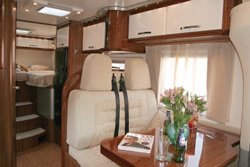 There's also a jet-black washbasin, black fridge and black marble-effect kitchen counter top.
There's a layout of half-dinette, L-shaped galley, central washroom, and rear single beds over a giant garage.
The lounge is good for a half-dinette design, with well-judged seat height and luxurious Aguti high-backed captain's chairs in the cab.
And you'll all appreciate the daylight flooding in from the twin sunroofs above to give a feeling of space.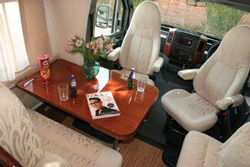 The rear bench is firm and the headrests are large, but while the seatbelts adjust for height we'd still like a little more padding around the top of their central support.
The inward-facing seat is just for one, and despite its attractive curved backrest, it's more of an occasional extra perch than somewhere to relax.
Chefs among you will enjoy catering in Adria's dream machine. The slot-in domestic-type Spinflo cooker with grill and oven looks more British than continental, even if it does only have three rings on the hob.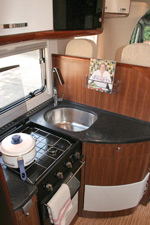 But before you moan about that take a look at the waist-height fridge/freezer and the deep-as-a-paddling-pool stainless steel sink set below the worktop, just like in the best domestic kitchens.
Across the other side of the motorhome, your first impression is that the washroom is marred by the massively intrusive wheelarch.
In use, though, while you're certainly aware of it, there's legroom of basketball-player proportions on the swivel C250 loo, and once you've pulled the semi-circular shower door into position there's no shortage of room for a hose down.
The black and white theme continues in here, ventilation and lighting are well catered for, and the wall cupboard should provide just enough stowage.
After a night out you'll be pleased to come back to your penthouse-on-wheels, climb three wide steps and fall into generously wide single beds.
With more mood lighting back here, individual reading lamps, a central shelving unit for your glasses, and a midi-Heki sunroof plus two windows for ventilation, you should sleep well.
The garage is vast, illuminated, and has a grippy floor, drain holes and tie-down hooks, plus lots and lots of useful shelves.
The Alde heating is a truly welcome feature that not all rivals – even at this price – can match.
Verdict:
Not everyone will want to pay the premium for a Mercedes or appreciate the Polaris' bold styling. But if you want to stand out from the crowd and are not put off by the hefty price tag then this is a special motorhome.
Factfile
Price from: £66,999 OTR
Base vehicle: Mercedes Benz Sprinter
Engine: 2.2CDI
Travel seats: 4
Berths: 3
Insurance cost: £360.75*
*Motorhome insurance cost based on 2010 Adria Polaris SL valued at £66,999. Fitted with Thatcham Cat 1 approved alarm/immobiliser and approved tracking device and kept at home behind 24 hr locked gates at SN4 7DP. Motorhome owners – professionals over 50 years old with no claims, convictions or health conditions in last 3 years. 4 years no claims bonus mirrored from car policy and 2 years motorhome driving experience. Members of motorhome club doing < 7000 miles annually. £250 excess applies. European cover £18 extra, European Breakdown £42 extra. Premium includes insurance premium tax at 5% and is correct as of 16/12/09.
Check out Adria's latest range by clicking here
Cost to insure: *
---
factfile
| | |
| --- | --- |
| Model | |
| Base vehicle | |
| Axle type | |
| Dimensions | |
| Shipping length | |
| RRP | |
---
Search our blog
---