Boiling the caravan kettle has never been simpler. And there's a great choice of products out there designed with caravanning, motorhoming and camping in mind.
Caught on the hob
Camping kettles? Flasks? Boiling up? Cooling down?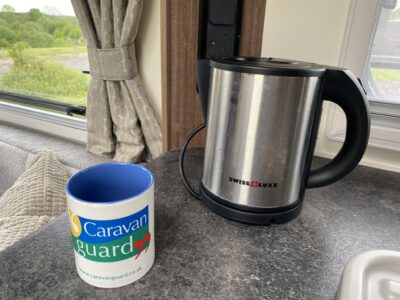 Don't forget the caravan kettle. It might well be the first thing you put on when you arrive on site after a long drive or after putting up the awning! Or for that early morning cuppa. Or indeed a hot drink at any time of the day.
Whatever. It surely counts as one of the essential caravan accessories.
And a flask can actually make a perfect companion to a kettle to keep your cuppa warm. Here's our gear guide to caravan kettles when on your travels.
Top caravan kettle tips
If you want a mains electric-powered kettle, look out for one that says it's suitable for camping. It will have a lower wattage rating, drawing less electric than a standard domestic kettle. That means there's less chance of tripping out your's or your neighbours' electric supply. It will also be cheaper to run than the higher wattage models. Some campsites only allow low wattage items.
Whatever type of caravan kettle you're using, make sure it's empty and has plenty of time to cool down before you pack it away.
Clean and make sure any kettle is completely dry before storing it away for long periods.
Collapsible kettles will take up less room when travelling
Kettles for caravans, motorhomes or campervans
Star Player #1
Outwell Collaps kettle
From a huge portfolio of Collaps (i.e. collapsible) products that spans buckets, washing-up bowls, colanders, water carriers, and even coffee filters, Outwell offers a range of non-electric kettles that fold down nearly flat for storage and transportation. It's usable on a gas or ceramic hob.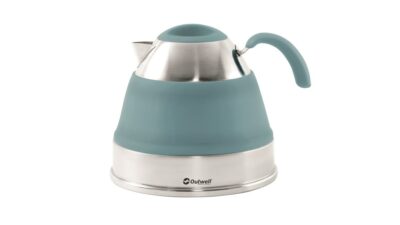 Pulling out easily to dimensions of 17.5cm high, with a constant diameter of 19cm this Outwell Collaps 2.5 litre kettle is of a size that means it's virtually impossible to topple over.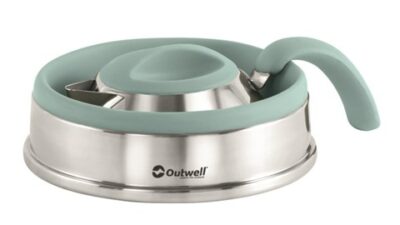 It's available in four colours – Midnight Black, Lime Green, Navy Night and Classic Blue. Also, if 2.5 litres is too much, there are 1.5-litre versions too.
Key features Stainless steel base, BPA-free silicone upper, dishwasher safe, two-year warranty
Expect to pay £52.99
Star Player #2
Outdoor Revolution Premium low wattage kettle
A stylish newcomer for 2022, this one-litre mains electric kettle draws a maximum of 1,200Watts via its concealed stainless steel element.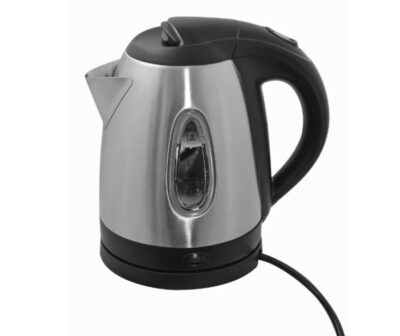 Cordless, it sits on a base that also allows it to swivel through 360 degrees.
Key features Brushed stainless steel body, twin water level indicators, boil-dry protection, removable washable filter, on/off indicator light
Expect to pay £24.99
www.outdoor-revolution.com
Star Player #3
Quest Braunton collapsible kettle
A low wattage, 0.6-litre electric collapsible kettle, where the handle also folds away into the lid for an even smaller pack size, making it a very handy product to have when your storage space is at an absolute premium.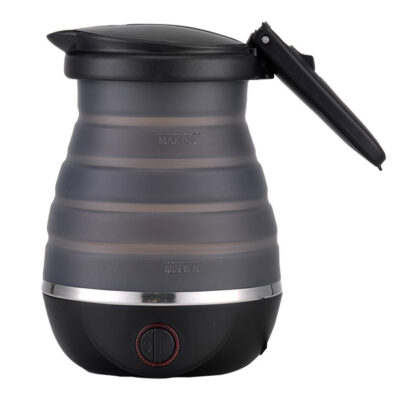 Dimensions when up are 13.5cm high with an 18cm diameter. It folds down to 10cm high x 13.5cm diameter.
An ideal accompaniment, especially if you're a loose-leaf tea lover, is Quest's Edgcumbe – a 0.9-litre stainless steel and glass teapot, complete with filter.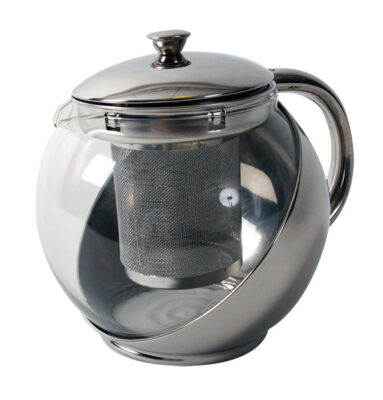 Key features 750Watts, automatic cut-out switch, power indicator
Expect to pay £32.99
Star Player #4
Vango stainless steel kettle
A proper camping kettle, this, with a name that says it all, as well as a built-in whistle and a detachable lid for easier filling and cleaning.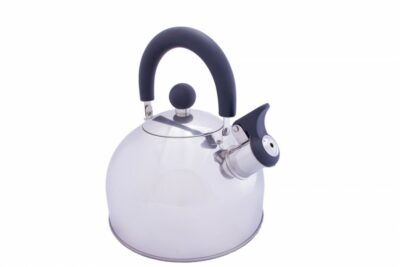 At two litres, it's a large capacity model (there's also a 1.6-litre version), but the handle folds to the side for storage. Dimensions are 17cm high x 18.7cm diameter. It can be used on gas, electric or induction hobs.
Key features Stainless steel body, heat-resistant handle, whistling action
Expect to pay £16
Star Player #5
Kampa Tempest electric kettle
A 1.7-litre electric kettle in a choice of brightly coloured finishes – Sunset (yellow, as here), Midnight (blue), Ember (red) or standard white (colour matching low wattage electric toasters are also available).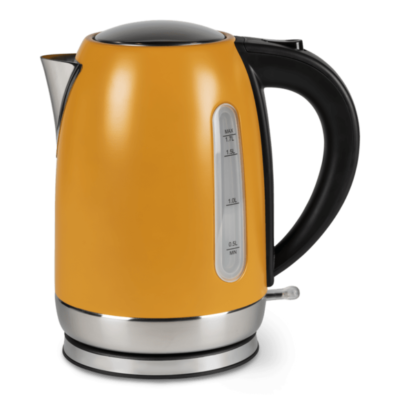 It's cordless, with a separate base, and is 23cm high with a 21cm dimeter.
Also available as a one-litre variant, called Cascade.
Key features Stainless steel, 1,000Watts, base with integrated cable storage, boil dry and overheat protection
Expect to pay £32.50
Star Player #6
Quest Guardsman light-up kettle
A one-litre, mains-powered kettle that lights up when in use – so you know exactly when it's working!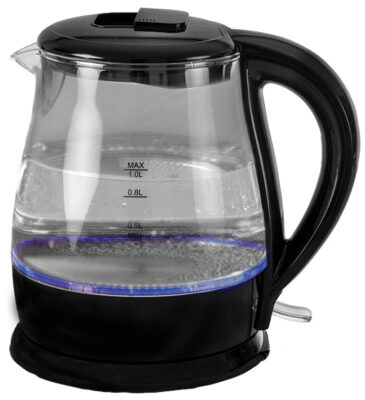 Quest estimates the capacity as sufficient for three cups of coffee or tea, while its cordless operation with separate base means it's safer to use around the 'van and makes it easier to stow away.
Key features Glass sides, blue light, 750Watts, automatic cut-out switch, power indicator, 70cm cable with built-in tidy, dimensions 20.5cm x 24cm x 17.5cm.
Expect to pay £25.99
Over to you…
Got any advice on caravan kettles you'd like to pass on to fellow caravanners or motorhomers? Please feel free to add a comment below.
Search our blog
---