All-white caravans and motorhomes could soon be a thing of the past, according to the results of our motorhome and caravan wrapping poll – our most popular yet!
More than a thousand caravanners and motorhome owners voted when we asked if they would wrap their vehicles in designer vinyl and shared some of our own funky designs.
Here's the results
A huge eighty per cent of caravan and motorhome owners would like their 'vans to stand out from the crowd by adding some kind of designer vinyl! We had calls for Formula one designs, flowers, exotic birds, Egyptian writing, a Pagan witch and many more colourful designs so their vehicles really do make a statement when on the road or on site.
Forty one per cent of  voters would fully wrap the plain white sides of their leisure home, with many loving the idea of jazzing up their caravan or motorhome wheels with a fully personalised wrap.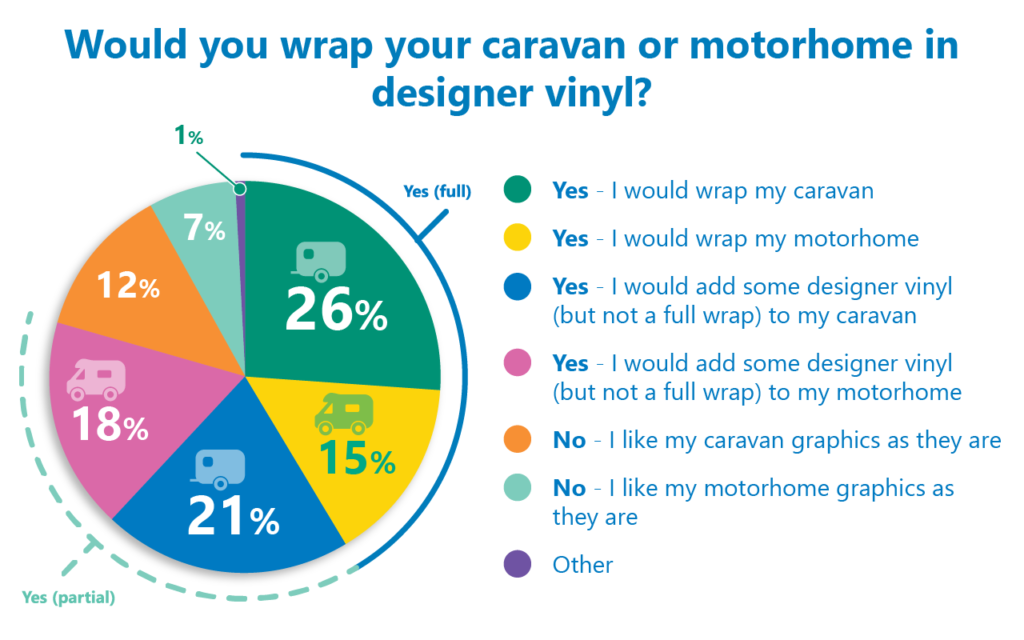 Thirty nine per cent didn't want to go for a full vehicle wrap but would consider adding some designer vinyl graphics to their 'van to personalise their wheels and add a splash of colour.
Just under one fifth of voters were totally against any vinyl being added to their caravan or motorhome – some liking their manufacturer graphics just the way they are. The Bailey Pegasus got a mention as a graphic that is already prominent on their caravans. Bailey also shared a few of their other fully wrapped caravan designs with us and Lunar Caravans were quick to share their bespoke Joules designed caravan.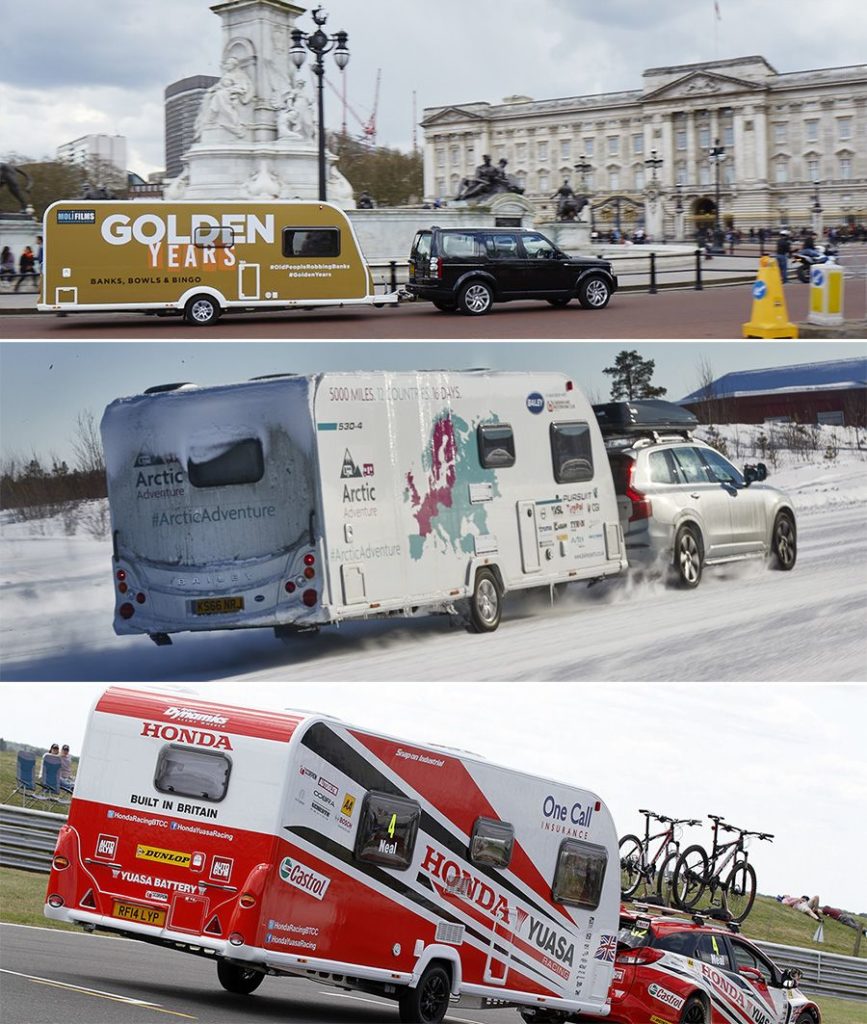 The reaction to vinyl vehicle wrapping
There was a bit of a "Marmite" reaction with some owners not liking the idea at all and even thinking it would cause a major distraction on the road. But many loved the idea of adding all manner of designs to their 'vans, with some already taking steps to banish the white bodywork!
Paul Horton has had his new Pilote motorhome wrapped silver with custom graphics and it looks fabulous.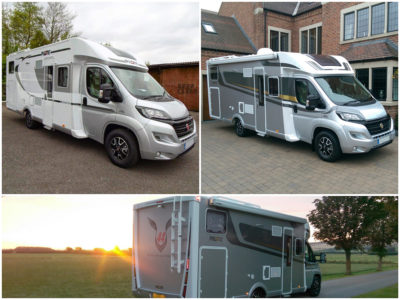 "The cab was already silver, but the rear body was white, which I didn't like," said Paul. "I think the whole design looks great and was exactly what I wanted, it certainly draws attention and gets comments everywhere it goes. The total cost was fairly reasonable at £3k, certainly when considered against the price of the new motorhome."
Kevin Hale also wrapped the front end of his Pilote because it was cheaper than a respray.
Maurice Wilson-Brown had custom writing on both of his previous caravans, which have drawn lots of admirers, both at home and the continent!

"Both my wife and I believe it's better than looking a big white space on the rear and adds a little humour to those following," said Maurice.
Roger Scott also has "Scott Free" on the bonnet of his motorhome!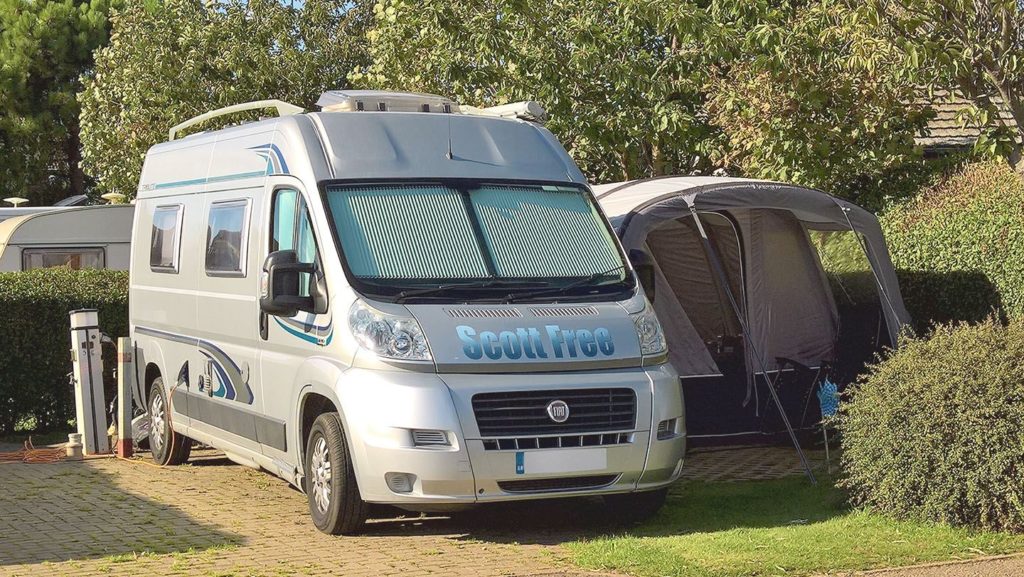 Lizzie Collinson and Phil Wright thought a wrap would be great if the van was ever stolen.
"Would brighten up a boring white caravan and might make a caravan thief think twice about stealing it," added Phil.
And Martin said something unique would make his motorhome look more singular. Although he did say a flag was cheaper and just as much fun!
Darren thinks it would brighten up a campsite – and "shrug off some of the old fuddy duddy image of caravanning."
But Dave Hunt did not like our wrapping designs and thought it was an unnecessary expense and both Malcolm and Gerald thought they could be an unwelcome distraction on the road.
Over to you…
What do you make of the results? Has it made you look out for any bespoke designs while touring or camping? Have you seen anything you like the look of whilst on your travels? We'd love to read your comments in the box below.
Cost to insure: *
---
factfile
| | |
| --- | --- |
| Model | |
| Base vehicle | |
| Axle type | |
| Dimensions | |
| Shipping length | |
| RRP | |
---
Search our blog
---