French designers have introduced their novel thinking into a motorhome that meets the needs and demands of the times.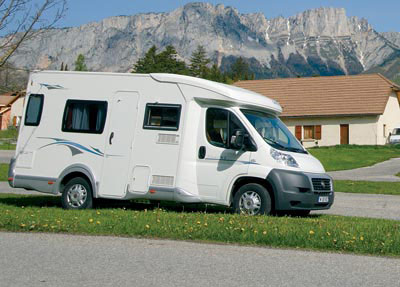 It is affordable (from £34,843 on-the-road), it is compact (six metres long) and it is a true low-profile.
You'd probably expect a compact fixed bed motorhome to come with a half-dinette seating arrangement, and the Flash doesn't disappoint. But even here there's a twist.
Because the rear seat needs to fold flat at bedtime it's not quite your average half-dinette bench; there's an armrest on the gangway side and the backrest reclines through an infinite variety of angles.
There is a downside to the design, though, and that's the lap only seatbelt on the outside seat (simply because there's nowhere to attach an upper belt mounting).
The wall-side seat has a three-point restraint attached to a substantial steel upright, but if you're carrying a fourth passenger it would be advisable to safely stow the table so they cannot headbutt the tabletop in an accident.
We can't see a simple solution for this issue but we did wonder if Chausson could have given the seat a little more shape – after all, it doesn't have to be flat as the bit you sit on plays no part in the bed's mattress.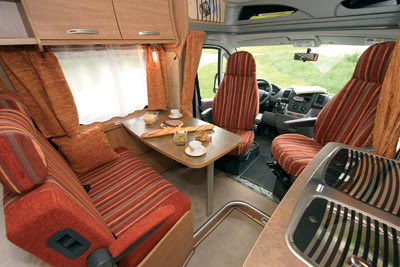 Nevertheless, this is a more comfortable lounge-diner than you'll find in most rivals, not least because the rear seat is quite low and a false floor continues the cab's floor level beneath the table.
The cab seats swivel easily and both have height adjustment, easily catering for drinks and snacks for four.
The occupant of the right-hand cab seat might stretch to reach a proper place setting for a meal but this is a two-berth, remember, and the table is sensibly sized for two people to face each other.
Opposite the table the small kitchen has an integral Smev hob and sink unit with three burners to cook on but no built-in ignition.
When is a fixed bed not a fixed bed? When it's in a Flash S2. Not the best motorhoming joke, but this has to be one of the greatest new ideas we've seen in a long time.
You can leave duvet and pillows in situ and when you're feeling sleepy you just tip the backrest of the rear seat forward to lie flat, thus completing the foot of the bed.
The S2's bedroom beats most standard French bed designs. The person sleeping against the wall can (just) get out of bed without climbing over their partner, by shuffling down to the foot of the bed.
There's the sideboard, for your bedtime drink and book, and the washroom wall is ideal to prop yourself against to sit and read. Reading lights are just where you'd want them.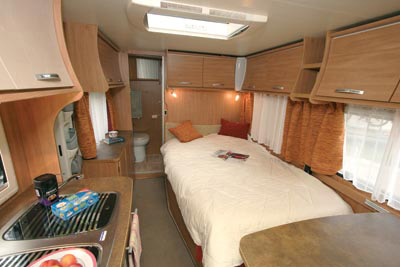 And if your other half wants to rise before you, the cab seats and table allow them to take breakfast while you snooze.
Pull back the sliding door by the head of the bed and you'll be forgiven a gasp as you take in the size and quality of the washroom. Has such a small motorhome ever had such superior ablutions facilities?
Probably not, for whilst the swivel cassette toilet and corner basin unit are unremarkable, the size of the shower cubicle is on an American RV scale.
Verdict:
This is a budget 'van and it's as good as you can expect for the money – in some ways better. There was surprisingly little conversion noise and everything worked as it should.
Fact-file:
Price from: £34,843
Berths: 2
Dimensions: 5.99m L, 2.30m W, 2.71 H
Interior height: 1.93m (washroom 1.84m)
Maximum weight: 3500kg
Payload: 695kg
Beds: Double bed 1.92m x 1.34m
Insurance cost: £231.75 *
*Motorhome insurance cost based on 2010 Chausson Flash 2 valued at £34,843. Fitted with manufacturers immobiliser, kept at home at TD9 8BD. Motorhome owners – professionals over 50 years old with no claims, convictions or health conditions in last 3 years. 4 years no claims bonus mirrored from car policy and 2 years motorhome driving experience. Members of motorhome club doing less than 7000 miles annually. £250 excess applies. European cover £19, European Breakdown £42 extra. Premiums include insurance premium tax at 5% and are correct as of 18.08.10.
Source:

Cost to insure: *
---
factfile
| | |
| --- | --- |
| Model | |
| Base vehicle | |
| Axle type | |
| Dimensions | |
| Shipping length | |
| RRP | |
---
Search our blog
---