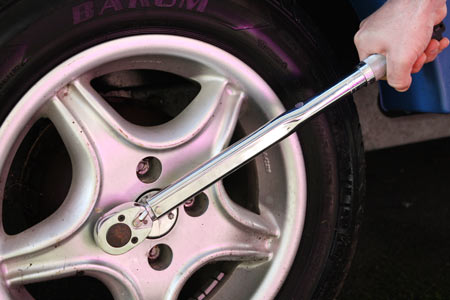 Over recent years we have had a large number of caravan insurance claims where a wheel has become detached and caused an accident. Such accidents often result in costly repairs and more significantly can be extremely dangerous to you and other road users. This article aims to highlight the importance of setting a caravan's wheel nuts to the correct tension, and checking them regularly, in order to reduce the risk of an accident when towing your caravan.
It's important that you check your wheel nuts for tightness regularly: we would advise you do this before every journey.
Caravan wheel nuts have a specific torque that they should be tightened to, which may differ from one manufacturer to the next. This figure should be in your caravan's handbook.
Invest in a good torque wrench
In order to set you're caravan's wheel nuts to the correct tightness you need to use a torque wrench. Torque wrenches can be set to a specific torque and won't let you tighten a wheel nut past a certain point no matter how much force you exert.
A good quality torque wrench can be picked up relatively cheaply, with the mechanical non-digital torque wrenches being more than adequate for use on caravan wheel nuts. Torque wrenches with a digital mechanism are generally more expensive and aren't really necessary for the level of accuracy needed for a caravan. Most non-digital torque wrenches will either; bend at a hinge, make a loud clicking noise or have a pointer and gauge to let you know when the correct pressure has been applied.
Checking tightness down the line
There is some debate about the correct way to check the torque of your caravan wheel nuts once they have been tightened up and left alone for a while. Some manufacturers recommend a 're-torquing' technique whereby wheel nuts are loosened slightly before being retightened to the correct level. This is due to something latent friction, which basically means you can't get an accurate torque reading from a bolt which has already been tightened because the little bit of extra friction caused by it not moving will give an inaccurate reading. This is also why it is important you tighten up your bolts in a fluid motion in order to get an accurate torque reading.
That said, you can use a torque-wrench to see if a bolt has come loose because only a very slight drop in the torque tension of a bolt (say 5-10%) would be overcome by the latent friction. So whilst it's true you can't get a 100% accurate reading from simply checking the torque of a nut with a torque wrench set to the same setting it was when you first tightened the wheel, you can get a rough guide to if they have moved significantly.
Use the right products for the job
Also be careful about what products you use on your caravan wheel nuts. If your wheel nuts become stuck then don't be tempted to spray WD40 or another lubricant anywhere near them, as whilst it might help in the short term it could have serious long term effects on the ability of the nuts to hold tension. Your only safe option is to simply be patient and use a wrench with good leverage to work the bolt loose.
If you have the opposite problem and want to help your bolts to stay securely in place for longer then you need to use a substance such as Loctite (speak to your local dealer or visit the Loctite website for advice on which variety is best to use) which will help to give the bolt's thread extra grip but won't permanently stick the bolt in place.
Search our blog
---