If you think Coachman turns out a better caravan than many, keep an eye out for dealers' own special edition version of the latest Vision line-up. When Coachman introduced its ten-strong Vision range for this season, it scored something of a double whammy.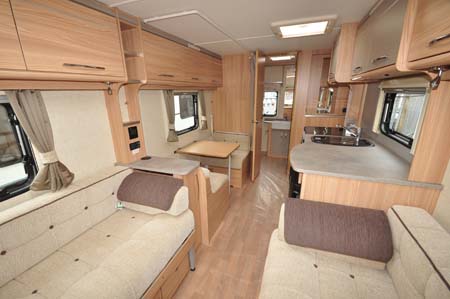 Firstly, here (at last, some might say) was a "budget" range from a manufacturer better known for putting build quality, specification and practicality over price. Secondly, it also allowed its leading dealers the choice of ordering their own special edition variants – which is what we have here.
With this example, Coachman has left it to the Broad Lane Leisure dealership in the Midlands to add the wow – indeed, you might say the X factor.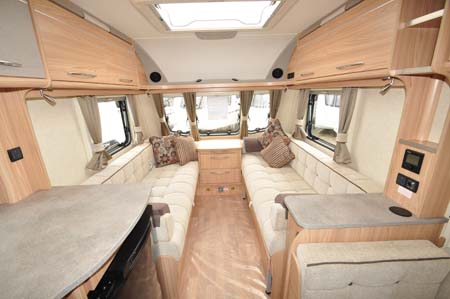 Broad Lane selected what it reckons will be the five best selling Visions and created its own Vision Xtras – adding what would normally be an extra £1,000 worth of kit, but keeping the overall premium over the within £500 over that of the standard Vision equivalent. See below for other dealer specials based on the Coachman Vision range.
But, one of the Xtra features – the key fob alarm system – will save you a bit off your annual insurance premium.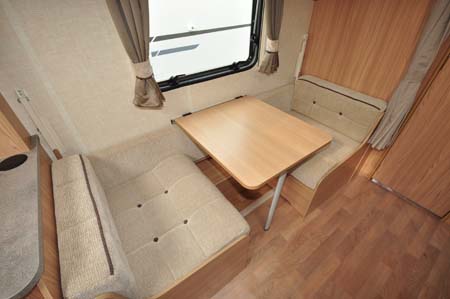 With the Coachman Vision Xtra 520/4 here, it's a floorplan that's long been popular with couples as well as larger families (going up to four), hence plenty of other manufacturers produce versions of it at a number of different price levels. It may lose out to the latest fashion for permanent beds, but the beauty here is all the extra living space such a set-up gives you – especially that side dinette which, when used by couples, can double as main dining area (rather than risk a mess in the main lounge; or, at night and with four on board, it's not too much of a hassle to convert it into bunk beds.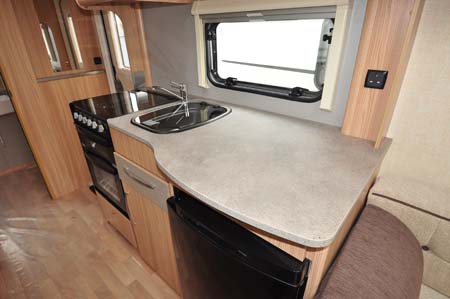 True to form, overall it's a solid build that keeps the frills down, and can only really be appreciated with extensive use, where things are less likely to fade, fail or even drop off.
Broad Lane's extras add some 30kg to the overall weight so, quite sensibly, it's upped the MTPLM to 1500kg to allow for the "industry acceptable" 150kg total payload. Don't forget, though, by previous Coachman standards the Vision is something of a lightweight.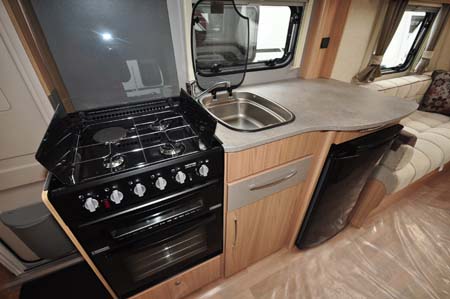 Elsewhere, the Xtra specification covers a full-size Heki rooflight, upholstery upgrade, exterior 230V and gas outlets, exterior side access locker, awning warmer and heavy-duty corner steadies.
That upholstery, in particular, helps to lift the overall ambience just a little. There's plenty of comfort in that front seating, too, thanks to deep padding and considerable knee rolls.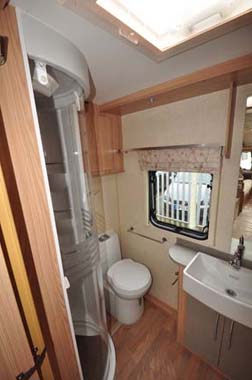 The kitchen – along the nearside and directly opposite the aforementioned dinette – is a near-perfect blend of equipment, worktop and storage (even accounting for the fact that the discreetly housed microwave takes up one overhead locker). It complements a dual-fuel cooker, while features such as the full metal runners for the drawers typify the way Coachman goes about things.
It's a significant-size washroom across the back, too. It's home to a part-circular shower cubicle, a larger than average sink, and a swivel-bowl toilet in a corner location. There's also space for dressing as well as instant access to a full-scale wardrobe and additional open shelving.
You might just want to be a bit careful with that transparent window here, though!
Verdict: Solid quality with a bit of X
Plus: Huge washroom, flexible floorplan, improved specification
Minus: Just gets a bit heavier
In-a-nutshell: Xtra special!
Cost to insure: £263*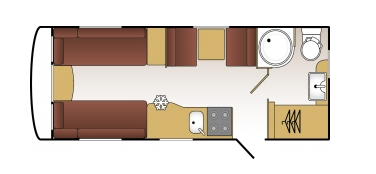 In summary 
Coachman Vision Xtra 520/4
Dimensions 6.93m L, 2.26m W, 2.60m H
Internal length 5.30m
Berths 4
MTPLM 1,500kg
MIRO 1,350kg
Payload 150kg
Key options: N/a
Safety and security AKS stabiliser, key fob alarm system, smoke alarm, mud flaps, Al-Ko shock absorbers, provision for Al-Ko Secure Lock and ATC
Recommended retail price from £18,491**
There's more information on the Vision range on the Coachman website and to find out more about our low-cost premiums visit the caravan insurance discounts page.
Alternatives: Coachman Festival 520/4 (Glossop Caravans), Kimberley Vision 520 (Kimberley Caravan Centres), Highlander Vision 520/4 (Knowepark), Olympia 520/4 (Raymond James), Chiltington 520/4 (Sussex Caravans)
*Caravan insurance is based on Coachman Vision Xtra 520 caravan retailing at £18,491. Fitted with an alarm, hitchlock and axle wheel lock (optional). Kept on drive at HX4 0BE. Caravanners over 30 years old, claim free for 3 years and a member of a caravanning club. £100 excess. 180 days European cover and up to £75 per day for up to 15 days emergency accommodation cover included. Legal expenses cover, extended European cover and other emergency accommodation expenses cover options are available at extra cost. Quote includes 10% online discount and 6% Insurance Premium Tax and is correct as of 08/04/2014
**On-the-road, including VAT at 20%. Dealer price may vary.
Cost to insure: *
---
factfile
| | |
| --- | --- |
| Model | |
| Base vehicle | |
| Axle type | |
| Dimensions | |
| Shipping length | |
| RRP | |
---
Search our blog
---