Can you really pack it all in? Yes you can, if some of your gear is collapsible. Here's our round-up of these handy caravan, campervan and motorhome accessories.
Save space. And weight. Collapsible camping gear means you can take more away with you… and, such items are less likely to be the source of rattles when you're on the move.
Saving weight of course also can mean better fuel economy and towing stability. Collapsible items are virtually unbreakable, too, meaning less chance of unwanted accidents.
So, is it wins all round for collapsible kit? You can get more and more items in such formats these days – popping up to perform the same way as their solid-sided peers, but – when stowing away – pushing down to a far more compact size. Neat, eh? It could even make the difference between having larger items right up to buckets and baskets, which might otherwise have to be left at home.
Top tips
 If you're using collapsible containers, pots etc for use with anything edible, make sure it's labelled as being food-friendly.
BPA-free is a helpful feature. It means there's no bisphenol A, listed as a "controversial chemical", but which has been used in plastics in the past.
Most collapsible camping gear uses silicone as the "secret ingredient" that means it can fold down. Plus it can withstand high temperatures, so it can be used with boiling water and hot food, and in some cases in the oven.
Check to make sure extra items like handles don't add more size on to these space-saving camping accessories.
Check the quality of silicone– if it's very thin it could be prone to tearing.


Outwell Collaps Basket
If there's one supplier that's truly grasped the collapsible concept, it's Outwell. The full Collaps range from Outwell extends to kettles, pans, washing-up bowls, food serving, even coffee filters, lighting and plenty more. And there's lots of bright colour choices, too.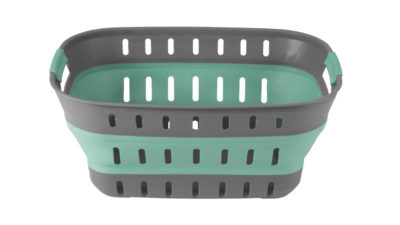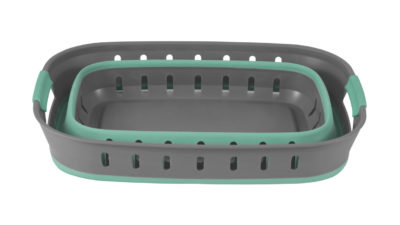 But, a laundry basket you can carry in your leisure vehicle? Why not? This actually has far more uses than just carrying your clothing, dirty or clean.
In TPE (thermoplastic rubbers, i.e. silicone) and plastic, the basket is one of the larger items in the range, yet it still folds almost flat for easy storage.
Dimensions 57.5cm L x 43cm W x 25cm H
Weight 1.56kg
Features also include BPA-free, dishwasher safe, break-resistant, easy to clean
Expect to pay £40


Kampa Squash collapsible electric kettle
How about this for a real space saver? If you like the idea of an electric kettle rather than one you might use on your gas hob, but want it to take up as little space as possible, here's the solution.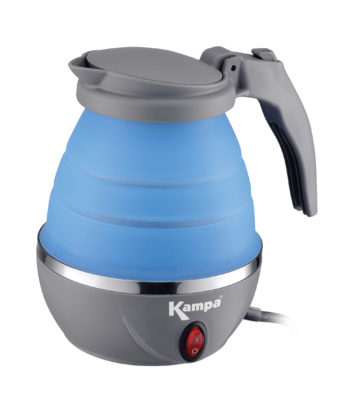 It has a one-litre capacity with a stainless-steel concealed 1kW/4.35amp element. Capacity is one-litre and the lid has a push-button release.
The Kampa range of collapsible also extends to washing bowls, buckets, drainers, bowls and laundry baskets.
Dimensions 17.5cm L x 13cm W x 17.5cm H
Weight 0.6kg
Features also include Silicone body, concealed element, auto switch-off, plug included
Expect to pay £30


SunnCamp collapsible square washing up bowl
Okay, so chances are you already have at least one permanent basin in your caravan or motorhome. But, that's not to say an item like this can't come in handy. For example, it might make it easier to use the campsite's facilities for your washing-up, washing muddy feet or dogs etc.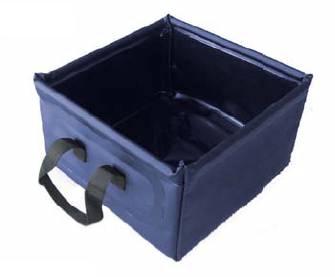 Long twin handles make for easy carrying, too.
Dimensions 35cm L x 35cm W x 16cm H
Weight 1kg
Features also include Carry handles, flat-folding
Expect to pay £9


Easy Camp Dugite lantern
Even lighting can be collapsible, like this handy little lantern from Easy Camp. Ideal for hanging in an awning bedroom, as a table top lantern or making trips across the campsite in the dark.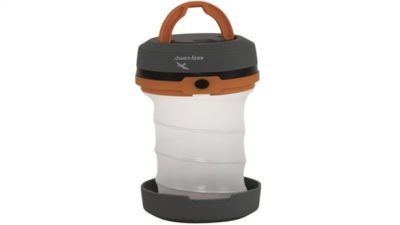 It has three light settings – high, low and flashing, and can be used as a torch when folded. It offers 50 lumens of light.
Other features include a hanging handle and flashing mode. It operates from three AA batteries, sufficient for up to 16 hours.
Dimensions 8cm x 15cm H
Weight 125g
Features also include ABS casing, 1 watt bulb
Expect to pay £9.99


Vango foldable water carrier
No matter what you fresh water supply arrangements are in your caravan/motorhome, this is the kind of item you can tuck away discreetly for possible emergency use.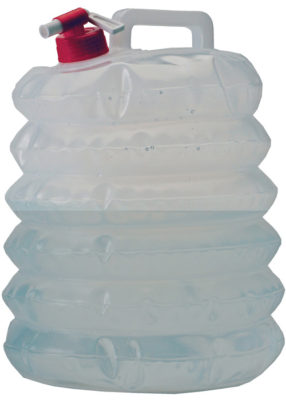 In polyurethane, with an easy-to-use stopcock and a sturdy top handle, it has an eight-litre capacity and folds down to almost flat when not in use.
Dimensions 23cm L x 8cm W x 33cm H
Weight 1.98kg
Features also include PE body, easy-folding
Expect to pay £5
What's your advice?
Got any advice or experience of using collapsible kit you'd like to pass on to fellow caravanners or motorhome owners. Please feel free to add a comment below.
Search our blog
---