Motorhoming and caravanning with dogs (and other pets) got tails and tongues wagging in our latest community poll.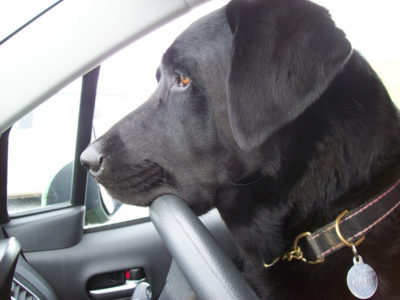 When we asked which pets you take on your caravan and motorhome holidays, dogs came out on top, with a 'paw-some' 81 per cent of voters taking their four-legged friend with them.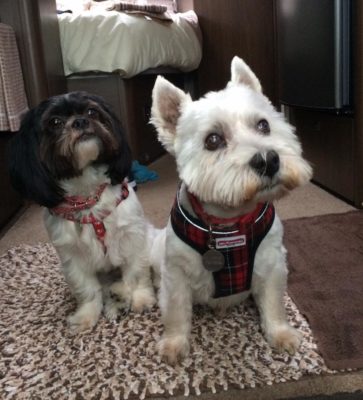 With almost 500 votes, some readers told us how much their pets enjoyed time away in the 'van, proving that caravanning is also a pet pursuit and pets like caravans and motorhomes too! And with many dog friendly campsites to choose from it, it wasn't a huge surprise.
Plus, dogs can also be an effective security guard when you're away from the 'van or at night time.
Here's the results…
Cats were second placed in the pets poll with nine per cent of the votes and only four per cent of voters either choosing pet-free campsites or admitting they weren't a pet-person.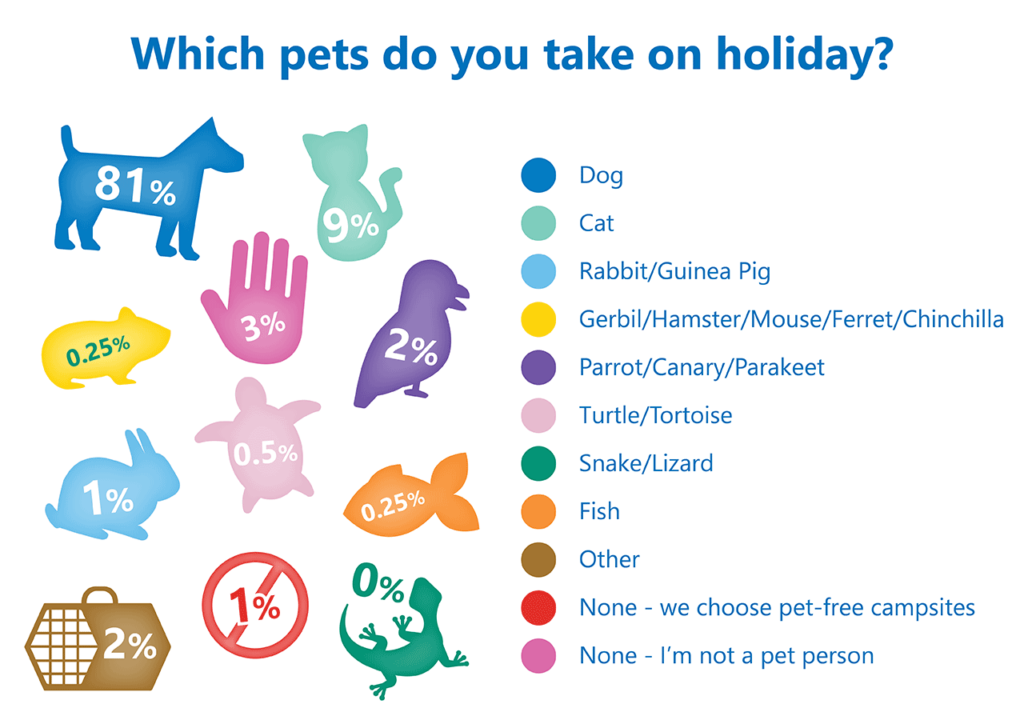 We also found some other pets who get to enjoy holidays in a caravan or motorhome – these included parrots, a cockatiel, rabbits, guinea pigs and even a fish.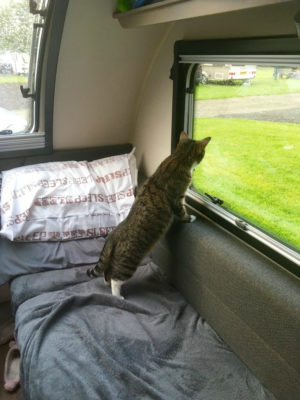 Your comments…
Most of all we loved to see your photos on our Facebook page and your comments which proved that pets, and dogs in particular, are an important part of caravan and motorhome life – some even have their own special beds or place in the awning!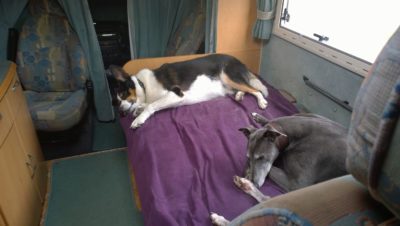 More importantly, you and your pets can enjoy the freedom of a caravanning holiday with endless opportunities to explore the great outdoors and spend some quality time together.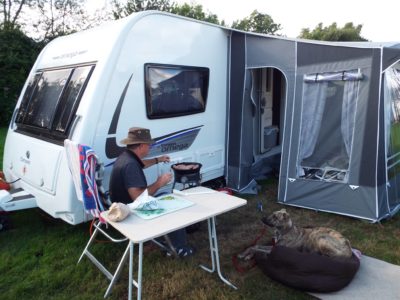 Tony Ash said: "We have a border collie called 'Jay Jay' & he goes with the wife and I every time we are out in the caravan. We don't leave him at home at all. When I get the caravan out, he will sit by the car and will not move until he's allowed in! In other words 'you are not going to leave me here I am going too'."

Roger Payne always takes their Mastiff dog caravanning, plus their cat!
"The cat is an indoor cat at home so she does not want to go out of the caravan and sleeps on the back bunk. The dog prefers to sleep in the back of the estate car, with a Ventloc in to give her air in summer," said Roger. "In winter she comes into the caravan. Dog is frightened of the cat so she is on her best behaviour."
Graham Bird takes their cockatiel, Tino, in the caravan.
"She is 18 years old and thoroughly enjoys it," said Graham. "She either sleeps or preens when we are traveling, showing she is relaxed with the journey. We have travelled the length and breadth of the country with her and her partner before he died a few years ago. She even has a bit of a fly in the awning, ALL exits blocked of course!!"
Bill Bradnock h
as two

 Jack Russell Terriers who love the motorhome.
"Fudge lies under the swing table on the left bunk and Buddy lies on the floor, keeping an eye on us," he commented.
Joyce Turner takes seven dogs and a cat in her motorhome!
"The biggest problem I have had with finding a motorhome is that there is nowhere to put dog caging in most of them," she said. "There isn't even anywhere to secure one or two dogs. A lot of dog competitors spend every weekend in the summer camping at shows, but no-one is catering for this huge market when they design motorhome or campervans."
Neil Griffin's 12 year old Iori (Yori) sleeps on the passenger seat of his motorhome but has a habit of nosing the front curtains back so he can see out (and everyone else can see in)!
"He's a good guard dog when parked up and when we can't take him somewhere with us," he added.
John Parker takes their 11-year-old Labrador/Dalmatian cross with them everywhere they go in their motorhome.
"She travels between the front seats on a seatbelt harness and wouldn't let us go without her," he said. "She loves every minute of being away in the motorhome."
Ken and Lin Fowkes have a  South African Boerboel and a Staffordshire boxer cross and they travel everywhere with them, including Portugal in the winter – loving the travelling life!
Over to you…
Thanks to everyone who voted and feel free to let us know what you make of the results and if you have any top tips for caravanning with dogs or your other pets.
Cost to insure: *
---
factfile
| | |
| --- | --- |
| Model | |
| Base vehicle | |
| Axle type | |
| Dimensions | |
| Shipping length | |
| RRP | |
---
Search our blog
---