It's Britain's answer to the Grand Canyon. The Jurassic Coast was the UK's first World Heritage Site. Head for its western beaches and find untold treasure.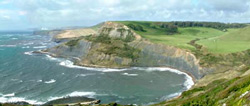 Charmouth is possibly the best place in the world to learn about fossiling, unless you want to put forward some of the nearby beaches between Lyme Regis and Portland. The Jurassic Coast has been designated Britain's first World Heritage site by UNESCO, due to its amazingly varied geology with its fossil content, and its status as the effective birthplace of palaeontology.
It would be wrong to suggest that fossils were the only reason to come here. Beautiful villages and scenery are another. Then there are the quiet beaches. And let's not forget that to many people Lyme Regis is simply the most interesting town in the South West.
For a start, it is oozing art and literature from every pore. If you're that way inclined, you might spend your whole holiday reading Lyme Regis authors and not actually leave the caravan at all.
Lyme Regis though, is all about being there – nipping into quirky bookshops and speaking to artists in their high street studios.
Here are some other suggestions of what you can enjoy on your visit to the area: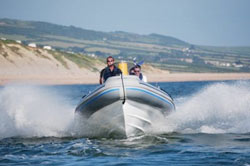 Lyme Bay RIB Charter
For the more adventurous among you, the area offers power boating trips from West Bay – from a water taxi trip to or from Lyme Regis (only available on certain days, so call for info), to a 15-minute West Bay Blast, all on purpose built RIBs (Rigid Inflatable Boats). The West Bay Blast is strictly two hands on the safety rail and hold on for your life!
Tel: 07971 258515, www.lymebayribcharter.co.uk
Dorset's hills are just right for many walkers – enough of a challenge without being too much of one and there are 71 miles of National Trail. Go inland to the Dorset Ridgeway.
In Lyme Regis, Dinosaurland has large dinosaur models for kids and a lot of displays about locally discovered fossils. The town's Philpott Museum has a table made of fossilised dinosaur poo. Best of all is the ammonite pavement you reach by walking west along the beach from Lyme Cobb (look right when you reach a pair of rusty tracks).
Dorset is brilliant for shore fishing, and in summer you've a very good chance of bass, plaice, bream, wrasse, mackerel, garfish and scad. Chesil beach is one of the UK's significant shore fishing sites at Cogden, West Bexington and Ferrybridge.
The Donkey Sanctuary at Sidmouth in Devon has free admission. You can walk for miles in the beautiful setting of the Sanctuary's farm land and there's a whole day's worth of things for kids to see and do.
The Donkey Sanctuary, Sidmouth EX10 0NU. Tel 01395 578222, www.thedonkeysanctuary.org.uk


Lyme Regis

There is some sand at Lyme Regis near the Cobb. You'll find this chunk of Lyme bay gets very crowded, while the pebble stretch around the corner is often deserted. The best sandy beach around here is Weymouth, backed by its esplanade and glorious, faded Georgian architecture. The bay itself is safe, gently shelving, with perfect sand for castle building.
West Dorset has brilliant Iron Age hill forts and you can explore the ramparts freely. Here are our favourite three: Maiden Castle near Dorchester. Eggardon Hill near Bridport – views are simply as good as they get. Abbotsbury castle – look out over St Catherine's chapel and the sea.
Enjoy!
Cost to insure: *
---
factfile
| | |
| --- | --- |
| Model | |
| Base vehicle | |
| Axle type | |
| Dimensions | |
| Shipping length | |
| RRP | |
---
Search our blog
---