The subject of electric or hybrid electric motorhomes certainly got people talking!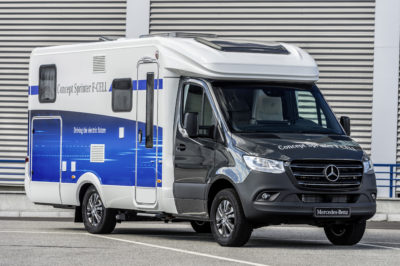 In last month's community poll, we asked motorhomers if they'd consider buying an electric campervan or motorhome in the future?
After 839 votes we bring you the results….
Forty-three percent of voters said they would consider going electric in the future, with twenty-two percent saying they would consider a hybrid electric motorhome and twenty-one percent voting yes in consideration of an electric motorhome.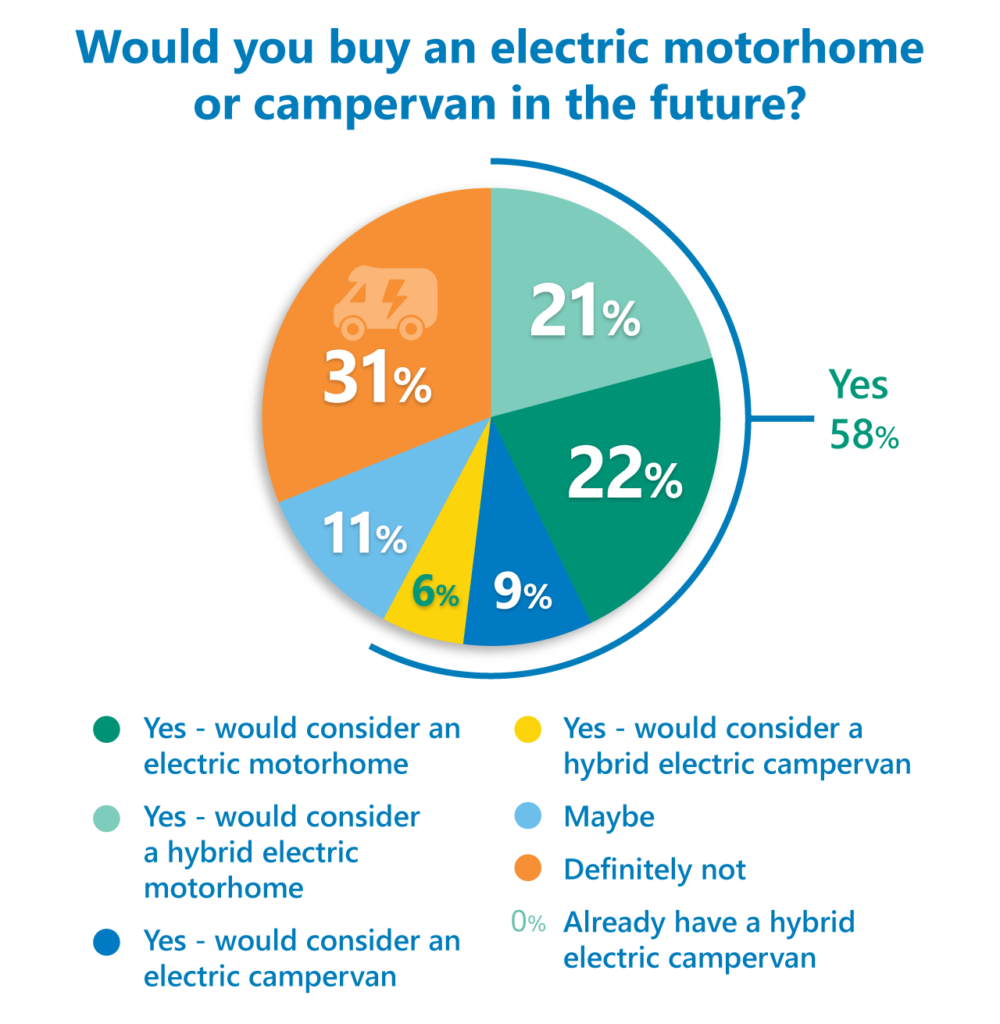 But almost a third (31 percent) said "definitely not" to an electric motorhome.
Nine percent would consider an electric campervan and six percent would consider a hybrid electric camper.
Eleven percent of voters were undecided and opted for the "maybe" vote.
Your electric motorhome comments
There were many comments about hydrogen power been a better option and more investment needed in batteries and the charging infrastructure, plus concerns over cost.
Simon Perry said: "I doubt I could afford one, bearing in mind how much e-cars cost in comparison to their liquid fuel contemporaries. I also believe there will not be the choice of layouts available, so how many compromises would there have to be just to be able to run electric?"
Graham Ward said there were various issues that would need to be solved before he would even consider an electric motorhome.
"Firstly the range issue, most certainly would need a minimum of 350 miles between charges," he commented. "Weight is critical with the size and weight of batteries at present I think we would need to have major developments in battery technology to reduce weight. Finally charging, campsites would need to invest in charging stations to ensure we would not need to spend too much time at filling or charging stations."
Michael Adamson also commented on the extra battery weight.
"Driving long distance from Scotland to Spain would be definitely impossible for electric vans and the extra weight of the batteries would mean most car licenses are no longer valid."
But Gary Hunt has been driving electric cars since 2014 and would love an electric van conversion (Ducato).
"I believe 300 mile range is the sweet spot," he commented.
Melvyn Rendell thinks hydrogen power is the sensible answer.
"Fill up like diesel or petrol. Can be retrofitted and unlike a battery-powered vehicle there is no built-in obsolescence due to the short life of a battery," he said.
Simon, believes there is a strong case for EV motorhomes.
"There are many companies manufacturing electric vans coming to market and I'm sure they will be converted to motorhomes in time," said Simon. "Hydrogen is always my favourite, unfortunately, this will not work with the dozen or so stations dotted around the country, whereas sites mostly have electric hookup and we are on holiday, so there is no hurry to fuel while we enjoy our stay. It might mean fewer one night stays but that's not a bad thing.
"As for the mass of motorhomes, this is always an issue. I have a 4.5tonne motorhome, but the 3.5tonne limit does present some issues and maybe the license laws might change. That said, my current Tesla EV is 100kg lighter than my mate's Focus RS! When you take out the engine, exhaust (and its very precious materials), gearbox etc… the difference is not massive. The only issue people can't get over is range, but that's in the planning, and what better way to spend taking your time planning a trip that in a motorhome on holiday."
George Smith also believes hydrogen is the future but believes it may be a way off.
"I'd like an electric campervan that will (really) cover 300 miles on a charge and I'd like to see a big increase in fast charging points," he said. "What worries me is that we will be turning half the world over to find all the things (e.g. rare earths) to make everything needed – and that's including the things needed to produce green electricity to charge all our batteries."
Thanks to everyone who voted. We'll bring you a new poll next month.
Cost to insure: *
---
factfile
| | |
| --- | --- |
| Model | |
| Base vehicle | |
| Axle type | |
| Dimensions | |
| Shipping length | |
| RRP | |
---
Search our blog
---