Is the future electric for towing?
Tow cars are getting better all the time. There are several electric and hybrid electric cars which are capable of towing and within the next few years, there should continue to be more affordable and electric cars produced which are capable of towing a caravan over longer distances.
And in recent news, we heard about new lithium-ion batteries developed by an Israeli company, StoreDot, that are capable of fully charging in five minutes! Plus we've already seen large numbers of caravan sites offer EV charging ports.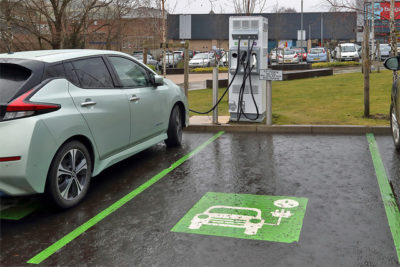 With the Government looking to ban the sale of new petrol and diesel cars by 2030, we asked caravanners if they'd consider buying an electric tow car in the next five years.
Electric towing results
With 763 caravanners casting their vote, half said they wouldn't be buying an electric tow car in the next five years – with many commenting that they're too expensive and just not viable right now.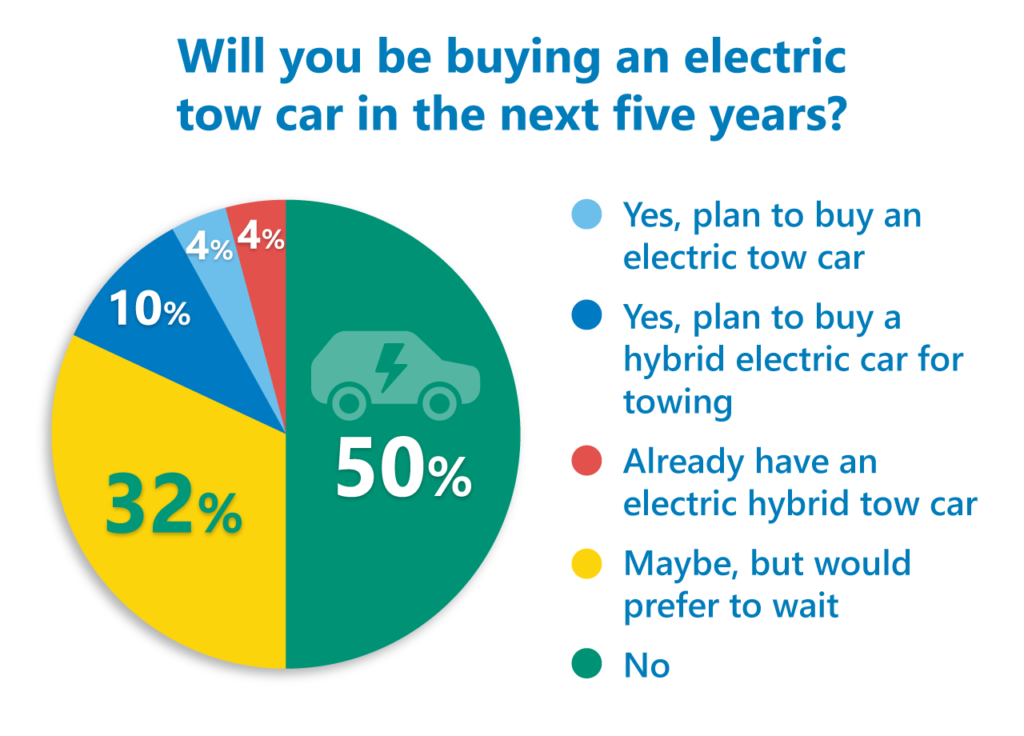 A third said "maybe" to an electric tow car in the next few years – but would prefer to wait to see what the future holds for electric towing.
However, 14 percent voted to say they did plan to buy either an electric tow car (four percent) or a hybrid electric car for towing (10 percent) their caravan.
Just four percent of voters already had an electric hybrid tow car.
Your electric tow car comments
Ben Allen told us he's been towing his Coachman Festival 630 twin axle caravan with an electric Tesla Model X car for nearly four years.
"We have towed it in the UK and in Europe with no issues," said Ben "Chargers are abundant and electric vehicles make superb tow vehicles due to all-wheel drive and immediate torque. I had a Mitsibushi Shogan LWB before and this car puts that to shame. I encourage owners to look into it as lots of new electric cars are coming out and the running costs are very low compared to an ICE (internal combustion engine vehicle)."
Tony Butcher has had a 2.4 litre plug-in hybrid since July: "Sadly haven't used it for towing yet and similarly we'd be happy with 26 mpg whilst pulling our Bailey Pegasus Milan especially when averaging fuel costs across the year. Once you learn how, when, and where to use the electric motors and/or petrol engine efficiently reduced running costs are achievable," he said. "They are an expensive initial outlay and luckily ours is a company car therefore with the "benefit in kind" added versus my last car, a Nissan X Trail, it's far more cost-effective in my opinion."
John Foster also bought a Mitsubishi Outlander PHEV in July and on a 350 mile round trip, mostly on the motorway, was pleasantly surprised to achieve 26 mpg towing a Bailey Valencia.
"The outfit is rock solid on the road and performance is more than adequate," said John. "The instant torque from the electric motors making pulling away or accelerating easy. Once you are used to the CVT and the fact that the engine revs are not related to the speed (not noisy anyway) I find it a very relaxing tow car."
A number of caravanners said they planned to wait for more hydrogen fuel cell tow vehicles.
Graham McDowell was one of these: "I will be keeping my 2.2 Diesel until I can drive and refuel an electric car in the same way," he said. "Like others, I am waiting for hydrogen fuel cell vehicles and as at least one of the big oil companies has committed to hydrogen technology hopefully it won't be too long. I think Government policy is wrong to announce bans on IC engines until viable alternative technologies are available, all this will do is encourage people to keep older inefficient and higher polluting vehicles."
Brian N supports the manufacturers of fully electric and hybrids cars, but feels they ought to be trying to develop more models that use the Hydrogen fuel cell technology.
"It has all the eco positives of plug-ins and hybrids without the disadvantages of the long recharge times and short driving distances of plug-ins, or the emissions from the engines powering the hybrids," he commented. "Hydrogen fuel cell-powered electric vehicles can drive distances and perform very similarly to petrol/diesel vehicles, producing only water from the exhaust, and having a refuel time of around four minutes. Most hydrogen fuel cell-powered electric vehicles develop more than enough torque to enable them to tow comfortably, so until I can get one at a reasonable cost, I will stay with my two litre diesel with catalytic converter and AD-BLUE technology."
David Rowe is interested in buying an electric car but has a number of concerns: "Most reviews indicate that electric cars are not really up to the rigours of towing," said. "And that recharging points have not been installed widely enough. We like caravanning in France and would need to be convinced that this would continue to be possible with an electric tow-car."
Keith Stacey said electric cars were grossly overpriced and underpowered for caravan towing and would not be buying one.
Ian Carey said the Government should start a scheme to encourage owners of older diesel vehicles to exchange them for at least a Euro 6 spec.
"We would reduce pollution overnight," he said. "There are several reports circulating that highlight the fact that new diesel engines from the last couple of years emit cleaner air than they are taking in at certain times in some inner-city areas. You simply have to search out the reports and not be taken in by the hype. I will be staying with good tried and tested diesel power for as long as I can."
Let us know what you make of the electric tow car results and comments. We'll bring you a new poll next month.
Cost to insure: *
---
factfile
| | |
| --- | --- |
| Model | |
| Base vehicle | |
| Axle type | |
| Dimensions | |
| Shipping length | |
| RRP | |
---
Search our blog
---