Eura Mobil Terrestra A 690HS
The Terrestra A 690HS is one of that rare breed of continental motorhomes that has a very British U-shaped rear lounge where a fixed bed of some sort is more commonly found.
Your first impression of the Terrestra concerns how very tall it is. It looks big enough from the front, but out back, your eye is drawn helplessly to a rear elevation that seems to just keep spearing ever higher towards the heavens.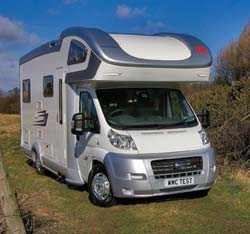 This is a good-looking motorhome, with largely unadorned flanks lifted by bold contrasting grey panelling, flush-fit windows and doors and the barest minimum of graphics.
Out back, an octet of smoked-out round lights are sufficiently low-set to actually emphasise the motorhome's height still further, but the large window helps break up what would otherwise be a vast swathe of white GRP.
Staying with the outside, the A 690's rearmost locker doors open to reveal the reason for its lofty demeanour: a 370mm-high double-floor. It offers such unprecedented storage space at a low level where heavy outdoor gear has a less detrimental effect on handling.
Climb aboard and you're presented with a spacious and bold-looking living area. The front lounge is of the typical pullman variety, although the three-point seatbelts attached to the forward-facing seats are not matched by similar restraints on those opposite.
Given that the A690 can sleep up to six people, this seems like something of an oversight on Eura Mobil's part.
The cab seats, too, are quite low-set relative to the rest of the interior, and as such don't swivel, although a pullman layout doesn't really lend itself to this arrangement anyway, so this isn't much of a problem.
It's not really the lounge to which your eye is drawn when you first enter, but rather the remarkable kitchen. It takes a particularly bold sort of manufacturer to finish its kitchen units off with burgundy-coloured units, but they actually look rather special.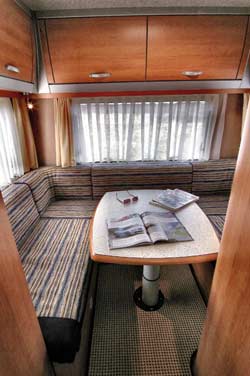 Build quality is good too. If your Terrestra rattles on the move, then there's something seriously wrong. The kitchen area also gets decent worktop space and a paddling pool-sized sink. These offset the basic non-spark-ignition three-burner hob.
First impression of the washroom is one of an overwhelming sense of blue and grey, the colours that predominate in here, and while it is ostensibly an all-in-one affair, it actually incorporates a Swift-style separate cylindrical shower cubicle, complete with pull-around frosted doors.
Three closely-grouped downlighters keep the whole area nicely lit (which is a good thing, since there's no fitted window), and two or three huge mirrors, allied to modern plexi-glass shelves, make the room feel quite a bit bigger than it actually is.
The A 690HS's end lounge is spacious enough, and the welcome provision of a fitted table that slides and collapses hither and yon makes access and egress, while hardly plain sailing, that little bit easier. That self-same table also means that four people can sit comfortably around it with relative ease, either for dinner, or for a board game.
It also makes for a pretty good playroom for the little ones, being at once sufficiently removed from the front lounge to give mum and dad a bit of privacy.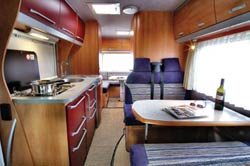 Verdict:
This is a motorhome that offers proper year-round motorcaravanning. It has superb build quality. The big overcab bed is a major plus point.
Fact File:
Price from: £44,062 OTR
Base vehicle: Fiat Ducato 40 Heavy LWB chassis cab
Engine: 3 litre Multijet – 157bhp
Travel seats: 4
Berths: 6
Insurance cost: £240.25*
*Motorhome insurance cost based on 2008 Eura Mobil Terrestra A 690HS valued at £44,062. Fitted with manufacturers immobiliser and Thatcham Category 1 alarm, kept at home at HS3 3DW. Motorhome owners – professionals over 50 years old with no claims, convictions or health conditions in last 3 years. 4 years no claims bonus mirrored from car policy and 2 years motorhome driving experience. Members of motorhome club doing less than 7000 miles annually. European Cover £18 extra and European Breakdown £42 extra. Premium includes insurance premium tax at 5% and is correct as of 08/08/08
Source: outandaboutlive.co.uk
Cost to insure: *
---
factfile
| | |
| --- | --- |
| Model | |
| Base vehicle | |
| Axle type | |
| Dimensions | |
| Shipping length | |
| RRP | |
---
Search our blog
---