Caravan manufacturers have certainly got it covered when it comes to bed choices – but caravanners views are mixed when it comes to their favourite caravan bed layout.
In our recent poll we asked owners to vote for their favourite beds layout and with almost 600 votes it was fixed beds that came out on top.
Here's the results…
The top favoured beds were fixed twin beds – no climbing over each other to get to the loo in a morning and perfect for lone sleeping – gaining a third of the overall votes.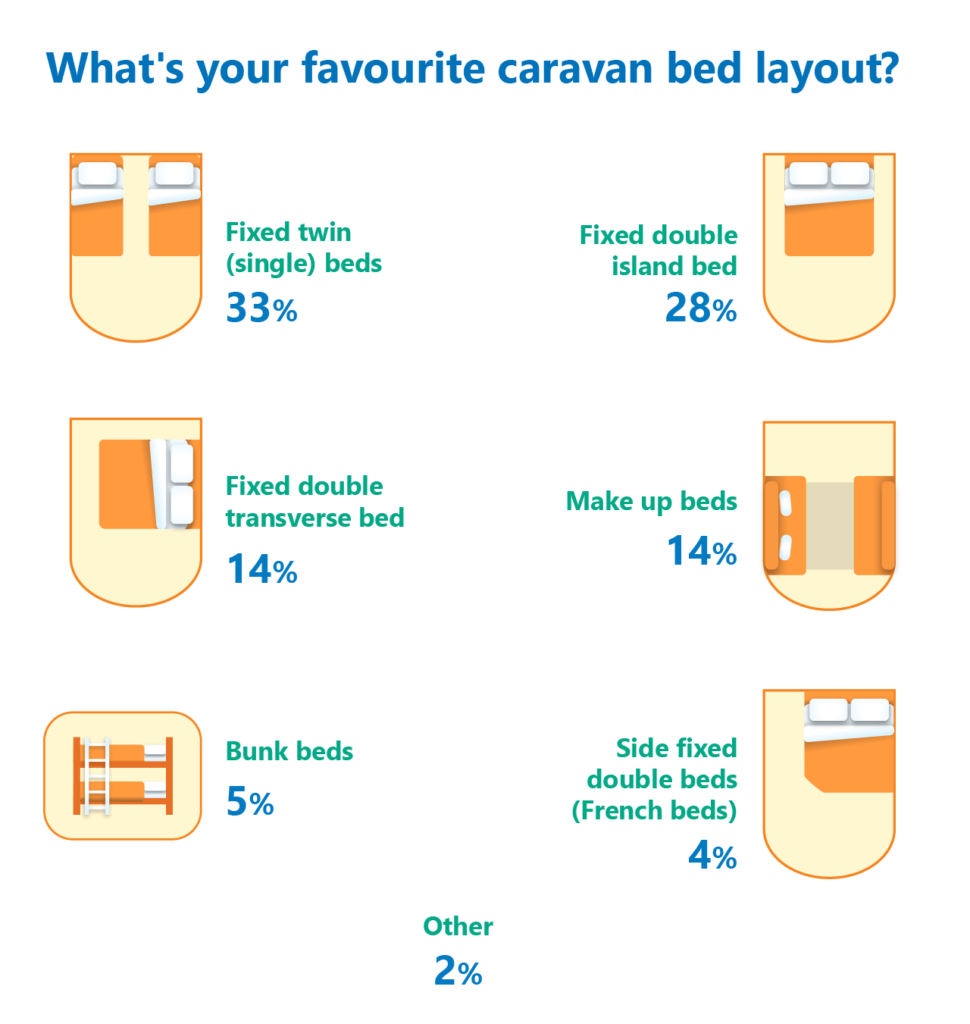 Caravanners clearly prefer not to waste precious time on holiday making up the beds, with 28 per cent of voters choosing a fixed double island bed as their favourite – placing it in second place in our community poll.
Tied in third place were the fixed double transverse bed and make up beds, each gaining 14 per cent of the votes.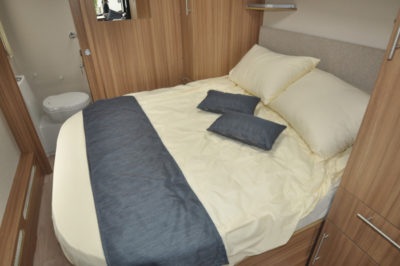 Bunk beds and side fixed double beds (or French beds) were the least popular, with just five and four per cent of the votes respectively.
Other caravan bed layouts which voters listed were fixed bunks with a make up double; fixed bed and fixed bunks, as well as transverse bunks in a rear end bedroom.
Your comments…
A few of you shared your passion for the fixed bed without the joins of a make-up bed.
Peter Brook has had caravans with make-up beds, one with a fixed side double bed and now one with an island double fixed bed.
"The beds we made up tended to be much bigger but had the joins just where you didn't want them, so had us pleased to return to a better night's sleep at home!" he said. "The fixed bed suited us just fine, especially the island double. True, they take up space, tend to be in heavier vans, but suit us just fine."
Jeannie Reilly voted for a fixed transverse bed as her caravan bed is against one side meaning she has to climb over her husband to get out of bed in the morning!
"We have a fixed bed at the moment in our oldish Pageant Bailey Bordeaux – and it's much more comfy than the made up beds from the long seats – as there is always a join in the seats, right in he middle of your back I have found!" she said. "I've voted for a fixed transverse bed – so that we can get in and out of bed from our own side! However I am toying with the idea of fixed twin beds – as then I don't get the duvet pulled off me in the middle of the night!"
But other readers commented that they preferred the versatility and space provided by make-up beds.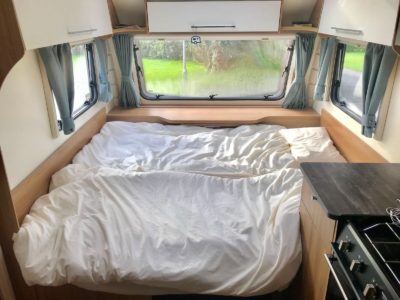 Ray Jones commented: "Fixed beds use so much living space unless you have a very large caravan with purse and tow car to match."
Edward Baldwin and his wife don't like fixed beds either: "The beds are better if you can put up the ones you need to use rather than being stuck with one that you have to walk round all the time," he added.
Thanks for all your votes and comments.
Cost to insure: *
---
factfile
| | |
| --- | --- |
| Model | |
| Base vehicle | |
| Axle type | |
| Dimensions | |
| Shipping length | |
| RRP | |
---
Search our blog
---