Caravans and motorhomes today rely almost exclusively on a 12 volt battery to power the control systems and provide lighting, but how do you know which battery is the best for you and will it be charged properly?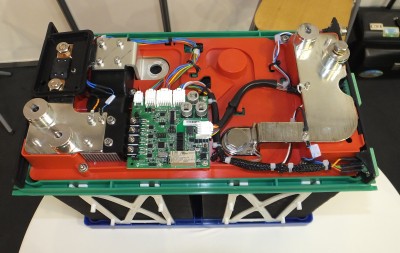 The vast majority of starter and leisure batteries used today are based on lead acid technology. There are some future contenders to lead acid based on lithium ion and lithium iron phosphate technology but these are, in practical terms, some distance away from being commercially attractive, at between 10 and 20 times the price of a similar sized lead acid unit (shown above).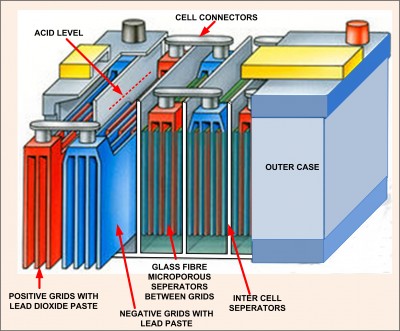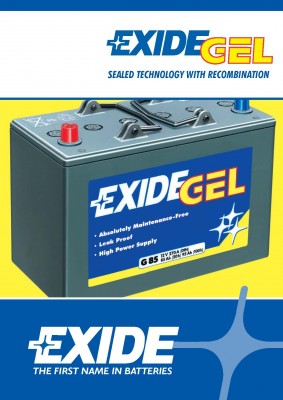 Lead acid batteries comprise interleaved lead paste & lead oxide paste plates, each plate with a lead grid to support the paste, suspended in an electrolyte of dilute sulphuric acid.
These come in three basic types. WET (or Flooded), GEL  and Absorbent Glass Mat (AGM) (below). In WET batteries the plates are kept apart by plastic or glass separators. In Gel, the electrolyte has silica gel or similar mixed with it to turn it into a jelly.
AGM use fibreglass blotting paper in a compact, sandwich construction, to retain the electrolyte. Batteries fail as the lead paste will, over time, progressively detach from the plates.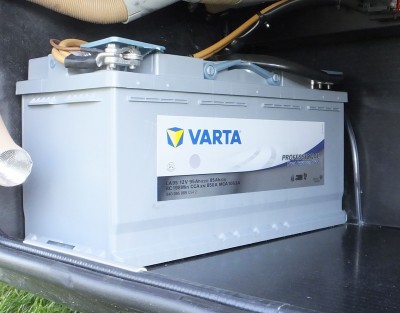 In WET technology this paste falls to the bottom of the cell box and will eventually short out that cell. In GEL and AGM the paste is retained in position.  Spiral batteries (shown below) are AGM batteries with long strip plates and fibreglass simply coiled up. AGM and GEL batteries generally provide a longer service life.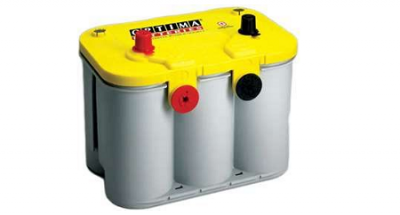 Starter batteries need lots of plate area in contact with the acid to achieve high cranking amps required to start a cold engine, consequently they have lots of thin plates. In use, once an engine is started the battery is quickly re-charged. Starter batteries are not suitable for leisure applications where they could be significantly discharged before being re-charged.
Batteries used in 'Deep Cycle' applications include Fork Lift Trucks, Milk Floats and Golf buggies. The plate thickness for a typical starter battery will be around 1mm, for a Forklift truck 6 – 8mm and for a golf buggy 1.8 – 3mm.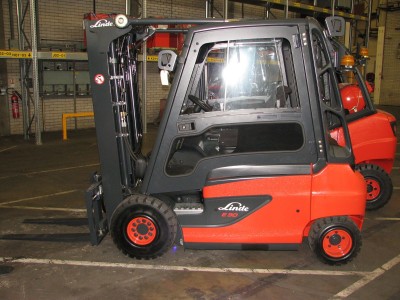 Leisure batteries should be similar to Golf buggy batteries in construction to have a good cycle-life. It's recommend that batteries should not be discharged below 50% of their rated capacity in order to preserve their life.  The graph below clearly shows why. When choosing a battery the 50% discharge life cycle figure is the best yardstick of its durability.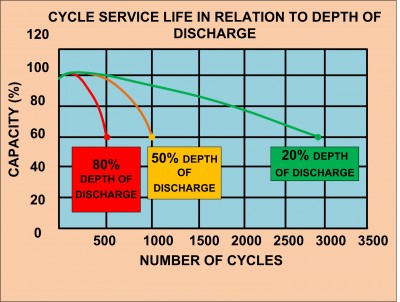 The National Caravan Council (NCC) has been working on an approvals system for Leisure batteries and knowledge of this has already caused some of the less reputable dealers selling starter batteries as Leisure to cease trading. Let's hope that the scheme requires manufacturers to provide life cycle figures.
Battery weight is also another very good yardstick of a batteries capacity. The cheapest leisure batteries with a 50% life cycle claim of 120 cycles will be 21 – 25 kg / 100 ampere hours. Top quality leisure batteries with life cycles of many hundreds and sometimes thousands of cycles will weigh 30 – 40 kg / 100 Ah. A battery that costs twice as much but lasts four times as long will be a better purchase.  Look for the 50% life cycle figures when you make a purchase and, if life cycle information is not provided, act cautiously.
The basics of charging all these lead acid batteries are similar. Initially during the BULK CHARGE the charging AMPS will be limited by the charger until the battery voltage has risen to the Critical Gassing Voltage, this varies a little between batteries even of the same technology.
This voltage will then be retained at this level during the ABSORBTION PHASE as the charging current falls. This is often limited by a timer within the charger as well.
After this, some chargers allow the battery voltage to increase further for a timed period before reducing the charging voltage to a lower level which can be applied continuously.
It is the threshold voltages and currents at which the charger operates and the length of timers that need to be matched to the requirements of the battery.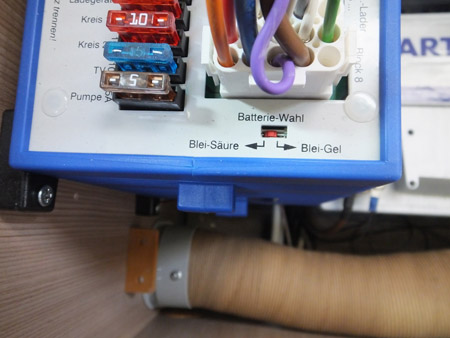 All the main players in the charger industries (Sargent, CBE and Schaudt) are working towards having settings suitable for WET, GEL and AGM batteries. However even batteries using the same technology but from different manufacturers specify different charging characteristics, so the onus today remains on the user to check that their charger is suitable for their chosen battery. Currently selection between WET and GEL is commonplace.
Modern chargers are limited only by the software writer's imagination.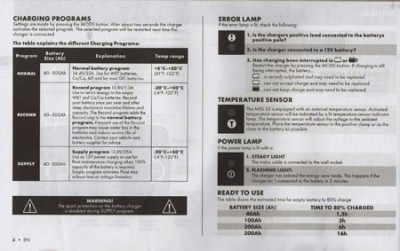 If your camping lifestyle is to go from campsite to campsite all with hookups and you do not have a motor mover then a cheap battery will satisfy your needs. If you camp away from a hookup for days at a time then you should invest in a quality deep cycle battery.
If you were for instance a caravanner using a motor mover, then quality it has to be and probably something from the AGM range if your charger is suitable.
Join the conversation
Do you have a good knowledge of motorhome batteries? Share you hints, battery and charger tips and  stories in the comment box below.
Cost to insure: *
---
factfile
| | |
| --- | --- |
| Model | |
| Base vehicle | |
| Axle type | |
| Dimensions | |
| Shipping length | |
| RRP | |
---
Search our blog
---