Want to make a clean arrival after a long journey? How about a caravan towing cover…
Covering up, moving on
Ever wondered why some owners add a cover to the front of their caravan before venturing out on the roads? It might look a bit strange, but it's a proven, effective way of adding a layer of protection to your pride and joy.
Interestingly, it wasn't until a major caravan manufacturer introduced a new bodywork construction that the concept of a towing cover was first mooted.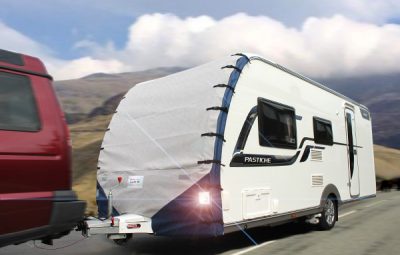 The story goes, Protec – already established as the leading exponent of covers for caravans kept in storage – was approached to apply its technology to a cover that could offer protection whilst on the move.
More recently, we've seen ever curvier profiles to new caravans that have meant moving on from a generic, one-cover-fits-all, to tailored designs. Towing covers are now also referred to as towing jackets.
What does a towing cover or towing jacket do?
It's an effective barrier to dead insects, mud splashes, stone chips, general road muck and grime, and even water damage, which the front of any caravan is prone to when it's being towed.
Even fumes coming from your tow car's exhaust can mark your caravan's glistening white bodywork. And powerful sun can also have a damaging effect on your caravan.
One other aspect – a towing cover can cut out any glare caused by bright lights reflecting off the caravan's front windows and/or bodywork – including the glare off a rear foglight.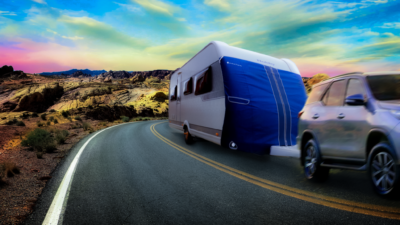 Look on it as an added layer of protection. A good quality towing cover will prevent all manner of minor damage to bodywork and windows.
So, never mind a clean getaway, these items are about making a clean arrival. It's also true to say more and more owners are discovering the benefits of such covers – you can see the evidence for yourself on towed caravans on our roads – as well as the particularly immaculate fronts when they're parked up on site!
Top towing cover tips
Although not necessarily illegal, make sure any road lights aren't obstructed by a cover. Likewise, if you get the right cover it will also allow reflectors to still be seen.
Packing away is easy. Covers are really just like large, waterproof sheets. A quick shake should be enough to get rid of any excess water, then they can easily be folded up and tucked away.
Get an interior lining that won't soak up water. You might also want to consider the suggestion from Protec, that the underside of the cover should be white, to avoid the risk of transferring any colour from the fabric to the bodywork.
Remember, these covers are designed for towing and are not to give protection when your caravan is stationary, e.g. in storage.
Your cover should be clean before you add a towing cover. That's because any bits of grit, no matter how tiny, can have an abrasive effect as the cover moves during any journey – which could cause scratches to appear on the caravan.
Don't forget, also, other covers are available for specialist items, such as bikes, that you might want to cover up whilst towing.
Star Player #1
Protec Towing Jacket
Launched in 2018, Protec Covers says their Towing Jacket revolutionised the towing cover industry.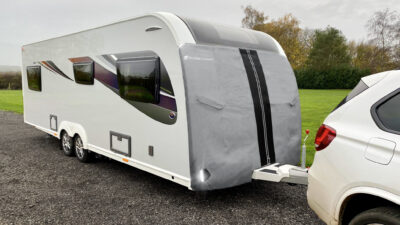 These two-piece covers are incredibly straightforward to fit. Protec Covers claims one person can install the jacket in a couple of minutes, making it the easiest-to-use towing cover on the market.
Every Protec Towing Jacket is tailored to specific makes and models of a caravan for a snug fit and they're made from a breathable fabric with a soft lining so it won't scratch your paintwork.
These towing covers are available in black, blue, grey, and green and are made from a water-resistant PROTEX003 fabric. You can also have optional grab-handle access and the ability to customise or personalise your cover with bespoke logos or names should you wish.
Price from £245 to £305
Key features Easy to fit, road legal, exclusive Towing Jacket design with heavy duty zip, 3-ply fabric, one-year warranty, gas and locker box access
More info www.pro-teccovers.co.uk
Star Player #2
Crusader Caravan Front Cover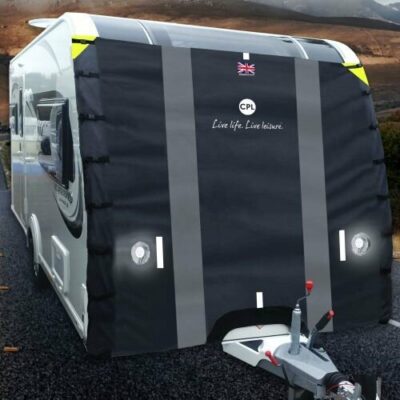 A one-size fits all budget product that comes with eight adjustable attachment straps at each side. As well as reflective strips, this towing cover comes with twin, built-in, LED lights, powered by three AAA batteries.
It offers four-layer protection from UV rays and is water-repellent. It is 215 to 250 cm wide.
Price from £99
Key features Four layer protection, breathable non-woven fabric, even adjustable straps on each side, and reflective strips
More info www.crusaderproducts.co.uk
Star Player #3
Tow Pro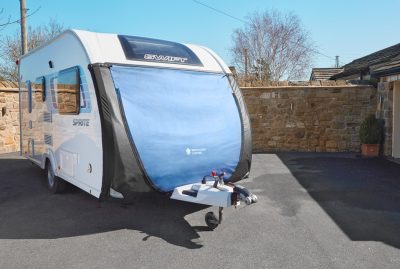 Made using Specialised Covers' innovative and best-selling Stormshield fabric which is strong, waterproof, durable, and breathable, Tow Pro covers are one of the most popular ranges of covers on the market.
Featuring zip-fitting elasticised side panels, resulting in a snug fit, the Tow Pros are easy to fit and can easily be put on and taken off by just one person.
The Tow Pro comes in six different varieties – the Tow Pro Lite, Tow Pro, Tow Pro+, Tow Pro Infinity, Tow Pro Elite, and the Tow Pro Infinity Elite – with prices starting from £199.
The Tow Pro, Tow Pro+ and Tow Pro Elite are available for all 2012 caravans onwards and are tailored for each make and model. The Tow Pro Lite version offers a universal option for caravans prior 2012 with two awning channels and no wider than 2.5m. The Tow Pro Infinity is taller to protect caravans with panoramic windows.
The customisable models allow for front locker access, zipped window access, perspex windows for caravan lights, and come in a choice of colours.
Specialised Covers have more than 35 years' experience in the industry and are the official suppliers for Swift, Bailey, and Lunar.
Price from £199
Key features Stormshield fabric, quick-fit clips, clear lighting panels, contoured design, made in Yorkshire
More info www.specialisedcovers.com
Over to you…
Got any advice on choosing or using a caravan towing cover to pass on to other caravanners? Feel free to add your comments below.
Cost to insure: *
---
factfile
| | |
| --- | --- |
| Model | |
| Base vehicle | |
| Axle type | |
| Dimensions | |
| Shipping length | |
| RRP | |
---
Search our blog
---