Burning up time
Who can resist food cooked on a traditional, charcoal-fuelled barbecue?
It's the perfect complement to touring with your caravan or motorhome, especially as – because you're cooking outdoors – it helps keep your 'van's interior free from food smells.
Do note, however, there are some subtle differences between conventional cooking and using a barbecue. For example, brushing meat with vegetable oil will stop it sticking to the grill.
As well as safety factors, hygiene always matters wherever you prepare food for eating. Make sure any kit you buy has a food grade rating. Even more important are all the usual rules about washing up, not mixing cooked and raw ingredients and keeping the right foods at the right temperatures.
Otherwise, all the usual rules apply, such as; using separate chopping boards and knives for fresh meat, cooked meat and vegetables, to prevent any cross-contamination; ditto, for keeping fresh and cooked meats apart from each other in the fridge.
Also, if things look like they're getting too hot, use water from a small plant sprayer to cool things down and prevent food from burning.
Now over to the cooking kit…There are actually plenty of alternatives to the traditional kettle-style barbecue (which is arguably a bit too bulky for typical leisure vehicle use). As well as those in our gear guide, do also consider single-use, throw-away barbecues – often available from campsite shops. Apart from no washing up, they mean no potential mess getting back into your 'van.
Top Tips
Remember, any barbecue can give off a lot of heat. Don't have it too close to your caravan or motorhome. And whatever type of barbecue you're using, keep it well off the ground to prevent scorching the grass (sites often provide bricks for this very purpose).
Carbon monoxide is also given off as a result of burning charcoal. It disperses easily enough in open air, but can be lethal in enclosed spaces. For that reason, never barbecue in your awning or bring it into your awning after use for some extra warmth – even cooling embers post-cooking will still give off some highly poisonous CO.
Do, also, keep your barbecue away from children playing. Also, spare a thought for any neighbours, who might not appreciate smoke wafting across their pitch.
Keep a small powder fire extinguisher and fire blanket, plus a first aid kit, nearby – for use in emergencies. Do also consider some kind of a windbreak, for protection from unwanted breezes.
Adding rosemary to barbecue coals will infuse the meat and also help keep bugs away. Marinating meats overnight in a sealed plastic bag means you can agitate them occasionally for an even covering – fish should only be marinated for 20 minutes, however, before the marinade begins to "cook" the flesh.
Make sure your barbecue and its embers have cooled down completely before safely disposing of the latter and packing away the former. Ideally, leave it all to cool fully overnight.
SunnCamp Portable Fire Pit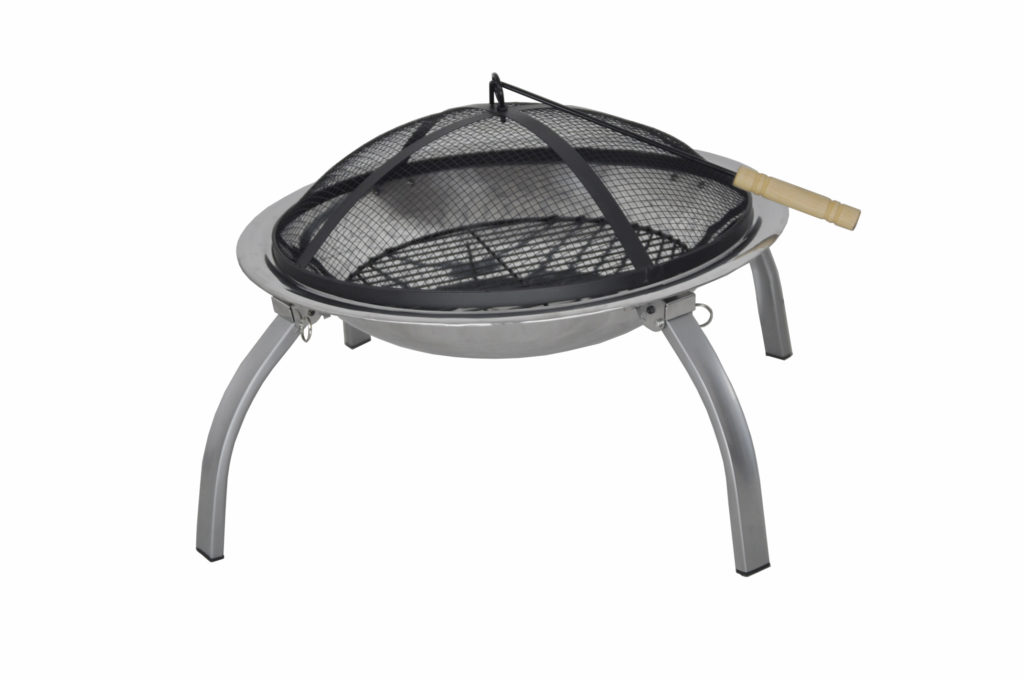 This stylish unit only weighs 3.5kg, yet there's an overall diameter of 52cm (there's also a larger, 74cm version). Yet, the folding legs make it easy to store, also giving a 44cm cooking height when up. It even comes with its own poker.
Price from £49.99
Key features Fold-away legs, carrybag.
More info www.sunncamp.co.uk
Weber Go-Anywhere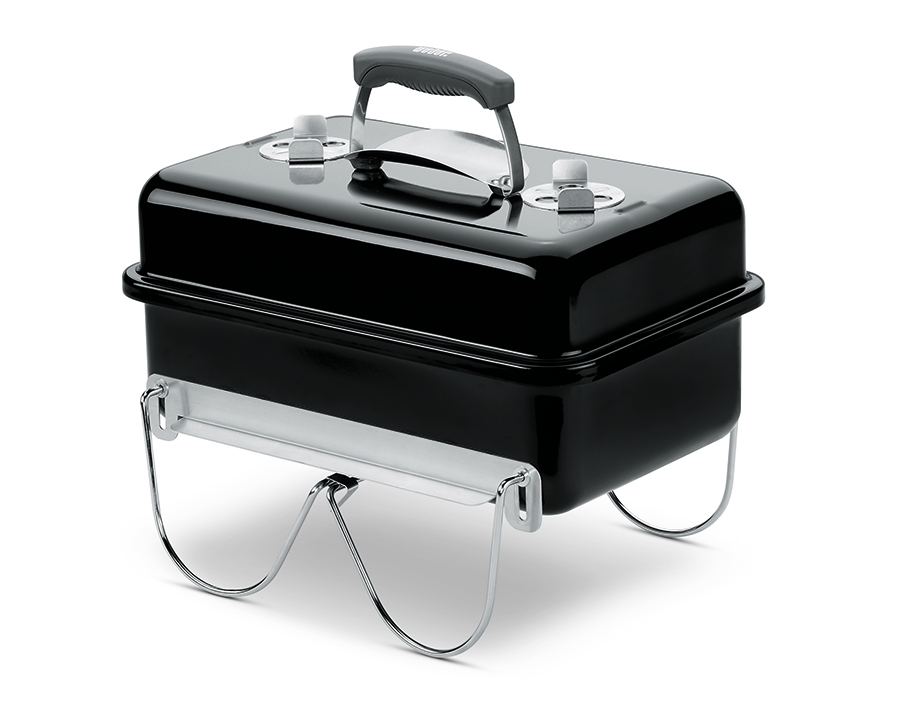 Weber is one of the top names when it comes to barbecues, and this is a compact enough size for easy transportation – it's 44cm x 22cm x 27cm – as well as big enough to provide plenty of cooking space. There are fold-out legs on this model, to keep it well off the ground, but you'll still want to put it on a tabletop or similar. Meanwhile, the porcelain-enamel coating keeps the bowl and lid fire- and rust-resistant.
Price from £90
Key features Porcelain enamelled steel cooking grate, stainless steel burner, weatherproof GRP handle with protective heat shield, 10-year warranty, folding legs, charcoal measuring cup.
More info www.weberbbq.co.uk
Outwell Cervon Grill and Fire Pit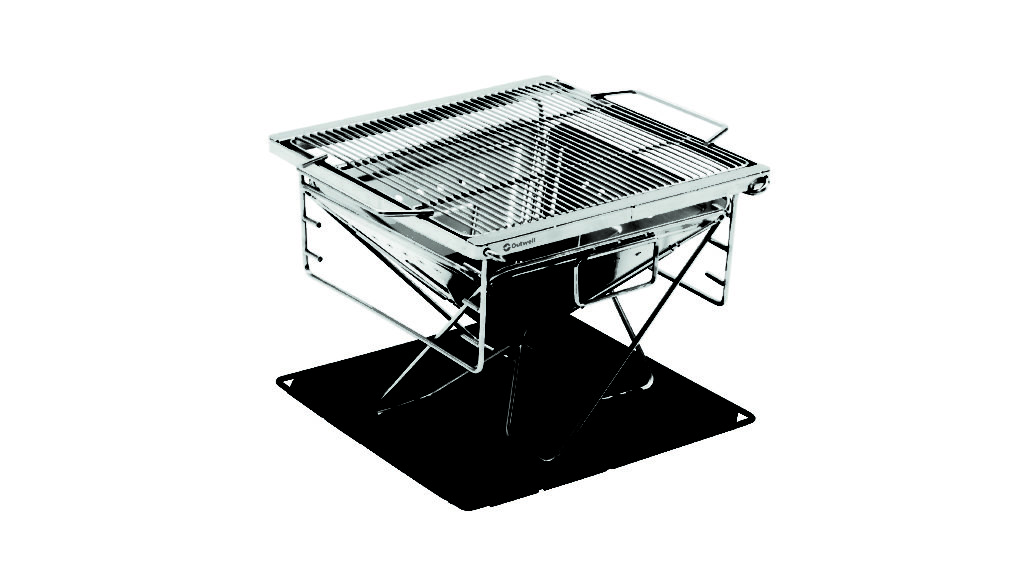 Consider something like this if storage space really is at a premium. It packs down to just 44cm x 44cm x 4cm high, opening up to 32.5cm x 32.5cm and 34cm high. Key here is a four-step grilling height, which can be altered during cooking, and a solid base to keep the heat off the ground and also offers protection from any stray falling embers.
Price from £90
Key features Stainless steel construction, 7kg weight, carry bag.
More info www.outwell.com
Olpro Safire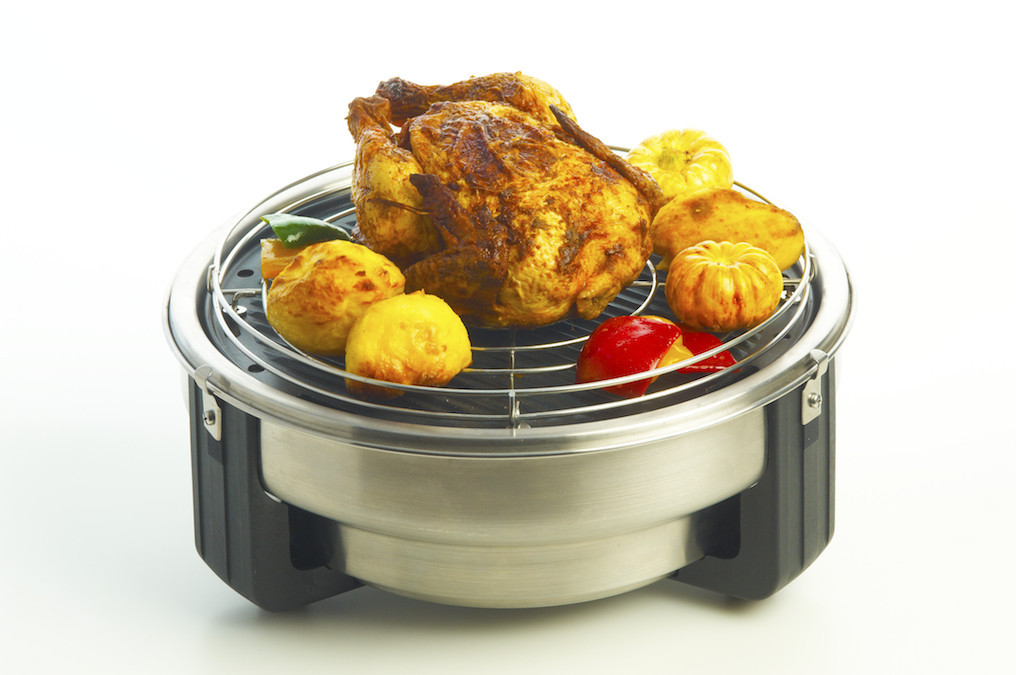 A different take on barbecuing here, but this type of unit is proving very popular, because it can also roast, grill, bake, toast and more. Being self-enclosed, it's also pretty windproof.
Fuel is via specially designed charcoal briquettes – it's £9.99 for a set of six, each lasting for up to two and a half hours – but, unlike typical barbecues, the Safire is ready for cooking in just a few minutes. Options include a frying dish and a carrybag.
Price from £94.99
Key features Weighs 3.5kg, double-sided grill plate, fat reservoir.
More info www.olpro.co.uk
Lotus Grill Instant BBQ with Turbo Fan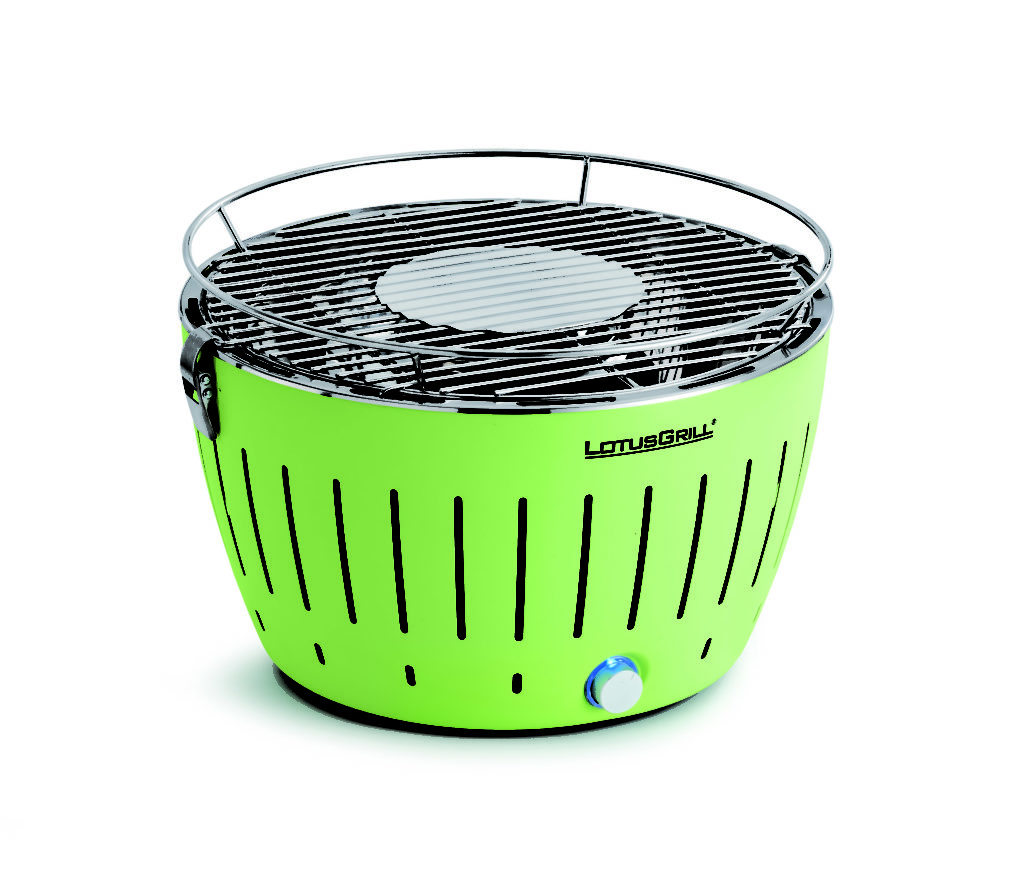 From a whole host of brightly coloured, smokeless charcoal barbecues carrying the Lotus name – there's – Lime Green, Corn Yellow, Anthracite Grey, Plum Purple, Mandarin Orange and White – the interesting feature here is a battery-powered fan. This serves two purposes – maintaining a constant flow of air to the charcoal and keeping smoke away from the food. It also means the Lotus is ready to cook in three to four minutes. The grill area is just 32cm diameter, but claims to be able to cater for up to five people.
Price from £129
Key features Double-layer stainless steel and shock-resistant plastic construction, carrybag, batteries and lighter gel included, grill hood and pizza stone options.
More info www.cuckooland.com
Roadii Firegrill One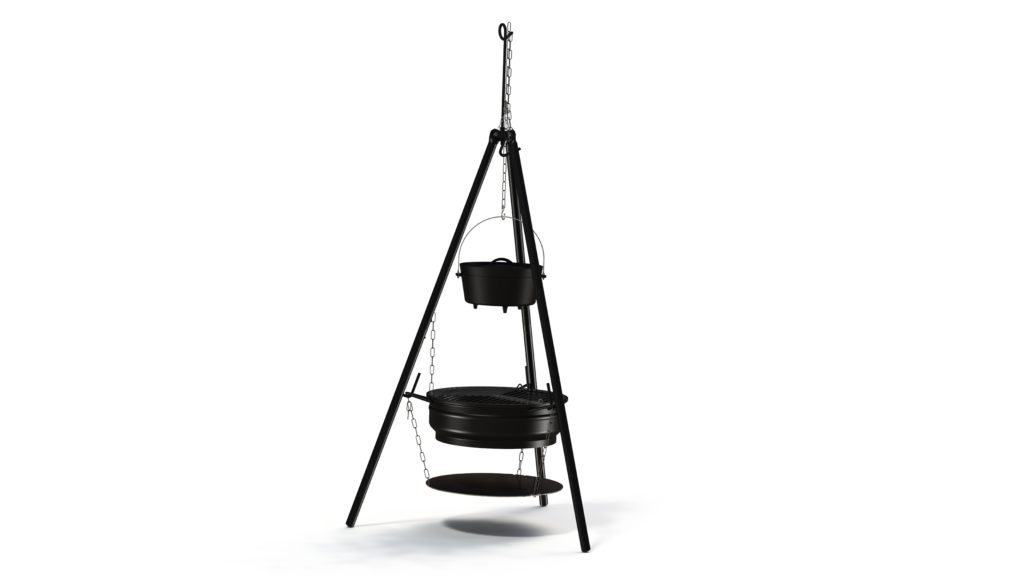 A distinctive tripod design for this product, which uses up to 80 per cent "up-recycled" parts, including a steel car wheel as its hearth. Firegrill One is the basic version in a range that extends to models Two and Three. As well as the firepit, there's a height adjustable stainless steel grill. There's also a hook for chains, if you want to also do pot cooking (pot and chain are £31.99), while a warming shelf is £39.99.
Price from £179.99
Key features Tripod with two-part legs, wheel hearth, height adjustable stainless steel grill, tool-free assembly
More info www.roadii.co.uk
Over to you…
Got any advice on charcoal barbecues or barbecuing tips to pass on to others? Feel free to add your comments below.
Cost to insure: *
---
factfile
| | |
| --- | --- |
| Model | |
| Base vehicle | |
| Axle type | |
| Dimensions | |
| Shipping length | |
| RRP | |
---
Search our blog
---