Take an e-ride
On your bike? Want a bit more than just pedal power on your motorhome or caravan holidays? You need an electric bike. You'll have your own ideas (and budget) for the kind of e-bike you think is going to be best for you, but do read our handy guide here.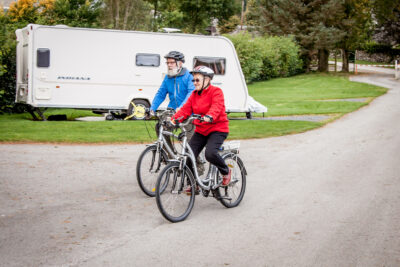 Defining an e-bike
Electric bike, e-bike, pedelec, EPAC. All names. The latter is the most official, standing for Electric Pedal Assisted Cycles – defined as being limited to 15.6mph (25kph) and with a motor rated at 250Watts maximum, plus you can only receive powered help over 4mph when pedalling.
It's worth noting, that some unscrupulous traders are offering performance enhancements that might make an e-bike illegal. Earlier this year (2022), the DVSA successfully prosecuted a company selling over-rated and over speed e-bikes.
Delivering the power
The location of the power components – the battery and the motor – and their locations are key factors in determining which e-bike you prefer.
For example, a crank drive, or centre mounted motor, might appear to be better than a unit in the rear hub, but you should take into account your own riding style and the types of terrain you want to ride on.
Power from a hub motor is applied directly to the wheel and is independent of the gear selected, whereas a centre motor works with the gearing of the bike and on more difficult terrain allows you to gear down and keep the motor spinning at a more efficient speed. You do need to be confident with gearing for this. For some riders a rear hub motor where you can just select more help works better.
Also, consider which type of sensor is used to activate the power delivery.
As Sue Coulson of BATRIBIKE explains: "A rotation or speed sensor senses that the pedals are rotating and activates the power. Within this, there are different types. Those with more pickups are more sensitive than those with less and so the take-up and die-away of the power can be smoother. You will also want to decide the cadence (the speed you are turning the pedals).
"A torque sensor system responds to how hard you are pushing the pedals. This can be just for the activation of the power delivery – as you push harder on the pedals to start the power comes in. Alternatively, it can be for the whole power delivery system so that throughout the ride the harder you push the more power is delivered (up to the maximum). This can be independent of or instead of the level of assistance set."
But, if you have any leg or joint weakness, this might not be the best system. You might easily find a higher torque rear motor with a speed sensor is a better set-up.
Weight allowances
As a very general indication, a typical e-bike can weigh around 16kg to 24kg. But, it's more about the effect of that weight when you're carrying it on or in your motorhome, caravan or campervan. For example, any weights have a greater pendulum effect when at the very back of a vehicle (ditto for the front end of a caravan).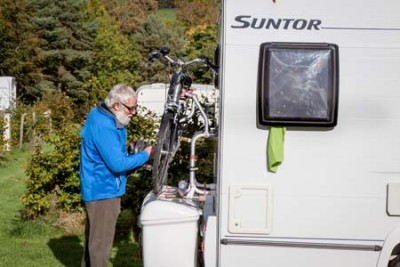 Don't forget, also, with many e-bikes it's possible to remove the battery and stow it elsewhere for travel (and possibly better security, too).
For a motorhome with a garage, all this should be less of a problem – as long as it has the space as well as easy access. Certain designs can also be adapted, for example switching to removable pedals and/or handlebars (that can also rotate), all for easier in-garage storage.
For caravanners, transporting e-bikes on or in your tow car might be a better option.
Top e-bike tips
Book a test drive. Specialist e-bike retailers – especially those who understand motorhomes and touring caravans – will be able to give the best advice. The ideal scenario is to test ride each style and see which you are comfortable with. It will also help determine what size is best for you.
When it comes to key components, go for proven brands. The likes of Bosch and Yamaha (motors and batteries), Shimano (gears), Tektro (brakes) and many, many more have reputations that have been built up and will want to be defended. Sourcing replacement parts is going to be a whole lot easier for brands that can demonstrate a long-term commitment to the market, too.
Range – how far you can travel without needing a recharge – is important. Typically, battery power is measured in Watt-hours (Wh) and the higher the figure, the better.
E-bike technology is still evolving. More recent innovations include carbon belt drives (instead of chains), electronic or automatic gears, dual batteries (for even greater ranges), more powerful motors and more.
Look for options like covers and/or storage bags as well as bundles (that can include lights, mudguards, carriers, etc if not already offered as standard). Some manufacturers offer battery and motor upgrades, and more.
Bargain, what bargain? Cheap e-bikes die early – resulting in landfill and a waste of the earth's resources!
Do your research. Like buying a caravan, tow car or motorhome, it pays to do your research and not rush into an instant purchase. As one leading retailer puts it: "Not all e-bikes are born equal. Buy right, buy once."
If you already own a standard bike and want to convert it into an e-bike, there are electric bike conversion kits available. They're designed to fit any of the world's estimated one billion-plus pedal bikes – including hybrid and folding models. Again, look for specialist manufacturers and retailers.
Star Player #1
Raleigh Motus
A best-seller since its launch in 2019, in its latest guise, Raleigh's Motus line-up comprises five models offering ranges between 80 and 100 miles.
It's all about individual choice here, too. Each Motus e-bike starts off with four different travel modes, full mudguards, kickstand, reflective tyres, Tektro hydraulic disc brakes and seven-speed gear system powered by a Bosch PowerTube battery that itself weighs 2.9kg and can be removed for transportation and/or at-home charging. There are also 10 different colours available.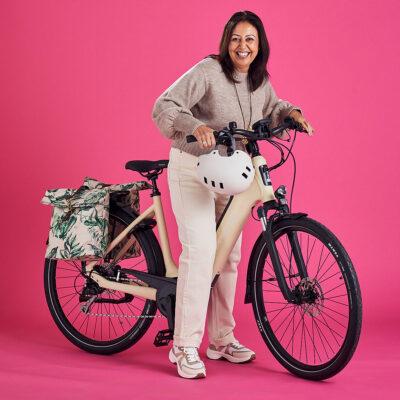 Among the features are a Bosch PowerTube battery (going up to 500Wh in the top-of-the-range Grand Tour variants), with a 2amp charger.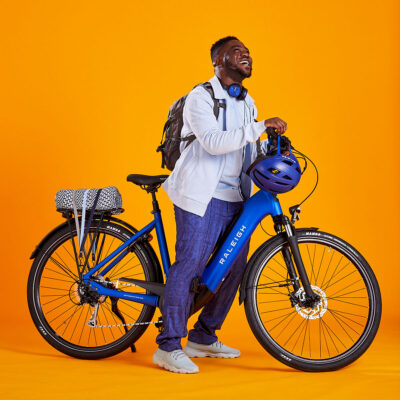 The weight limit for driver and any load on the standard model is 120kg (which has a starting weight of 23kg).
Key features Choice of… Bosch Active Line motors, handlebar displays, cross-bar or low-step aluminium frame designs, hub or derailleur gears, ten colours
Expect to pay From £2,199 (standard Motus) to £2,799 (Motus Grand Tour Hub)
Star Player #2
Batribike Omega
Lightweight – just 21.2kg with a standard Eco battery, 18.6kg without – is just one of the key factors here. The Omega also comes with seven-speed hub gear and a front hub motor. The low 2amp charge current makes it an attractive proposition if you're recharging whilst on a campsite, too – with charging time between two and four hours, even from flat.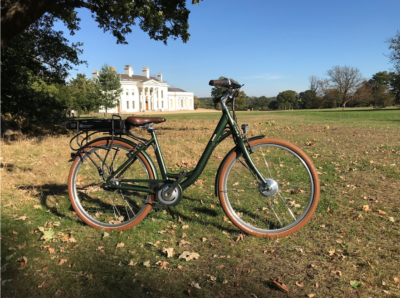 The step-through frame makes it particularly easy to get onto this bike – a top consideration for many users
Key features Shimano Nexus gears, 250Watt Promovec motor, 26in wheels, Tektro Vee brakes, battery upgrade options, maximum total load of 120kg, green or white colour
Expect to pay £1,499
Star Player #3
Wisper 806 folding e-bike
A folding bike like this might make sense if storage is limited and/or you prefer to keep your bikes on board your caravan or motorhome when not in use. Dimensions when folded are 43cm long x 85cm wide x 73cm high, with total weight starting from 21kg – including front and rear LED lights as well as full-length mudguards.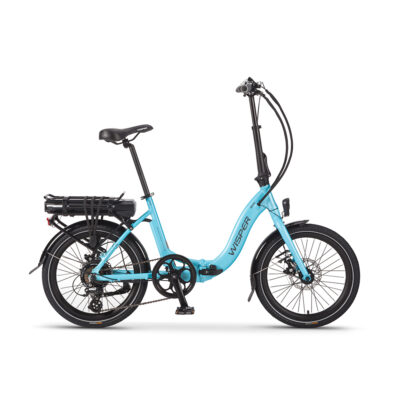 Options are available should you wish to upgrade – for example, as standard it comes with cadence sensors that turn the power on when you pedal, while the Torque Sensor Pack option recognises the amount of pressure put into each pedal and increases the power accordingly.
The standard-issue lithium battery is rated at 375Wh and will give a range of 30-40 miles with TPP. 575Wh and 700Wh units are available if you want more range, but these also add weight.
Key features Step-through frame, three colour choices (black, blue, red), options include battery upgrades, hand-welded alloy frame, backlit LCD display, kickstand, maximum weight 115kg (18 stone)
Expect to pay From £1,499
Star Player #4
Carrera Vengeance E
Exclusive to retailer Halfords, this is styled as a men's mountain bike but comes with 27.5in wheels and a motor in the rear hub, plus cadence sensor.
Recharge time is six hours, drawing 8.8amps.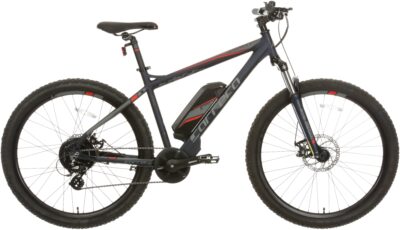 There's a semi-integrated Suntour STL 317Wh/9Ah battery, its central location designed to balance out the weight of the motor at the back. There's also a BMS smart control system to prevent overheating, short-circuiting or overcharging.
Check out also the Vengeance E accessories and cycling essentials bundles options.
Key features Aluminium frame (18in or 20in), Suntour Eco rear hub motor, eight-speed SRAM gears, Tektro mechanical disc brakes, 27.5in Kenda tyres, maximum range 40 miles, two-year warranty on all electrical components, weight 23.3kg, pannier mounts, maximum load 120kg
Expect to pay £1,099
Star Player #5
Mark2 X-cross e-bike
From a range of four e-bikes sold exclusively through RoadPro in the UK, with X-cross you get as standard; lighting, reflectors, rear luggage rack, a "sport" seat, straight handlebars and an off-set display. Options include swept-back handlebars, gel "comfort" saddle and a large, centre-mounted display.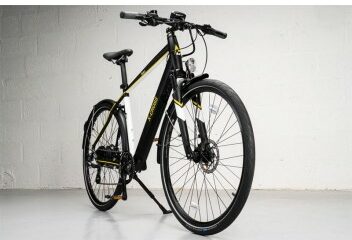 Key components are the aluminium alloy frame, Suntour XCM LO front fork suspension, puncture-resistant 28in tyres, Shimano Tiagra 10-speed gears and a lithium-ion smart memory power pack that can be charged on- or off-bike.
Key features Designed and built in Europe and UK, Shimano brakes and gears, Promovec rear hub motor and battery, Schwalbe tyres, 21.7kg total weight, three warranty on power pack and motor. Five-year warranty on all other components, maximum rider weight 120kg, range 22-50 miles, LED lights, side stand
Expect to pay £1,999
Star Player #6
GoCycle G4
A folding model that can go as small as 830mm long x 390mm wide x 750mm high, with its kickstand down and pedals folded. It weighs 17.6kg and can be carried or rolled along on its wheels once folded.
In its 2022 guise, it comes with mudguards and lights, while features such as an aluminium front frame, carbon-fibre front fork and injection-moulded mid-frame help keep the weight down. It also comes with GoCycle's own G4drive motor.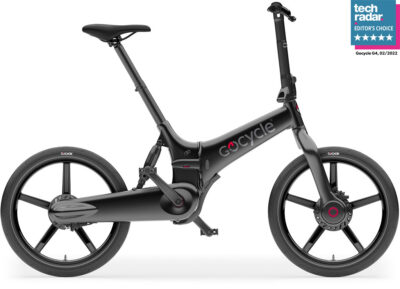 Other features range from MotoGP-inspired tyres infused with silica compound to GoCycle app connectivity to a USB port for phone charging when on the go.
Key features Single-size universal frame, 300Wh removable lithium-ion battery, range up to 40 miles, hydraulic disc brakes, three-speed Shimano Nexus gears, three-hour charge time, 4amp charger, maximum rider weight 100kg
Expect to pay £3,799
Star Player #7
Riese and Müller Superdelite GT touring
Absolute premium quality from this German manufacturer, using the very best components, hence the Superdelite's capabilities both on- and off-road. That includes two in-frame (but removable) batteries – a 500Wh unit in the top tube and a 625Wh in the down tube.
The fourth-generation Performance Line CX is Bosch's most powerful motor to date, delivering a maximum 1,125Watts with minimal pedal resistance.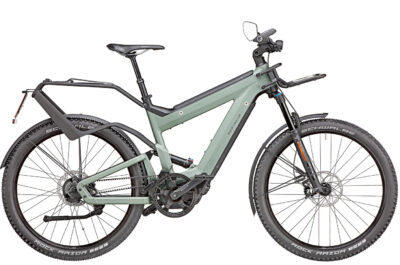 Elsewhere, it's all about being simply the very best and delivering one of the best e-bikes you'll get to drive. There's also a full range of options – because this is an e-bike you'll want to customise for yourself.
Key features Bosch Performance Line CX motor and Bosch PowerTube Dual 1,125Wh battery combination, Schwalbe Moto X tyres, Magura disc brakes (with ABS available as an option), full suspension, three frame sizes, two colours, weight from 31.4kg
Expect to pay From £7,099
Star Player #8
Pendleton Somerby E
Another range that's exclusive to Halfords, the Somerby's traditional styling has a very modern twist – thanks to the motor in the rear hub and rack-mounted, removable battery.
It will suit those who prefer a more upright seating position, as well as the extra comfort of the Velo sprung, padded saddle.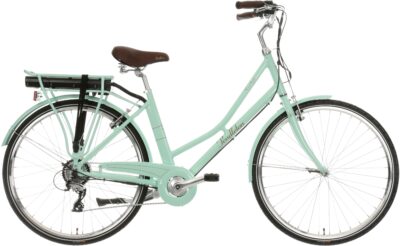 Accessories are available – you'll surely want to add the £40 wicker front basket!
Key features 17in or 19in aluminium frames, Bafang 250Watt motor with speed sensor, 317Wh battery, eight-speed Shimano gears, Tektro V-brakes, two-year warranty on all electrical components, maximum range 50 miles, 4-5 hour re-charge time
Expect to pay £1,049
Star Player #9
BATRIBIKE Gamma
Two versions of here – step-through Gamma S (shown here) or the crossbarred X. Both come with a centre-mounted 250 Watt, 100Nm motor, with a choice of five power levels and campsite-friendly 2amp charge (recharge times are 4-6 hours, from flat).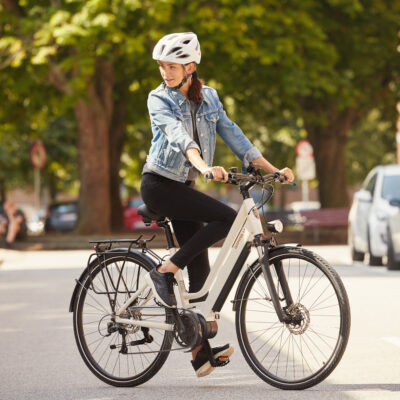 Total weight is 24.1kg, going down to 22kg if you remove the battery. The load limit is 120kg.
Suspension forks, side stand, mudguards and carrier are all standard.
Key features Promovec motor, eight-speed Shimano Altus gears, Shimano hydraulic front and rear disc brakes, in-frame battery (two power upgrades available)
Expect to pay £1,899
E-bike insurance
Please note Caravan Guard's motorhome or touring caravan insurance doesn't extend to e-bikes so you'll need specialist insurance to cover your electric bike.
Our thanks
Special thanks for helping with this article go to Graham Rowe, owner of Brighton-based Electric Bikes Sussex, Sue Coulson of BATRIBIKE and Andy Harris from RoadPro.
All fully understand the extra needs of caravanners and motorhomers when it comes to e-bikes.
Over to you
Have you got any advice on e-bikes or stories of your adventures on an electric bike to pass on to others? Feel free to add your comments below.
Cost to insure: *
---
factfile
| | |
| --- | --- |
| Model | |
| Base vehicle | |
| Axle type | |
| Dimensions | |
| Shipping length | |
| RRP | |
---
Search our blog
---