Helping you find your way on your caravan and motorhome holidays
This month we take a look at the various accessories you can use to help you get to your caravan or motorhome holiday destination. From sat navs to apps and good old fashioned maps, we look at them all!
Whether you tow a caravan or drive a motorhome, do consider getting a sat nav suitable for a leisure vehicle user. It means you can input data such as your vehicle's dimensions, speed limits and more. Plus, it's easy to get a unit that also has a campsites database, although it's worth researching where such data is sourced from.
So, is it to be an app, a dedicated satnav or an atlas? Or a combination of any of them?
What is a sat nav?
Short for satellite navigation (technically, GPS – for Global Positioning System), it's the use of global satellites to pinpoint your exact location, even when you move, that lends sat nav its name. Typically, a satnav is a unit you can plug into your vehicle – car, car and caravan, or motorhome – for detailed information on a selected route to a destination of your choice.
Not only are sat nav's getting ever more sophisticated, they face massive rivals in terms of apps used in conjunction with your smartphone (or computer tablet).
But, all this started with what is now the humble road atlas. And, believe it or not, it's something we still suggest you take with you on your travels. Why? Because if all else fails, the trusted printed map will salvage a situation. Think of it as your common-sense get-out clause.
Top tips
It's advisable not to put your proper address in any "home" setting, as it gives away where you live, should a sat nav unit and/or device be stolen, along with your vehicle.
Consider screen size. A 7inch screen doesn't look out of place in a motorhome cab, but might seem too big in a car. If you're using a mobile phone, you might find the screen too small.
Towing with a sat nav? Make sure you put in the overall length of your outfit (i.e. towing vehicle and caravan combined). Typically, apps make no provision to put in motorhome or car/caravan info. Technology moves fast, though, so don't be surprised if something comes along.
Take care and know the law
Road safety charity IAM RoadSmart reckons programming a sat nav is the deadliest behind-the-wheel distraction for drivers. It carried out tests with car magazine Auto Express, finding entering a postcode into a sat nav app the worst offender when it came to driving distractions, followed by sending a text message. Other tasks carried out included eating, drinking, and making a phone call, with talking to a passenger coming out as the least distractive action.
You can use hands-free or voice command phones and sat-navs when driving, but you can't pick up the device and you must be in full control of your motorhome or tow car. If you're involved in an accident or the police think you're not in control of your vehicle then you could be prosecuted for this or even careless, or dangerous driving.
If you're using your phone as a sat nav then it must be mounted in a hands-free holder. It's illegal to hold your phone and use it as a map for directions.


Google Maps
Got a smartphone or tablet? You'll find the Google Maps app is already on there just waiting to be used. You can also access Google Maps via the internet with any device. And you can download routes that you use regularly – saving on data usage.
Best of all, it's free (well, covered by the cost of your device and any contract), although you'll need to invest in a suitable dashboard-mounted holder so that you can safely see any screen and use it legally.
Experts claims the app will use about 5mb of data per hour of driving (that's 0.005gb), so it won't eat all your mobile allowance. You can even download a destination area over WIFI so you can then use the app without using any data while travelling.
So, why bother with a sat nav or an atlas? Screen size is dictated by your device (pretty small, if you're relying on your phone). And traffic warnings still tend to be more up-to-date via a conventional sat nav. You probably won't get as good sound quality, either. Plus, apps like this tend to use a lot of battery power.
Alternatives include Apple Maps, HERE WeGo, ViaMichelin and Waze.
Key features Automatic updates, available for iOS and Android devices, needs constant mobile data connection
Expect to pay Nothing


AA Big Road Atlas Britain
This atlas comes in A3 format, with a choice of two bindings – softback or spiral-bound.
The 2019 edition – the 28th – was announced on July 1, 2018. As with recent editions, it includes symbols for campsites. Also, there are indicators for roads less than 4m wide.
Also detailed are National Trust, World Heritage and English Heritage sites.
Dimensions are 295mm x 388m x 7mm and it weighs 830g.
AA Publishing says it's the UK's largest travel publisher.
Downsides? You can't (shouldn't) drive and read a map…
Positives? It won't run out of power or lose connection…
Key features 160 pages, environmentally sustainable paper, 67 city/town and port plans
Expect to pay from £4.99


TomTom Go Camper
From one of the big players in the sat nav market, TomTom announced its caravan and motorhome specific model, Go Camper, this May (2018). It uses wi-fi, so maps and points of interest – as well as software – are updated seamlessly.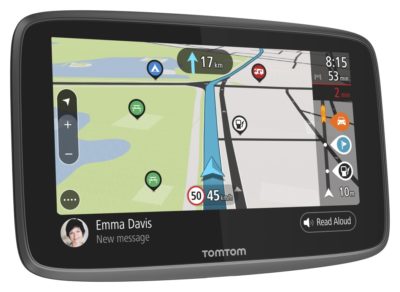 It will also read out messages left on your smartphone, as well as offering hands-free calling, and integrates with TomTom's own Road Trips, Siri and Google Now.
All kinds of campsites are also stored, courtesy of German and Dutch touring organisations respectively, ADAC and ANWB. The device lets you enter the dimensions of your motorhome or car/caravan outfit so you can enjoy a stress free journey.
Key features Car charger, USB cable, updates via wi-fi, magnetic mount and adhesive disk, lifetime world maps, camping and caravanning POIs (points of information), built-in SIM for TomTom information.
Screen size 6in
Expect to pay £379.99


Ventura SC5900DVR
Specially designed for motorhome and caravan use, not only does this provide full sat nav facilities, but also continuous loop video recording of your journey. It offers a choice of routes (depending on economy and/or any particular feature you want to avoid, such as tolls), also listing campsites from ACSI (leading European campsites specialist), BordAtlas, Camperstop and The Camping and Caravanning Club among a total of over two million POIs. It does allow you to enter your motorhome or towcar and caravan outfit dimensions.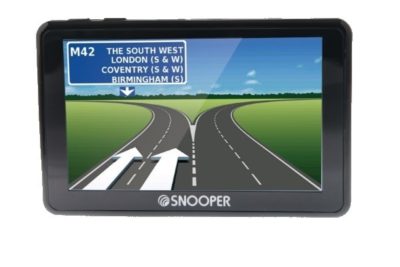 It has a 5in widescreen LCD display, which switches to a more focused display when you are approaching tricky junctions. It will also navigate you around LEZs (Low Emissions Zones).
Bluetooth means you can hook-up to your phone, too, to take calls while driving. Plus, there's a video input, so you can connect to a rear-view camera.
Key features Free lifetime European map updates (although a drawback is that you will need to connect to your computer to run the updates unlike the TomTom and Garmin which update over Wi-Fi), Bluetooth hands-free, touch screen, junction view and lane guidance displays.
Screen size 5inch
Expect to pay £279.99


Garmin Camper 770LMT-D
A big 7inch screen and extensive specification are the key attractions for this flagship caravan/motorhome sat nav. You can enter your motorhome or caravan and towcar dimensions to make sure it plans a suitable route. Built-in wi-fi enables instant updating, with features ranging from Active Lane Guidance (for trickier junctions) to a Smartphone Link App whose Live Track feature allows vehicles in convoy to share the same route, to live parking information.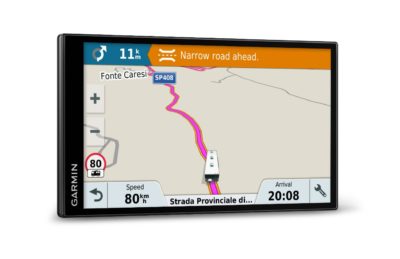 There's also Bluetooth connectivity, for hands-free phone use, voice-activated navigation and smartphone notifications.
Campsite data is from ACSI, NKC (Netherlands auto-camping club) and MotorhomeFacts, with European mapping across some 45 countries.
Key features Wi-fi, free lifetime map updates, DAB live traffic information, reversing camera compatibility.
Screen size 7inch
Expect to pay £359.99
Over to you…
Got any advice on sat navs, apps or maps you'd like to recommend to other caravan or motorhome owners? Please feel free to add a comment below.
Cost to insure: *
---
factfile
| | |
| --- | --- |
| Model | |
| Base vehicle | |
| Axle type | |
| Dimensions | |
| Shipping length | |
| RRP | |
---
Search our blog
---