There's something in the air!
Inflatable awnings are on the up! Here's our brief guide to this growing sector…
Pros and cons
Top tips
Insurance considerations
Star players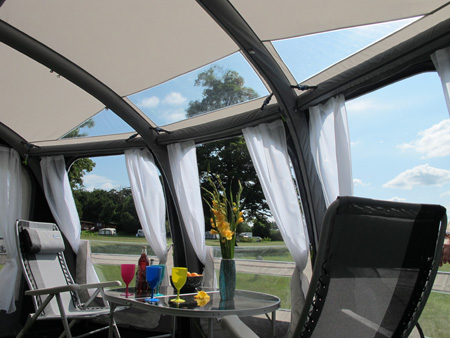 Pros and cons of inflatable awnings
The adage about awnings being the caravanning equivalent of a divorce in a bag is being consigned to history. Inflatable awnings – those with tubes that you pump air into to put them up – are gaining in popularity.
Inflatable awnings come with a manual pump – and it literally can take seconds to inflate fully before pegging it all out.
In truth, there's not necessarily much time saved between putting up different types of awning by the time you've attached it to your caravan. But one of the major differences is main poles. No metal poles is a big plus in favour of inflatables.
The all-in-one nature of an inflatable awning will make it potentially bulkier and heavier than its poled counterpart so think about your payload margins.
Inflatable awnings are generally more expensive than more traditional awnings – but you might see the benefits as worthwhile.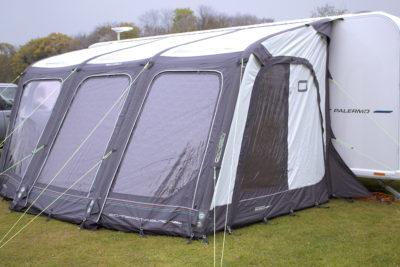 Top tips
*Go and see a proper display of awnings to get a feel for what's best for you. In particular, it will allow you to get a view from the inside of the awning looking out.
*Look for package deals that may involve adding extras such as carpets, footprints, annexes, inner tents etc.
*Check ventilation, upper and lower level as well as mesh at windows and doors. This will reduce the almost inevitable build-up of condensation, sometimes wrongly interpreted as a leak.
*Take out any removable door and window panels and you'll find it easier to slip the main unit through your awning rail when you're first putting it up.
*Single or multi-inflation points have advantages and disadvantages. Inflating the whole awning from one point is obviously that much easier, but downsides include the unlikely event of punctures/repairs to a generally more complex system that also includes extra pipes and valves.
*Other features to look out for range from adjustable pegging points for a more secure fit, thickness of the beams and the fabric (generally, the thicker the better, but that also means more weight), draught exclusion and more – as well as subjective aspects such as colours, doors, window locations.
*Finally, do make sure whatever you buy is going to fit your 'van!

Insurance considerations
Hopefully, this has never happened to you, but when the winds pick up damage caused to your caravan by a wayward metal awning pole is a more regular occurrence than you might expect – often leading to insurance claims.
We've dealt with claims where awning poles have punctured the sides of the caravan or ripped through the awning material. Also tears sometimes occur when erecting or taking down the awning.
Inflatable awnings are far less likely to be damaged in stormy conditions, too. That's because they simply flex, with nothing to get bent out of shape permanently.
Also if you're switching from a traditional awning to an inflatable one, make sure any extra cost is reflected in your caravan insurance sums insured.
Star players
Quest Travel Smart Dorado 350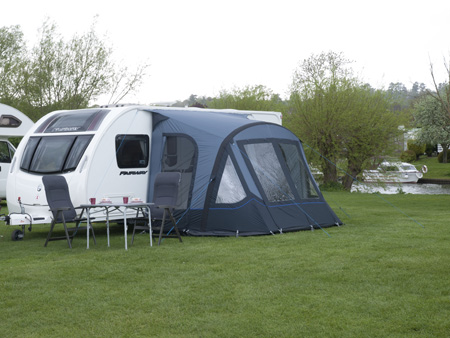 A lightweight (less than 10kg) and single air tube make this porch awning particularly easy to use – especially as it can be up in about 12 pumps. And its bag is deliberately oversized, to make packing away again just as straightforward.
The design features a split front panel and extra deep front windows with internal blinds. An optional canopy pole kit means you can use the front panels as canopies. As standard, either can be rolled up on sunny days.
It's a lighter fabric, too, with a hydrostatic head (the measure of waterproofness) of 3000mm. Note, also, features like tie-back points and pockets in PVC, which means they won't soak up water and or lead to potential leaks.
Some retailers sell this under the Westfield name. It's the same awning.
Price from £321.95
Key features Hydrotech SL 190T polyester fabric, two side doors, double-action hand pump, ventilation flaps, draught skirt and wheel cover
Weight 9.7kg
Pack size 113cm x 28cm x 28cm
More info www.questleisure.com
SunnCamp Advance Air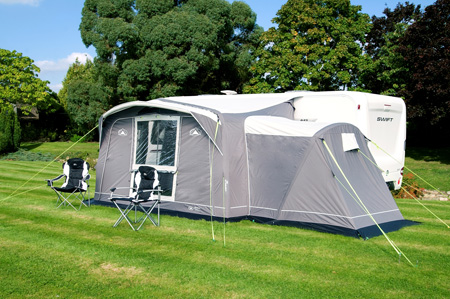 Designed to look like a traditional awning, hence its more upright appearance, but boasting SunnCamp's Air Volution technology and 300D fabric with a 6000mm hydrostatic head rating. It has a huge front window too, with a mesh ventilation panel directly above. The removable front panel has four door configurations, while the side panels are removable and interchange-able. Also included here is a zip-on/off sun canopy.
Sunncamp's optional Advance Aire Annexe will fit to either side of this unit.
Price from £567
Key features 300D Pro-Tek fabric, vertical storm pole pockets, high-visibility guylines, storm buckles and straps, curtains and integral mesh window options, rear weather poles, draught skirt
Weight 25.7kg
Pack size 83cm x 79cm
More info www.sunncamp.co.uk
Outwell SmartAir Imperial Belize Reef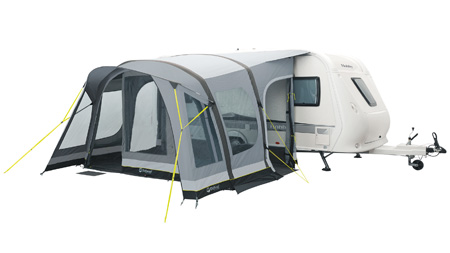 Outwell is the UK's market leader in family tents, so it's no surprise to see the Danish marque turning its attention to caravan awnings.
The main Outtex fabric here is Taslon, a tougher than average polyester that's designed to mirror canvas. All the poles are interconnected, which means you can pump up the complete awning from any of the attachment points.
Tinted windows help deflect some of the sun's glare as well as keeping things cooler inside, whilst still allowing excellent views out. The doors, meanwhile, have full mesh panelling.
Price from £899.99
Key features Outtex 6000 HD main fabric, 10,000mm hydrostatic head polyethylene zip-out groundsheet, draught skirt, tinted windows, zip-up curtains, storm guylines
Weight 29.9kg
Pack size 89cm x 39cm
More info www.outwell.com
Outdoor Revolution Oxygen CompactAirLite 420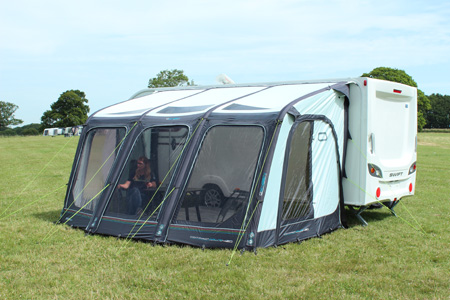 This top-seller is also the largest model in the three-strong Oxygen CompactAirLite range from Outdoor revolution. This is a bit heavier than some, but it's a particularly strong double ripstop main fabric. Plus, there's a lifetime guarantee on the tubes.
There are also three extra roof support tubes that just attach with Velcro, should you want to increase overall stability. Storm straps also come as standard, while extra wide doors make this a bit more pushchair- and wheelchair-friendly than some.
A bedroom annexe is £239.
Price from £999
Key features 420 Denier double ripstop polyester, four single inflation point tubes, three roof support tubes, vortex ventilation, tinted windows, storm straps
Weight 25.9kg
Pack size 82cm x 52cm x 44cm
More info www.outdoor-revolution.com
Vango Kalari 520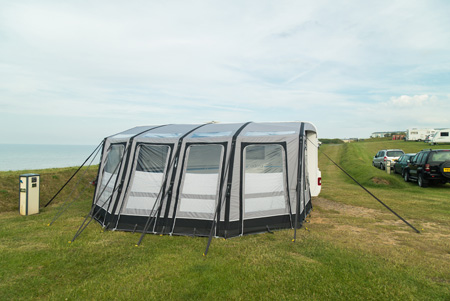 Top-of-the-range from Vango, the major UK tentmaking company that's been a pioneering force in latest inflatable technology.
This uses a 600D double Ripstop fabric and a 300D textured base, along with Vango's AirSpeed valves located well above the ground, meaning less bending down to make attachments.
It also comes with a draught excluder strip and two wheel arch covers.
A bedroom annexe, at around £200, is an option worth considering.
The Kalari's distinctive look is down to its pinnacle shape and curved front with big windows and zip-up curtains, plus flexi doors that can be opened to any level.
Price from £1,000
Key features Sentinel Luxe 600 fabric, vista front windows, zipped curtains, lantern hanging points, mesh side windows, PVC mud strip, webbing storm straps, rock pegs, bedroom pod option
Weight 40.4kg
Pack size 78cm x 47cm x 48cm
More info www.vango.co.uk
Kampa Ace Air 3000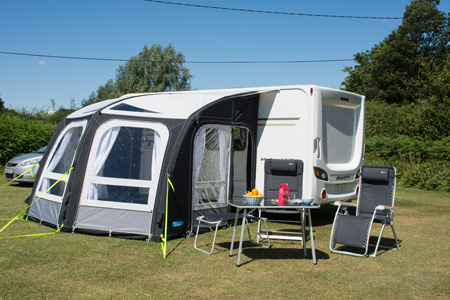 Another flagship product, available in 300, 400 and 500 sizes, that tops a range of 12 models. All the poles here are interlinked, so you only need to attach your pump at one point to inflate the whole awning. Typical inflation time is under one minute, but – if you want quicker and easier – an electric pump is among the optional extras.
You can zip-out any of the three front panels, as well as either side doors, which also feature a No-see-um mesh. Alternatively, you can roll panels down to create a verandah effect.
Like all Kampa awnings, there's also the Accessory Track feature – an extra section of beading to which you can attach organisers, a hanging rail etc.
Price from £1,071
Key features 300D Weathershield double-coated Oxford polyester fabric, adjustable height system, mudflap with eyelets, window curtains, roof skylights, draught skirt,
Weight 21kg
Pack size 85cm x 40cm x 40cm
More info www.kampa.co.uk 
Over to you
Do inflatable awnings get you all pumped up or leave you feeling deflated…?! Feel free to add your any tips or stories about the pros and cons of inflatable caravan awnings in the comments box below.
Cost to insure: *
---
factfile
| | |
| --- | --- |
| Model | |
| Base vehicle | |
| Axle type | |
| Dimensions | |
| Shipping length | |
| RRP | |
---
Search our blog
---